Plus de 5 000
Certifications
Salesforce
Plus de 1 900
Experts
de Salesforce
Plus de 20
Années de partenariat avec Salesforce
Plus de 2 500
Projets Salesforce réussis
Pourquoi choisir Salesforce?

Customer 360, la suite complète de produits Salesforce, offre aux équipes des ventes, des services, du marketing, du commerce et d'informatique une vue unique et partagée des données afin de favoriser les relations avec les clients et les employés.
Accélérez vos délais de valorisation grâce aux capacités prêtes à l'emploi de Salesforce avec les ensembles de données et les plateformes existantes.
Débarrassez-vous du désordre grâce aux services et à des gammes d'outils efficaces de refonte des processus qui suscitent l'engagement des utilisateurs et une meilleure réalisation de la valeur de la plateforme.
Connectez votre paysage applicatif avec une stratégie d'avance sur les API avec Mulesoft.
Consulting Services
We design and develop the best strategy to resolve business challenges and achieve digital transformation along with Salesforce and our comprehensive technology platform.
Implementation & Integration Services
We build and integrate the entire set of Salesforce products, including Sales Cloud, Marketing Cloud, Service Cloud, Experience Cloud, Industry Cloud, Omnistudio, Mulesoft, to deliver true end-to-end solutions.
Customer Engagement & Experience
Our experts assess and help execute your customer-centric business strategy using Salesforce platforms to deliver superior experiences with a 360-degree view of your customers.
Application Support & Optimization Services
We provide full lifecycle support for Salesforce, updating it to meet your changing needs, adding multiple clouds, or working to harmonize it with your surrounding CI/CD environment.
NTT DATA récompensé par les Salesforce Partner Innovation Awards 2022
Nous avons aidé BBVA à optimiser ses processus pour la mesure de son empreinte carbone en utilisant le nuage Salesforce Net Zero. Ce projet est lauréat des Salesforce Net Zero Consulting Partner Innovation Awards 2022.
We're a Leader in Salesforce Services
NelsonHall NEAT Report for Salesforce Services 2022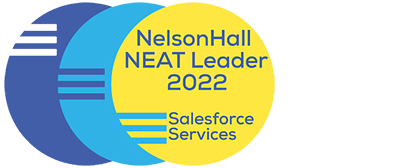 NelsonHall rated us a Leader in its 2022 NEAT Report for Salesforce Services, citing our strengths in MuleSoft and Overall Salesforce Services Market Segments based on our ability to facilitate digital transformations and meet future client requirements.
de toutes les applications seront modernisées vers le nuage d'ici 2024
de la part de marché de la gestion de la relation client sur l'infonuagique appartient à Salesforce
Pourquoi faire équipe avec nous?
Dans un environnement qui se transforme rapide, de nombreuses organisations se battent pour rester pertinentes auprès de leurs clients, partenaires et employés.
Nous pouvons vous aider à vous rendre indispensable auprès de vos clients, à créer et maintenir une main-d'œuvre engagée ou à obtenir un avantage concurrentiel grâce à vos partenaires.
Industry Expertise
Deep domain knowledge and industry cloud expertise in manufacturing, healthcare, insurance and more. We leverage Omnistudio, out of the box business process templates and industry specific data models to simplify complex business processes with increased business agility and faster time to market.
We offer Global Insurance Digital Platform (GIDP™), which is a complete end-to-end solution automating standardized processes so insurers can rapidly improve customer experience and innovate as the L&A insurance ecosystem evolves.
Transform Project Discovery
Roadmap to inform decision making, reduce project scope, and achieve faster time to go live while reducing technical debt with NTT DATA OrgMD accelerator, which offers an automated tool set and scorecard that captures and grades Salesforce Org health in 10 business days
Proven Client Success
Proven cost savings, business flexibility, and access to expert advisors and leaders
Vous garderez une longueur d'avance en tirant parti de notre approche axée sur l'industrie et les données, dispensée par notre équipe de plus de 1900 experts possédant plus de 5000 certifications Salesforce.
Amélioration de 30 % de la satisfaction des clients grâce à une expérience améliorée
En implémentant Salesforce Health Cloud, Blue Cross and Blue Shield of Rhode Island a mis en place une vue à 360 degrés des clients afin de stimuler l'agilité et de réaliser des économies. L'entreprise a consolidé les processus informatiques et de gestion des clients sur une plate-forme unique qui prend en charge Salesforce, les flux de travail automatisés et DevOps, transformant complètement l'expérience client, entraînant une amélioration de 30 % de la satisfaction client.