20+
years of partnership with
SAP, Salesforce, and Oracle
5,000 +
Active SAP application
clients globally
3500+
Successful Salesforce projects
1000+
Successful ServiceNow engagements
Gestion de la relation client
Enchantez vos clients et augmentez vos chiffres d'affaires en vous dotant d'une vision à 360 degrés de vos clients et prospects.
Planification des ressources d'entreprise
Augmentez vos connaissances commerciales et votre agilité opérationnelle, maximisez votre retour sur investissement logiciel.
Services Microsoft
Optimisez vos solutions CRM et ERP et maximisez vos résultats
Services Oracle
Gérez et transformez efficacement votre paysage Oracle pour réussir dans l'économie numérique. Faites appel à notre expertise mondiale reconnue à tout moment dans votre parcours.
Solutions et services de Pega
Améliorez l'efficacité et devenez autosuffisant grâce à une approche de bout en bout qui offre une expérience client contextuelle, qui respecte les processus réglementaires et qui permet de réaliser des économies d'échelle.
Salesforce de NTT DATA
Tirez le maximum de votre investissement dans Salesforce en faisant affaire avec un partenaire mondial platine de Salesforce.
Solutions et services SAP S/4 HANA
Solutions et services SAP S/4HANA Mettez en œuvre, modernisez et gérez votre investissement dans le nuage SAP S/4HANA et bâtissez une entreprise intelligente.
Services SAP
Minimisez vos coûts et maximisez votre valeur ajoutée dans le cadre d'un déploiement, d'une mise à niveau ou d'un passage en infogérance
Services ServiceNow
Les solutions ServiceNow de NTT DATA offrent une expertise inégalée dans la transformation des plateformes, la gestion des services informatiques et l'expérience des clients et des employés.
We're a Leader in Salesforce Services
NelsonHall NEAT Report for Salesforce Services 2022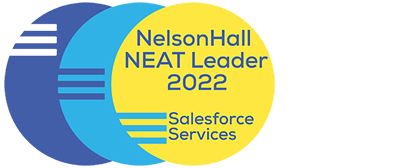 NelsonHall rated us a Leader in its 2022 NEAT Report for Salesforce Services, citing our strengths in MuleSoft and Overall Salesforce Services Market Segments based on our ability to facilitate digital transformations and meet future client requirements.
NTT DATA Recognized in Salesforce Partner Innovation Awards 2022
We helped BBVA optimize their processes for the measurement of their carbon footprint using Salesforce Net Zero Cloud. This project is a winner for the Salesforce Net Zero Consulting Partner Innovation Awards 2022.