To Be Empowered is to Exceed Expectations: Tammy McChain on the Art of the Possible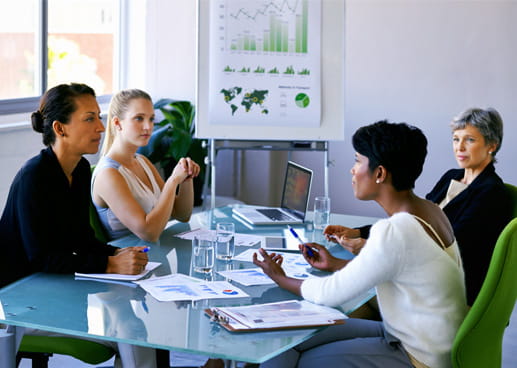 In the last three decades of my professional career working in the federal government and private industry, for both small and large companies, I have learned three important lessons regarding empowerment. They are as follows:
1. Take risks that will take you somewhere new
2. Don't get comfortable and always look for opportunities for improvement
3. Make decisions that are in the best interest of the business
In 1986, I started my career with the United States Federal Government, (serving both the Federal Bureau of Investigations as a Data Analyst and the Department of Defense as a Budget and Fiscal Analyst), and later moved to private industry working my way up the career ladder in many different types of roles as I obtained my MBA degree along with several industry certifications. My most notable accomplishment during this time was constructing and managing one of the first successful managed service contracts in the federal government for the Department of Treasury. I joined NTT DATA Federal, Inc. in 2009, as the Director of Federal Bureau of Investigation Programs. I was hired specifically to improve the organization's long-standing program issues, such as back office processes, customer satisfaction, overall communication, and retention. During this time, I was able to make constructive improvements — not only for the program but for the overall business, as well. From day one, I was empowered to bring about positive changes to the organization, and this authority and ultimate responsibility has remained at the center of my core, no matter what role I serve at NTT DATA.
Within six months, I was asked to assume responsibility for Federal Civilian's Financial Services programs as the Client Executive and was promoted to Senior Director and later to Vice President. Upon taking the new role, Tim Conway, our Public Sector President, gave me a strong edict — run Financial Services as if it were my very own business. The sole responsibility was on me to make it successful, including P&L responsibility, account growth, and overall client satisfaction. How empowering is that?! With the responsibility of an entire portfolio, I was excited to transition into my new role quickly and effectively and to immediately begin contributing value to the business. This meant that I had to fully understand my clients' mission, what IT services we were currently delivering (and how we were delivering them), and to begin looking for new opportunities for growth. To have a successful "business," I knew that I had to also empower my direct reports to allow them to be productive, contributing, and happy for I believe in the power of teamwork. As an empowered woman, I not only believed in myself, but I believed in my staff. During this time, I also mentored up-and-coming young individuals on my team, which enabled them to move into leadership roles in the organization. I continued to identify areas for improvement throughout the organization, and rolled up my sleeves to help in any way that I could to continue to add value to the business.
In 2017, I was asked to stand up and lead a very high functioning Delivery Excellence organization for Public Sector, to enable and oversee successful delivery and completion of projects across Federal, State and Local, and Education sub-verticals. My leadership team provided me autonomy to develop the organization in the best interest of the needs of Public Sector. Again, empowerment to build my own business — this one being internally focused! I immediately worked to develop the right framework to achieve the results desired and established key performance metrics to track overall success. Once the framework was drafted, me and my team collaborated with other NTT DATA Services organizations to further refine and finalize. It was important to me that we leveraged the greater knowledge of the corporation in the framework to ultimately achieve the objective of "simpler, faster, fewer" while still achieving the desired results. In 2018, I was asked to also lead and merge Solutioning Excellence into my organization. Again, I was provided with complete autonomy and empowered to design the organization to best meet the needs of Public Sector. Once more, I immediately worked with other NTT DATA Services organizations to leverage the greater overall knowledge and align with our corporate practices.
During my career, and specifically with NTT DATA, I have always felt empowered; knowing my strengths, capabilities, and my ability to take on even bigger and broader responsibilities as I create them or as they are offered to me. I have seen each new position as a challenge (or new risk) and I have continuously welcomed these challenges. As you can see, it has always taken me somewhere new. In addition, being empowered has given me the confidence to question the status quo and to not sit idly by, but to seek — and recommend — a better approach and/or process. I truly believe that continuous improvements in our business increases efficiency, productivity, and our overall competitiveness. Finally, throughout my career, I have continually strived to add value to the business in many ways. One of the most significant ways that I have done this is by not just achieving my objectives but to continuously exceed them.
I am honored and excited to serve as President of the newly formed DC-Metro WIN Chapter, which will kick-off on International Woman's Day on March 8, 2018. My goal for the DC-Metro Chapter is to encourage the formation of strong internal relationships that we will nurture, inspire, and mentor one another personally and professionally. I am committed to helping create a more diverse, supportive, and motivating work environment for everyone, which in turn, will help our business grow and succeed.
Read the announcement by NTT DATA Corporation, with a statement by Yo Honma, President, and CEO of NTT DATA.
#balanceforbetter #IWD2019 #NTTDATA @nttdataservices
International Women's Day 2019 blogging schedule: