Navigating the Nexus of Digital Manufacturing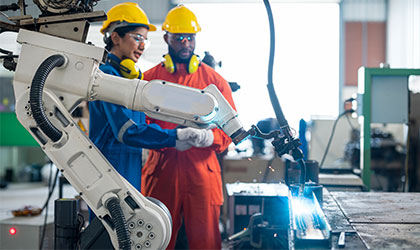 By now we've begun to see many of the changes that digitization has been driving throughout the manufacturing ecosystem. And we shouldn't be surprised that some of the most significant opportunities and most powerful transformation drivers will be coming from outside the walls of the enterprise.
Extramural influences simply show that the manufacturing paradigm is evolving. We are seeing highly interdependent industry coalitions creating cross-pollination of business focus. Digitization and the resultant evolving ecosystem are reshaping manufacturing enterprise priorities to accommodate emerging cyber-physical systems and digitally enabled supply networks. Relationships between ecosystem members are becoming increasingly integrated in the digital world, blurring once-clear boundaries.
The result will be a highly amalgamated manufacturing landscape. It'll require new rules, give rise to new business drivers and exert new influences on manufacturers' focus and actions. Let's look at some of the trends that'll come into play.
Manufacturing democratization
One of the more rapidly oncoming effects will be from digitally integrated manufacturing options and the changing levels of intelligence in products. These trends will drive democratization of hardware manufacturing.
Additive manufacturing, for example, is leading to agile and innovative manufacturing models. As it becomes more widespread, commoditized, and direct, we'll see on-demand manufacturing from design become more frequent. We already see increasing levels of additive manufacturing components in products today.
With products becoming increasingly connected — and smarter by extension — software differentiation will become critical and hardware will differentiate through media and design. Collaboration between digital resources and traditional manufacturing operations will necessarily increase. The shift in differentiation to digital capabilities will drive an additional degree of commoditization in hardware products, resulting in increased standardization.
The move to value networks
Given the pace of manufacturing digitization and the resultant evolving ecosystem, manufacturing enterprise priorities will need to shift. At a minimum, they'll need to accommodate emerging cyberphysical systems and digitally enabled supply networks. As a result, collaboration and value will increasingly expand from physical to digital.
What emerges will pose new opportunities, dependencies and currently unforeseeable variables. What we can foresee is a race to define new value propositions with a demanding time to market. To achieve and capture this market, manufacturing will go through a phase of increased ecosystem partnerships that'll continue to shape the industry marketplace in the years to come.
At the same time, linear value chains are being replaced. Sustainable circular value chains are accelerating the emergence of digitally enabled and purpose-built ecosystems. Choosing geographically distributed suppliers provides they can't all be affected by a single weather event or changes to a given area's political climate.
That choice also strengthens supply chain resilience in the face of potential future pandemics or geo-political issues. Focusing on points-of-value convergence with greater speed and agility over product-based fit and linkages will similarly strengthen supply chains. In short, manufacturers will need to move from traditional value chain operations to an ecosystem-driven value network.
Evolving business models
The transformations playing out in other industry segments offer hints about what manufacturing can expect. In particular, we've seen service- and data-driven business models create new opportunities and ecosystems in other industries.
Digitalization at all levels of manufacturing will have manufacturers moving from product-based revenue models to a mix of product-, service- and data-based business models. Identified by terms such as 'servitization,' 'as-a-service,' 'utilization based' or 'data monetization' models, they're increasingly common.
In summary, transformation within the walls of the enterprise is already happening, but ecosystem incubation and the role it'll play is difficult to ignore. As the manufacturing ecosystem evolves, manufacturers must adopt practices that are radically different from those with which they faced traditional ecosystem forces. For manufacturers, readiness to address these future possibilities will be an evolution founded on digital capabilities across value chain operations.
Learn more about the effects of digitization and how to prepare.