How Healthcare Organizations Can Benefit from Upgrading to a Digital Workplace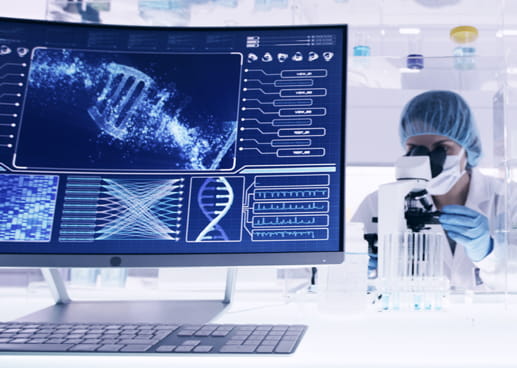 The last two years have changed the way we work forever. As the COVID-19 pandemic forced offices to close and employees to work at home in the blink of an eye, the modern workplace had to reinvent itself to maintain business continuity. As a result, companies in all industries had to accelerate their digital transformation and upgrade to a dynamic workplace that can consistently ensure seamless productivity and collaboration amongst its employees and stakeholders while maintaining data security and integrity.
The tremendous change in healthcare
The healthcare workplace has also had to undergo tremendous change to address many new challenges that materialized due to the pandemic. Longstanding policies that limited remote care were reversed, leading to the rise and widespread adoption of telehealth. Backoffice staff such as medical coders, who traditionally worked only on-premises, had their entire working environment upended almost overnight when they were all ordered to start working from home.
Another significant change involved workplace attrition and shortages. As the pandemic wore on, hospital administrators scrambled to fill gaps left by exhausted clinicians who had retired early or quit to work elsewhere. The Great Resignation has also impacted workforce availability, adding financial burdens and impeding service delivery.
These workforce issues further accelerated the use of digital assets and applications as organizations tried new ways to maintain staffing numbers. Looking ahead, analysts anticipate increased use of advanced technologies in the healthcare space, including artificial intelligence (AI), machine learning (ML), robotic process automation (RPA), and virtual or augmented reality (VR/AR). A key question is how to manage this change, especially when figuring out how to enable effective, frictionless interaction between the workforce and technology.
Proof of an industry's adaptability
Despite these challenges, the COVID-19 pandemic has shown that the healthcare industry can move fast when hard-pressed. It responded quickly by implementing telehealth, hybrid workforce models, and workforce retention strategies. New technology disrupted existing procedures and boosted the adoption of digital workflows, with advanced technology driving more change ahead.
Other areas, such as IT support, have displayed more inertia. IT support has evolved little over the past decade, continuing to rely on service level agreement- (SLA) based metrics on the one hand and often failing to effectively integrate new tools on the other. Meeting today's healthcare workplace challenges calls for a multi-faceted support facility designed with end-users first in mind. Able to interact across a full range of channels, such a facility should be able to recognize end users and fill in contextual information about them.
There are thousands of data points that you can pull from that endpoint to understand user behavior, sentiment assigned to a user device, device health, and more. Once the entire context is considered, the right tools can be deployed to track the user's experience as issues are identified and resolved. This new capability enables understanding the end-user from a 360-degree perspective, allowing for proactive, personalized support opportunities.
The journey from SLA to XLA metrics
One outcome is shifting from SLA to Experience (X)LA metrics. This shift would start from an exclusive focus on production, uptime, speed, and volume and evolve to a better awareness of whether services were available when required and if they were performed to the satisfaction of the end-user. This approach also enables removing predictable issues by triggering proactive alerts and allowing the support center to focus on identifying and solving problems, even before the user experiences them.
Additional benefits derived from a user-centric, contextual, XLA-based support center or workplace solution include less frustration, better outcomes, lower costs, greater value, and support for service evolution.
The benefits of empowering technology
Technologies should be empowering. Smartly implemented and supported technology-driven change can lower costs and boost outcomes. User experience metrics tied to the right digital workplace service platform will ensure that healthcare continues to advance on a sustainable human scale.
Read our related white paper, "Healthcare Digital Workplace of the Future," for more information on the issues and possible solutions to modern workplace challenges for healthcare organizations.