5 Resolutions for a Happier New Year for Government CIOs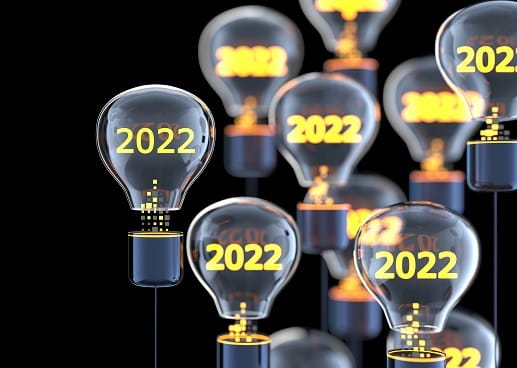 The annual practice of making, and for most, breaking New Year's resolutions is a yearly ritual dating back more than 4000 years to ancient Babylonia. Circa 46 B.C., Julius Caesar shifted the calendar year to January 1, so Romans could make promises of good conduct to the deity Janus for the year ahead.
According to a December 2020 Ipsos Poll, 38% of Americans plan to make a New Year's resolution. The majority of those surveyed indicated the COVID-19 pandemic would impact their resolution and focus for the new year.
Sadly, only a small fraction of well-intentioned revelers stick to their annual New Year's resolutions. But for government leaders, there is a significant opportunity to make New Year's promises a reality, which has come in the form of the recently signed $1.2 trillion infrastructure package (known as the Infrastructure Investment and Jobs Act) and other federal stimulus programs resulting in from the pandemic. These funding programs may hold the secret to keeping those resolutions; IT leaders can now deliver on resolutions by accessing unprecedented funding to solve pressing concerns and deliver on their goals.
While most Americans cite a desire to improve physical and mental health, government technology leaders have a very different focus for 2022. Looking back on 2021, most government technologists will agree that the pandemic exposed gaping flaws in our nation's technology infrastructure ranging from cybersecurity to broadband access. With that in mind, we can't change the calendar like Julius Caesar, but as a fellow technologist, I offer the following realistic New Year's resolutions for government technology leaders.
Resolution: As an IT leader, I will improve the cybersecurity posture of my agency.
From the 2020 Solarwinds hack to the 2021 ransomware attack of the Colonial Pipeline that disrupted our nation's fuel distribution, over the course of the pandemic, the number of sophisticated cyber-attacks has skyrocketed. According to NTT's 2021 Global Threat Intelligence Report, application-specific and web-application attacks continued their combined impact on global industries, accounting for 67% of all attacks, up from 55% in 2019 and 32% in 2018.
In May, to help combat this, President Biden signed an Executive Order on Cybersecurity, removing barriers to collaboration between the public and private sector. The Executive Order also required federal agencies to modernize and implement more substantial cybersecurity standards such as moving applications to secure cloud services and implementing a zero-trust architecture. The infrastructure bill includes a $1 billion allocation to help state and local governments shore up cybersecurity programs. These funds will be distributed in grant funding, administered by Homeland Security's Cybersecurity and Infrastructure Security Agency (CISA) over four years.
Resolution: As a civic leader, I will bridge the digital divide and deliver broadband connectivity to my community.
As the pandemic forced our nation to shift to remote learning and working, the digital divide resulting from a lack of broadband connectivity became front-page news. According to US Census Bureau data, 13.6 million urban and 4.6 million rural households lack a broadband internet connection.
To help combat this, one of the most significant line items in the infrastructure bill provides $65 billion in grant funding to provide broadband access to rural areas, low-income families, and tribal communities. Of these funds, $42.45 billion will be allocated as state grants by The National Telecommunications and Information Administration (NTIA). Another $14.2 billion will go to the FCC to establish an Affordable Connectivity Program which replaces the Emergency Broadband Benefit and will help to bridge the digital divide by providing a monthly broadband subsidy to eligible households.
Resolution: As a CIO, I will deliver modernized legacy applications.
One thing that became abundantly clear throughout the pandemic is that agencies running legacy, on-premise systems could not adapt as easily as modern systems operating in the cloud. Increasing demand for services forced agencies to provide citizens services online. Our nation's unemployment insurance systems became front-page news; in many cases, the massive increase in the volume of claims caused legacy systems to crash. Legacy unemployment systems could not monitor and log claims in real-time, resulting in more than $87 billion in fraudulent claims.
Today, the Technology Modernization Fund and the American Rescue Plan have allocated more than $1 billion to fund modernization projects. Additional funding for these programs is included in the current draft of the Build Back Better bill to help further bolster these programs.
Resolution: As CIO, I will accelerate the move to secure cloud services.
Moving to secure cloud services provides a mechanism to improve cybersecurity and modernize applications — which has been a goal of the last three administrations. Starting with the Obama Administration's 2010 Cloud First policy, then followed by the Trump Administration's Cloud Smart. Moving agencies to the cloud is not a new aspiration for government; however, the technology has matured, and now the move is significantly easier to accomplish. On May 12, 2021, President Biden issued an Executive Order on Cybersecurity to expedite the federal government's action to secure cloud services, including SaaS, PaaS and IaaS services.
In addition to funding included in the federal stimulus packages passed over the past year, the public cloud vendors offer co-funding programs to help agencies working with tier-1 partners to move workloads to their platforms.
Resolution: As agency IT leaders, we will enable intuitive, seamless digital services to citizens in 2022.
A trip to the DMV or attempt to transact any government services should not be an exercise in frustration. For many of us, it might even feel like a trip back in time. The pandemic forced many of these antiquated systems and services online, exacerbating an already complicated interaction with the government. From the need for multiple usernames and passwords to entering the same data numerous times to agencies or only accepting payment by check — the need to enable easy, user-friendly citizen self-service is long overdue.
On December 13, 2021, President Biden issued the Executive Order on Transforming Federal Customer Experience and Service Delivery to Rebuild Trust in Government, calling on the federal agencies to restore citizens' trust in government by transforming customer experience and service delivery. The Executive Order is a requirement for agencies to pilot new online tools and technologies to provide a simple and seamless customer experience. While it will be a few months until the full program details are outlined, the order explicitly mentions Login.gov — the federal government's single sign-on tool used for sites such as TSA Pre-Check and USA.gov — to serve as a digital front door to multiple federal agencies.
While the practice of making New Year's resolutions has been around for thousands of years, recent research from The University of Scranton shows that only 8% of people fulfill their goals for the new year on time. In fact, when it comes to health and fitness goals, according to data from the popular fitness app Strava, the second Friday in January sees a significant drop in activity and that those individuals who set specific goals are 92% more likely to still be active after ten months.
With an unprecedented level of federal funding and executive support targeted at IT infrastructure, 2022 provides government IT organizations a specific roadmap and timeline to deliver on their goals. As a citizen and a CTO, here's to hoping that government leaders resolve to take full advantage of funding opportunities to improve government. I resolve to help.
For more information, check into NTT DATA's commitment to Better IT and Better Government.