The First Element of the Change Management Journey: Awareness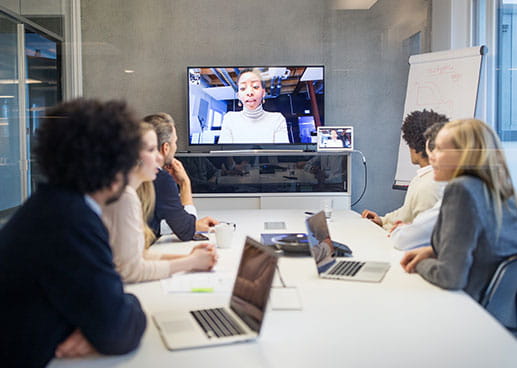 Although the pandemic brought numerous challenges to communities, individuals, and workplaces everywhere, the subsequent effects shed light on areas of opportunity at work — such as flexible workplace models, the importance of mental wellbeing, employee benefits, and embracing a strong culture of diversity.
As the pandemic surged and employees rapidly transitioned to a new work-from-home model, their personal and professional lives changed in many ways. Leaders grappled with the sudden shift and quickly learned to adapt to evolving demands spurred by government regulations, employee expectations, business needs, and more. Through times of uncertainty, the first step to effectively manage change is practicing awareness of the change and the effects that the change may incite, from challenges and ramifications to opportunities and success stories. The change management journey starts with awareness — perceiving events or situations and acknowledging their impact.
Changes caused by the pandemic had far-reaching effects. Parents across the world assumed additional roles as their kids transitioned to remote schooling from home. Depending on their children's ages and needs, parents were required to become teachers, tutors, and gym instructors in addition to their daily job responsibilities. Family members also found themselves juggling the role as a primary caretaker for parents and/or grandparents, which often led to greater levels of stress and anxiety — the pressure was amplified by the fact that 78% of those that died from COVID-19 were 65 or older, according to the Centers for Disease Control and Prevention.
While some individuals focused on caring for others, many learned how to adapt to the lack of personal interaction and feelings of isolation spurred by living alone through a pandemic. Groups of people living together faced their own challenges, as many households were forced to confront issues with spouses, partners, or roommates. The inability to visit friends and family weighed heavily on so many people and increased awareness of the importance of connection.
The Opportunity: Understand the vital need for human connection and continue efforts to unite people worldwide in virtual environments.
Many individuals experienced financial burdens due to layoffs, reduced hours, increased medical bills, and other unforeseen challenges. For those with technology limitations (depending on the area/cost), the digital inequality rendered remote work or school nearly impossible. Employers became aware of the disparate challenges, limitations, needs, and circumstances of different employees.
The Opportunity: Assess each employee's unique situation, limitations, and needs.
These unexpected changes in people's personal and professional lives inevitably affected their mental and emotional state. Pre-pandemic, the most common ways to relieve stress included exercising, vacationing, or (if you're like me) getting a professional massage. These stress-relieving outlets were no longer an option for many during the pandemic, which put even more strain on their overall wellbeing.
The Opportunity: Expand benefits to support the mental and emotional health and wellbeing of employees.
In addition to addressing the challenges presented at home, management and senior leadership were responsible for leading teams, encouraging development, and building relationships while working remotely and dealing with unexpected circumstances. Open communication became an essential pillar for solid leadership. Organizations that created an open dialogue between leaders and team members saw their workplace culture become more transparent, supportive, and resilient through challenging times.
The Opportunity: Ensure employees feel supported and heard, especially during times of crisis.
Employers must adapt their leadership styles to manage remote teams effectively, or in some cases, manage hybrid teams working within both in-office and virtual settings. Intentional team development and relationship-building pursuits will help ensure that performance for all employees is measured fairly and that employees are considered equally for opportunities, regardless of work location.
In this new era, team members who prefer working from home could feel excluded if leaders do not address common concerns surrounding planning and communications with their teams. People of Color (especially women) may feel more compelled to work remotely due to COVID-19 disproportionately affecting their communities and/or to avoid office microaggressions.
The Opportunity: Build a strong culture of diversity and inclusion by offering programs to help employees better understand how to work together and support each other with awareness and compassion.
The drastic changes in home and work environments require employers to connect with their teams more personally. Asking team members about changes or concerns with their personal lives, such as new responsibilities with children or extended family, gives leaders an opportunity to support employees by referring resources to support them through difficult times or discussing a more flexible schedule. Awareness is critical in the change management journey and helps develop a deeper understanding between employees and leaders. Once awareness is present, a smoother transition into the next step of understanding can take place.
If you are considering beginning the journey for your company and leveraging change management principles to establish a new organizational culture and retain your talent effectively, NTT DATA Services' Workforce Readiness Consulting practice helps organizations with a structured approach to Change Management.
Be on the lookout over the next few weeks as a team of Workforce Readiness consultants addresses each element of the Change Management journey from their unique perspectives. This is the second blog in a series of five addressing the four elements of the Change Management journey. What does the future of your workforce look like?
The rapidly changing workforce underscores the need for human-centric, digital-forward solutions for organizations in all industries. Our Workforce Readiness Consulting practice helps drive organizational success with future-focused talent and change strategies. Learn more about how we help our clients thrive at the human side of business.
Read more in this series: