The Tech That's Helping Healthcare Providers Simplify Their Patient Experience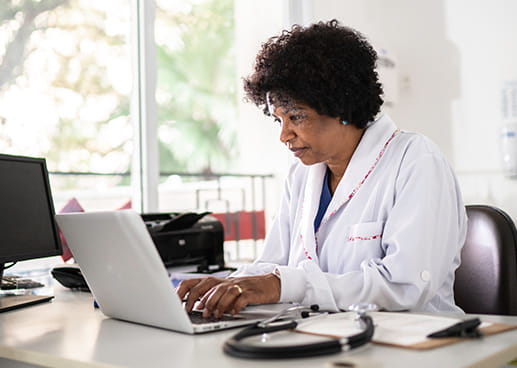 Cutting-edge healthcare digitization initiatives can help increase value and provide improved experiences for patients and clinicians.
A unified patient experience, or a digital front door, can empower patients with more access and control in their healthcare experience.
"Even before COVID-19, many CEOs had their teams focusing on implementing a digital front door for their patients," says Lisa Esch, senior vice president of provider industry solutions for NTT DATA Services, an IT services company. "The pandemic has accelerated that quest and expanded it. They're now looking beyond digital front door solutions toward fully integrated experiences."
She continues, "Companies need solutions that allow for scalable and flexible care-from-anywhere capabilities. The market is reshaping around these new models and the digitization of healthcare."
Integrations include single sign-on, enhanced security, cloud, analytics, and orchestration between patient and clinical journeys as well as capabilities that allow for work and care from anywhere in a secure environment.
One cutting-edge healthcare digitization solution — Nucleus for Healthcare, offered by NTT DATA — can help health systems transform their patient engagement and re-engagement strategy. It is a full-service, integrated digital health model that creates a seamless unified experience.
Meeting accelerated needs
NTT DATA has been busy during the pandemic, including serving over 30 major health systems across the United States, which includes over half a million employees at over 500 hospitals and 4,000 other care sites.
"We run the technology for these hospitals, data centers, [and] host applications, and provide technical service desk and clinical service desk support," says Esch. "Our most important job was and still is to keep them running and to answer the phones when doctors, nurses, and other care team members need help accessing the lifesaving and care-tracking technology that power the healthcare system."
She says COVID-19 has accelerated the need for complex digital technologies that allow businesses and societies to continue to function, with more tasks automated or carried out remotely.
"Things that used to take days, or weeks, or months, we started doing in minutes and hours," says Esch, noting the company's goal is to provide clients confidence in this new digital future.
Digital solutions
Long before COVID-19, NTT DATA was already working on digital solutions. Eighteen months ago, they focused on creating end-to-end patient and end-to-end clinician journeys.
Now they're working to create a permanent and industrialized shift to virtual care. That includes enabling remote patient care, remote patient monitoring, and remote collaboration through secure, compliant, scalable, and intuitive capabilities.
The provider industry needs top-line and bottom-line solutions while operating securely in this new normal. Operational recovery depends on industrialization of new models such as "Work from Anywhere" as well as "Care from Anywhere" models.
"It requires achieving significant cost take-out through new distributed delivery models which transcend geography and can be engaged quickly as conditions change," says Esch.
This shift to virtual care also requires adoption of at-scale models that integrate capabilities across the value chain, including scheduling, care coordination, and supporting patients and clinicians on using new virtual tools. Other requirements include a deep knowledge of consumers and their ability to pay, as well as their payment preferences, and need for financial assistance.
Esch says, "Innovation is not always inventing things within your own organization, it's taking advantage of capabilities developed by others. When you have a tried and trusted data platform such as Nucleus, you can proceed much faster. Data is at the heart of all new innovations."
While new ideas, new applications, and new tools can take months to get up and running, NTT DATA can help simplify the process. "Our accelerators and platform can reduce the time to stand up new applications that directly improve patent engagement, retention, and outcomes," she says.
Learn how NTT DATA Services can help you improve patient and clinician experiences and improve value and costs.
*This was written by Kristen Castillo for Mediaplanet and was originally published in the Future of Healthcare campaign in December 2020.