Make the Return to the Workplace Safe and Seamless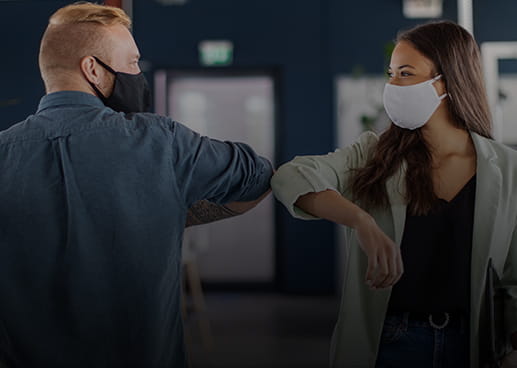 COVID-19 may be in retreat in America, but it has a lasting impact on the way employees do their jobs. A survey conducted by NTT DATA and Dynata revealed that 85 percent of employees who have been working from home during the pandemic want to continue that way at least part-time after workplaces reopen. Notably, 58 percent said they were likely to leave their employer if their required return to the office and felt unsafe.
With changes in employee work preferences, companies are implementing a hybrid workplace approach that combines elements of remote work with the traditional office. Google, for example, announced in May 2021 that 20 percent of its workforce would continue to work from home full-time, and about 60 percent would only come to the office a few days a week.
The hybrid work approach may also be a boon to business performance since happy employees tend to be most productive. It can help attract new talent and retain existing workers who enjoy working from home while also providing the structured spaces of a corporate office for important face-to-face moments. And finally, with fewer workers to accommodate full-time, companies may find savings in real estate and related support costs.
But the hybrid environment won't materialize all by itself. As company leaders begin to open their doors and welcome employees back to the office, they need to consider taking some deliberate steps to ensure the safety and well-being of their employees — and, where applicable, customers — without negatively affecting employee experience and productivity.
Capturing the best of both worlds with a three-pronged approach
When thinking about a return to the office, we can focus on three interrelated elements of the workplace: physical, technological, and cultural. Ideally, these elements should exist in harmony and support each other to enable a fully engaged and high-performing workforce. While that concept was important even before lockdowns, the shift to distributed workforce operating model demands that companies reexamine how they're addressing each pillar.
For example, from a physical standpoint, employers need to consider the degree to which they'll implement social distancing strategies, more thorough sanitization procedures, or low/no/safe contact solutions in the office. Technologically, companies will need more permanent solutions to support the large number of people working from home full-time while also managing the fluidity of technology needs as other employees drift in and out of the corporate office. Culturally, management will have to find new ways to keep team members fulfilled in their jobs, growing professionally, collaborating successfully, and driving business results in this evolving hybrid environment.
Each of these areas is critical to the others. And making it all work seamlessly will require a cross-functional effort between upper management, IT, HR, facilities and other departments.
Technology innovations and solutions for a safer and productive workplace
While every company will have unique needs and challenges with the return to work, we have observed and/or contributed to some promising solutions on the technology front in recent months.
Smart-space technologies. As employees return to offices locations, companies need to review office space configurations to support social distancing, explore the implementation of touchless solutions, establish daily entry self-screening and disinfection protocols to reduce risks in the workplace. Companies can explore advanced technologies — such as computer vision, conversational user interfaces, IoT sensors, and space scheduling — to connect with people, places, and things to ensure employee safety and well-being.
Safer devices. Companies can counteract this threat with emerging solutions to stop the spread of germs through handheld devices and touchscreens. For example, earlier this year, Lenovo announced a partnership with Kastus to launch products with antimicrobial and antiviral screens. Similarly, antibiotic wipes and possibly even UV lights can help ensure surfaces are safe to touch.
Low-contact IT services. Many companies have adopted innovative methods to support employees' technology needs without face-to-face contact. Tech vending machines provide easy access to common computer peripherals. Lockers can be used to transact device repairs and replacements. And virtual "tech bars" with remote KVM connections could allow IT staff to provide support even on machines that aren't booting.
Cloud-based unified endpoint management. The modern workforce expects seamless remote access to work environments using devices and locations of their choice. A unified endpoint management solution, built on either Microsoft Intune or VMware Workspace One, delivers engaging employee experiences from onboarding to offboarding. Endpoint management could also boost productivity and offer IT modern, intelligence-based device lifecycle management without compromising control and security. Employees can provision devices on their own, allowing the IT team to simply ship a replacement device.
Unified communications and collaboration. As the world turned to remote video collaboration to keep business moving during the lockdown, services like Zoom, Microsoft Teams, and Cisco WebEx saw enormous growth in usage. That trend isn't likely to go away as some people return to the workplace, but now the challenge will be to ensure that at-home workers and those in corporate offices are technologically on equal footing. Companies need to adopt modern collaboration solutions so the team in the conference room can work seamlessly with remote participants.
Cloud-based virtual desktops. During the pandemic, companies used cloud-based virtual desktops to meet immediate burst capacity requirements without expanding their data center footprints. And now that the hybrid workplace is starting to take shape, more use cases for cloud based virtual desktops continue to reveal themselves. Cloud-based virtual desktops also offer significant advantages when it comes to business continuity and disaster recovery planning. For example, IT teams can help users stay productive by assigning them a temporary virtual desktop when their primary device fails so they may access company resources securely from a personal device while their primary device gets repaired.
Back to the drawing board
As office buildings worldwide slowly come back to life, every company will need to decide how their workplace of the future will look. Undoubtedly, technology will be a key enabler of the hybrid model that is likely to take root in most organizations. NTT DATA highly recommends a design thinking workshop to help identify and prioritize what matters most — to the business and its employees.
One word of warning: the same precautions companies put in place to protect their workers may also create controversy. COVID-related screening or tracking systems, for example, are bound to elicit grumblings over privacy and citizens' rights, and may violate existing laws.
But despite the geopolitical minefield left behind by the pandemic, organizations still have an unprecedented opportunity in front of them as their people return to the workplace. It's a chance to reimagine how and where business can be done, seize a competitive advantage in recruiting top talent and create a safe and progressive workplace that works for everyone.