The Tightwire Act and Healthcare's Future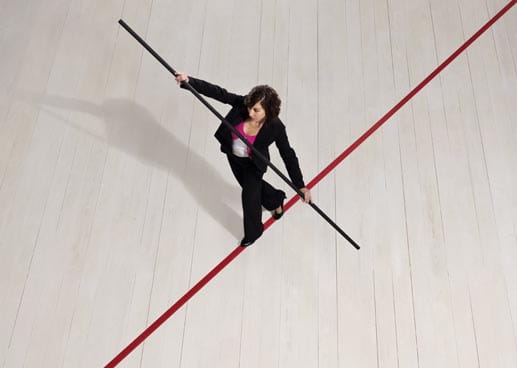 Not so long ago, healthcare providers set their course to a steady future, equipped with well-thought-through roadmaps depicting a clear path toward better patient experiences and outcomes. Capital, talent and technology constraints had them, more or less, in the no-passing zone. Progress was somewhat steady — but slow. Adoption of virtual care — a focus point of these roadmaps — was stalled in the low single digits across the industry.
Then COVID-19.
Suddenly, the path healthcare providers traveled became a tightwire walk.
Virtual care adoption skyrocketed as patient, caregiver and community safety depended on it. Seemingly overnight, changes in the reimbursement policy of government and commercial insurers alike saw systems who were pressing for 3 to 4% adoption before grow to 40 to 50%.
Once a not-so successful strategy for patient engagement, virtual care is now a revenue growth strategy for an industry that is staggering under the weight of the global pandemic.
The numbers are staggering.
According to Kaufmann Hall's May 2020 National Flash Report, in April the industry as a whole saw declines in outpatient revenue of 50% year over year and a decline in inpatient revenues of 25%. EBITA operating margins year over year were down a whopping 174%. While CARES Act funding created a financial rebound, now reflected in Kaufman Hall's June 2020 Flash Report, May's year over year EBITA operating margin was down 9%. Against this backdrop, FAIR Health's Monthly Regional Tracker reported an increase in telehealth claims of 4000% across the country for the month of April.
In the early days of the pandemic, some hospitals were duct taping iPads to IV poles, wheeling virtual care carts from one room to the next for consults and, sadly, rushing PCs to patients so they could say goodbye to their families. Now, the race is on to move from this inventiveness to industrialized technology services — safe, secure, stable, scalable — and connected to the rest of the healthcare journey for a seamless patient and care-giver experience.
As I have heart-to-hearts with my clients about this new world in which we find ourselves, I hear them expressing the need to bring it all together and through a digital front door that will connect the patient and caregiver journey seamlessly across all the capabilities necessary to bring virtual CARE, not just the virtual visit, to life.
Every industry executive I've spoken with these past few months is struggling to figure out how to get there quickly because the industry is reshaping around this future.
Inspired by our team who are on the frontlines of this pandemic, supporting healthcare workers with their technology needs in ICUs and temporary tents, across the more than 30 healthcare systems we support, I see the need for leaders to now help their organizations reach this long-held vision: an integrated health and social care system.
The "new normal" requires:
Industrialization of new models for operational recovery and longer-term viability, including "Work from Anywhere" and "Care From Anywhere" models


Achieving significant cost take out through new distributed delivery models which transcend geography and can be engaged quickly as conditions change


Rapid adoption of at-scale models that seamlessly integrate capabilities across the value chain for scheduling, care coordination, and for supporting patients and care givers on new virtual tools


Deep knowledge of consumers and their ability to pay, their payment preferences and their need for financial assistance
All this has to happen leveraging the legacy environment including the EMRs. Creating the digital front door to create and integrating the patient and caregiver experience must take advantage of those invested legacy assets, not replace them.
Eighteen months ago, long before there was a pandemic, NTT DATA Services began to bring this journey to life. Not just the journey to virtual care, but the differentiated, end-to-end patient and caregiver journeys equipped with journey maps and the changing delivery models to support them.
We invested in an integrated technology fabric. Something that could connect the hard-to-reach information trapped inside siloed processes. Something that could enable the information exchange across the data ecosystem and transform care delivery.
We defined the value chain and the journeys people and information take to "get richer" through the process — and by that we mean "get better, get wiser, get safer, get well.
We researched and selected companies playing key roles in that value chain — all with best in KLAS capabilities — to help us think deeply about these journeys. They are:
Enli: Creating custom care plans for patients — helping patients plan care around their finances and helping care teams focus on actions to maximize value to drive value-based outcomes


R1 (formerly SCI): Coordinating clinically appropriate in-network care and balancing patient preferences with provider capacity via frictionless scheduling and care coordination to map encounters to the most appropriate resource for improved cost


Teladoc Health: (formerly InTouch Health) The telehealth leader with an enterprise virtual care platform delivering care from the hospital to the home is improving patient engagement through ease of virtual care.


VisitPay: The leading patient payment and financing platform uniting patients, insurers, caregivers and communities to solve the complex issues of healthcare finance
Together we are defining the journeys for patients and caregivers alike: a digital front door for all stakeholders in healthcare as well as an integration and analytics fabric we've called Nucleus for Healthcare — connecting patients, providers and payers to simplify and improve the healthcare journey. A digital health AI and automation engine to drive seamless integration across the healthcare value chain, delivering value beyond what any single capability — or combination of capabilities — these companies offer alone.
It's a fabric offering terra firma for healthcare organizations caught on the tightwire that is our current future.
Visit our latest COVID-19 resources.