Raghav Radhakrishnan Helps a Top Tier Financial Institution Reimagine Workplace Services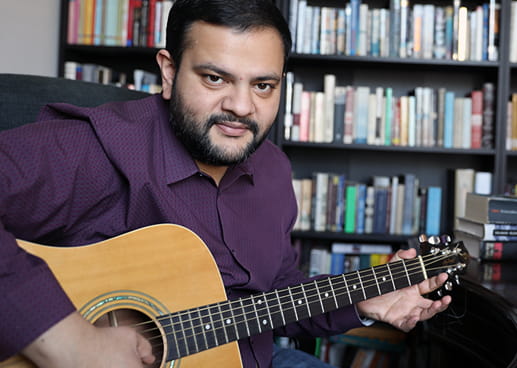 Raghav Radhakrishnan's first loves were books and music. From an early age, he was struck by science fiction's visionary nature and by English classic rock's equally transportive imagination. Today, Raghav is the senior director and global client executive responsible for building and managing large financial services accounts for NTT DATA Services. Read how he puts his imagination to work, helping a top tier financial services organization transform its workplace environment and improve the employee experience.
Q: Your role as a global client partner to major financial services institutions doesn't leave you much free time. Still, what do you like to do outside of work?
A: Books and music are my big loves — outside of my family. I read a variety of genres, but growing up, I devoured a lot of science fiction. It's about boundless imagination — seeing the world as it could be and sometimes preceding reality. For instance, it was Arthur C. Clarke who wrote in the 1960s about iPad-like devices in 2001: A Space Odyssey. He was a visionary.
But the genre that really hooked me growing up was English classic rock — Led Zeppelin, Pink Floyd, Queen, Deep Purple — I remember the first time I heard Led Zeppelin's Kashmir; it blew my mind. I thought, "Man, there's music like this?" I joined a rock band in college as lead vocalist (an energetic but average singer). It's quite something, performing music you love for people who love it as much as you do.
Today, I have a family, and I'm fortunate that my wife and children love books and music, too. My wife and I make sure we spend time reading and singing with our kids, who are ages five and three. I want them to experience the feelings that I did. I want them to feel that passion when they listen to music and become curious when they read something new.
Q: You are an imaginative guy with many interests. What drew you to the financial services technology industry?
A: When I was a teenager, my family started to experience financial trouble, so I had to get serious quickly. I got into a good business school and was determined to immerse myself in the banking industry with the same passion that I do with books and music. I love it: money makes the world go around and the industry is always moving — from changing regulations to Open Banking trends.
For the past eight years, I've worked in the payments space. I love having a bird's eye view of the payments lifecycle and working with my team to understand our clients' issues and imagine how we can help them use technology to make a real difference in their marketplace.
Q: Tell me about a client accomplishment where you helped a financial services client imagine and implement a game-changing solution for their organization?
A: We are working with a top-tier financial services organization to elevate their employee experience and create a more engaged and productive workforce, regardless of where and when they work. The bank sees its employees as its most important resource in serving its customers. Outdated tools and hardware and inefficient business processes were impacting productivity and creating employee frustration. We now know the consequences of these issues. Study after study shows that unengaged, frustrated employees add to the high cost of turnover and can lead to lower customer experiences and satisfaction.
We're bringing our Dynamic Workplace Solutions to help our client transform the entire end-user environment into a new model of support, with the overarching principle being delivering a superior employee experience. For example, we're helping them develop automated solutions such as a concierge-led service desk experience that integrates some state-of-the-art tooling to help them automate processes to the extent possible. This solution includes a shift-left philosophy with things like sentiment monitoring, virtual assistants to field business-as-usual queries with greater efficiency, leveraging bots to work in conjunction with human teams to take on repetitive tasks so employees can focus on more strategic, fulfilling work. We're going to support this with a robust and scalable model of providing field services for issues that need a human touch. Lastly, we're also moving our client away from a capital-intensive method of procuring hardware to a more flexible, predictable model.
At the service desk, we're helping to enable a better experience by getting to industry-best standards around call answer time, average handle times on issues and end-to-end ticket management. Also, we're evolving traditional Service-Level Agreements (SLAs) toward eXperience-Level Agreements (XLAs), so we're not just tracking if the call at the service center was handled in the right amount of time, but we're tracking the end user's satisfaction with the overall experience.
We're doing all this while also keeping in mind the need to be cost-competitive. The result is a compelling financial model that will not only improve workforce productivity but also revenue productivity.
Q: Is that what you love about working for NTT DATA — helping your clients imagine and implement this level of transformation in their environments?
A: Absolutely. I love that I can bring all parts of myself to the job: passion, curiosity, imagination and determination. I love learning about our clients' environments; the industry forces impacting their businesses and business decisions, and how our solutions can help them make meaningful changes that put them ahead of their competitors. I also love the challenge of the deadline. I never miss a commitment I've made to my client. In that way, I'm an open book — clients always know what they'll get from me!
Find out more about our Dynamic Workplace Solutions for Financial Services.
Meet our Game Changers here.