In the Lead, for Now: Insurers Move to Adopt Digital Business Platforms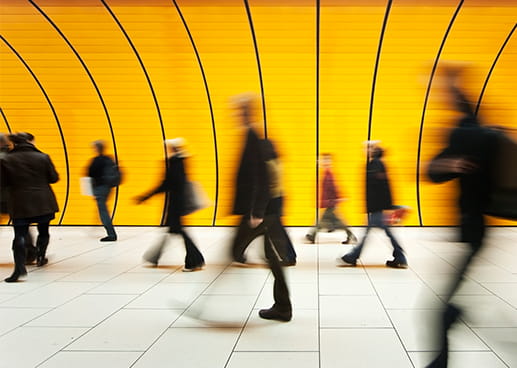 The insurance industry is ahead of banks and capital markets firms when it comes to technological innovation. You don't hear that often, but accordingly to our recent global research, it's true.
The survey found that 32% of carriers have taken steps to create a Digital Business Platform (DBP) — a technical framework that allows companies to more easily integrate third-party products, partners and new technology to adjust their business models quickly to compete with industry disruptors. Just 23% of banks and 19% of investment firms have done the same.
If insurance executives understand one thing, it's risk. Right now, market share is at risk. Our global research highlights a lack of progress for insurance companies in the struggle to compete with disruptors — both insurtech and tech giants such as Google, Amazon and Apple.
Tech giants that previously operated outside of the incumbent insurance space are providing a significant influence on the direction of the market by offering consumers easy-to-use digital channels, personalization and guidance. Risk-adverse insurers recognize the threat, with 83% agreeing that new entrants like Amazon, Apple and Facebook are shaping the market.
Insurers understand they must make further progress with digital modernization to maintain their leadership position within an increasingly competitive ecosystem.
Insurance DBPs
The key? A Digital Business Platform that enables insurers to adopt new technologies and integrate them into existing core systems, creating more agility and customer-centricity while participating in a global ecosystem.
DBPs enable carriers to change their entire business models, which our research found was the plan for approximately half of all respondents. Nearly 50% of all insurance respondents are moving away from traditional, vertically integrated business models of offering customers only their own products and services.
These new business models include:
Developing the best products and leveraging partners to distribute the offerings
Focusing on customer experience while selling products offered by other providers
Evolving into an online marketplace that sells multiple products from various providers
Creating a platform similar to Apple's App Store
However, it will take a Digital Business Platform to facilitate these transformations.
For a few examples of DBP success stories, consider how Uber, GrubHub and Airbnb's direct-to-consumer approach revolutionized ride-sharing, food delivery and overnight lodging. These interaction points between company and consumer define the digital ecosystem — interconnected exchanges whereby users can fulfill multiple requests in one integrated experience.
Digital customer experience expectations driving urgency
A transition to a DBP will allow insurance providers to protect their most precious asset — their customers. But what's really driving the change to update legacy core systems will come as no surprise: increased competition, evolving customer expectations and new digital technologies.
Insurance executives understand the public's ever-increasing reliance on digital technology is altering their expectations. At the same time, brokers and carriers are bearing witness to big data's power, the prevalence of mobile devices and new initiatives that plan to include AI and blockchain integration.
This combination of factors has created the urgency for insurance executives to invest in the transition to DBPs. Well over half of the respondents vow a fundamental change in the way they approach business with their customers, and legacy systems are unable to facilitate that type of digital shift.
Charting a path to digital
The transformation from legacy to digital does not need to be perceived as a complex or challenging process. There are two routes to the digital future, one of which is internal and IT-facing and the other involves partnering with insurtech providers to provide the consumer-centric technology geared to reach the end user.
According to our research, 84% of respondents agreed insurtechs will become more relevant, allowing for the creation of these new partnerships, and 53% expected to integrate third-party products into their DBP. It is time to view insurtech as friends, not foes.
There are also a few industry leading carriers demonstrating the impact of DBPs and insurtech partnerships, as Chubb partners with retailer Suning, Progressive with Zubie, and Nest with Liberty Mutual.
DBPs facilitate customer engagement
From a legacy model perspective, insurance brokers are known to their customers for underwriting mitigated risk for multiple customer assets, but customer touchpoints are limited. They typically consist of policy renewals, rate adjustments and — of course — the unpredictable catastrophe.
Digital Business Platforms allow insurers to increase the number of touchpoints and thus boost customer engagement by integrating innovative customer service offerings, such as wearable tech and telematics. Some possibilities include:
Creating apps designed to facilitate deeper customer engagement
Collection and analysis of customer data for improved accessibility
High-speed delivery of proposals, claims, processing and payments
Monitoring insured assets designed to improve risk mitigation
Wearable activity trackers designed to lower health risk and associated costs
Without a business model predicated on a digital future, insurance carriers and independent brokers will likely struggle to maintain relevance to their existing customers — much less positioning themselves for future growth.
About the research
For the research, NTT DATA surveyed 471 senior executives in banking, insurance, brokerage, wealth management and cards and payments across the U.S., UK, Germany, Spain, Italy and Japan in early 2019. Nearly 50% of respondents were from institutions with more than $10 billion in annual revenue and 55% of those who completed the survey were C-level executives.
Download a copy of the research, Digital to the Core: Transforming Financial Services and Insurance in the New World of Digital Business Platforms and Ecosystems.