Andrew Carey Helps Financial Services Firms Ride the Waves of Regulatory Change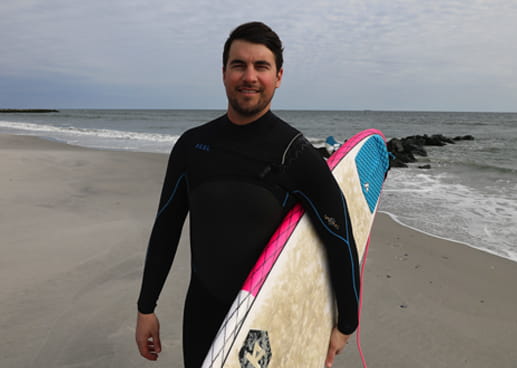 When surfer Andrew Carey is on his board, he's always ready for what comes next. Read how this surfer-turned-business-consultant helps some of the largest financial services organizations navigate the choppy waters of regulatory compliance, customer due diligence and compliance training.
Q: You're an avid surfer. How did you get hooked?
A: I grew up in Fenwick Island, Delaware. I've loved the beach from as far back as I can remember. I was a lifeguard throughout high school and college. The ocean made me who I am today.
Working in New York City, my wife and I like being able to escape to the beach on the weekends. Surfing allows me to find that moment of clarity. When I'm on the board I have to listen to the sounds of the water, pay attention to my environment and what's around me because things can change quickly. I have to be ready for whatever comes next. And catching a wave — there's nothing like it. It makes you feel alive.
Q: So, what drew a one-time surfer to New York to work with some of the top financial services companies in the world?
A: It's not as unlikely as it might seem. I love the challenge of helping our clients navigate continuously changing conditions — regulatory scrutiny, security threats, data challenges and digital transformation. It feels a little like being out on the board.
For one client — a top 4 U.S. bank — we needed to expand their compliance organization to help them quickly address a consent order from the Office of the Comptroller of the Currency (OCC).
When it comes to regulatory compliance, the stakes couldn't be higher for financial services firms. They're facing huge fines and penalties if they don't comply. And in the most severe cases, an institution could be issued a cease and desist order barring them from performing as a financial services institution. These types of programs are significant not only to relieve the client from the regulatory scrutiny, but also to position them for success in critical areas such as customer data, contract and document management, and data governance.
There were a handful of principles this client needed to remediate to have the consent order lifted. We were engaged to stand up a compliance program, overhaul customer due diligence efforts, manage HR and training of the compliance program across roles. We also brought in technology change managers to ensure the new underlying technology platform addressed current gaps in compliance monitoring and enterprise reporting.
Our client was very happy with the results. In less than a year, we helped the bank resolve 18 Matters Requiring Attention (MRAs), releasing them from the regulatory citation and avoiding $140 million in potential regulatory fines. In addition, our client now has an end-to-end compliance risk management program that ensures effective monitoring, operations and reporting.
Q: You've been with NTT DATA for six years. What's changed in that time?
A: My role today is to help our clients leverage the global capabilities of our company to address their long-term strategies — whether around legacy infrastructure, security or compliance. We're known in the industry as one of the top performers in managing Anti-Money Laundering (AML) and Know Your Customer (KYC) projects. We've executed more than two million hours of KYC/AML work in the past few years. We have in-depth knowledge of BSA/AML requirements and internal bank standards, and we have experience managing multiple product lines concurrently. Over the past six years, I've gotten to see how our clients truly benefit from that depth of financial services expertise combined with our full range of consulting, program management and technology capabilities.
From that ocean of talent, I bring together the right teams to help my clients achieve their quality, speed to market, process improvement, efficiency and cost savings goals. I love being out in the middle of it, helping some of the largest multinational banks ride the waves of change.
Get to know NTT DATA
Learn more about NTT DATA's Consulting solutions for Financial Services institutions.
Meet our Game Changers here.