Military to NTT DATA: Our Veterans Share Their Experience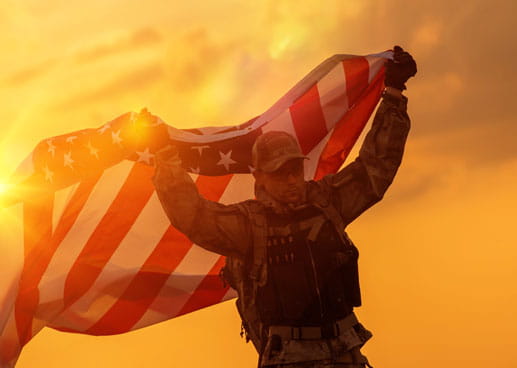 Each year as the calendar advances to November 11th, many Americans take time to reflect, remember, and thank individuals who have served in the United States Armed Forces. At NTT DATA, we would like to do the same. We are proud to call many veterans, both colleagues and friends. As the autumn chill enters the air, we would like to extend a heartfelt thank you to our many veteran employees for their service to our country.
NTT DATA's commitment to veterans extends beyond a single day. We actively recruit and hire former military servicemen and women and recently formed an Employee Resource Group — Veterans, and Employees Together (VET) — to promote veterans and veterans' causes. In honor of Veterans Day, we sat down with a few of our veterans and asked them to reflect on their service to the country and their time at NTT DATA.
Q: Can you please share some of the lessons learned during your time in service that prepared you for your career?
"One of the most important lessons I learned in the Army was that the foundation of leadership is trust. To influence people to achieve any common goal requires that those who serve, or support, must trust that regardless of the circumstances, the intent, motivation, and desire of their leaders is to do what is right."
Mike Ellerbe
U.S. Army
NTT DATA Federal Services, Senior Director of DoD Business
"While in the Navy, I had to overcome obstacles like keeping machines running in all circumstances and often in unpleasant conditions, and I had to work as a team with my shipmates to ensure our safety and the ability to achieve the mission. All of those skills are necessary for every person and every organization if they truly intend to achieve their goals."
Nat Bongiovanni
U.S. Navy
NTT DATA Federal Services, Chief Technology Officer
"The U.S. Navy provided a great opportunity to learn how to be a leader, how to organize a team, and finally, how to focus that team toward accomplishing an objective. The lessons I learned over ten years of active duty translated immediately into the business world. People want to be part of a winning team that sets goals, drives towards accomplishing them, and achieves them together."
John Graham
U.S. Navy
NTT DATA Services, Chief Revenue Officer
Q: Why is NTT DATA a good fit for Veterans?
"NTT DATA is a great cultural fit for veterans because we share similar values such as honor, courage, and commitment. At NTT DATA, we put these values to the test everyday while working with our clients and internal teams by doing the right thing, even if it is not an easy decision."
Kevin Durkin
U.S. Marine Corps
NTT DATA Federal Services, President
"NTT DATA is a good fit for veterans because there are other veterans here. There are people that understand if I'm having a bad day. There are enough of us here that understand, and we watch out for each other."
Ziggy Mormur
U.S. Marine Corps
NTT DATA Federal Services, Chief Security Officer
"NTT DATA has a true sense of the value that military veterans can bring to an organization. They invest in that experience, dedication, and commitment with an understanding that those tools are invaluable in today's IT workforce. NTT DATA makes the transition from military life to civilian life easier because many of the senior leaders have walked the same path."
Michael Adcox
U.S. Army
NTT DATA Federal Services, Delivery Executive Director
"When I retired, I was looking for an organization that had a leadership culture that mirrored my experience in uniform, and I found it here in NTT DATA. I wanted to work with people who understood the importance of the DoD mission, were committed to our customer's success, and could be trusted to deliver what they promised."
Mike Ellerbe
U.S. Army
NTT DATA Federal Services, Senior Director of DoD Business
Q: How did your experience in the military prepare you for your career at NTT DATA?
"My time in the Army reinforced work ethics — such as planning, risk mitigation, the ability to analyze constant unexpected variables, and working under extreme pressure. With that combination, it has prepared me to work through stressful deadlines and still be successful under any circumstance."
Susan Pham-Waldbeiser
U.S. Army
NTT DATA Services Chief of Staff, Office of the Group President, Healthcare
"The Marine Corps taught me that it always better to make a decision and execute aggressively than it is to wait to make a perfect decision too late. It also impressed upon me that it is not about the individual but all about the team. Our success at NTT DATA is due to high performing teams, not individual heroics."
Kevin Durkin
U.S. Marine Corps
NTT DATA Federal Services, President
"The military is all about teamwork and caring for your team. NTT DATA is much the same. We accomplish so much more as a team, both in the Navy and at NTT DATA."
George Wallace
U.S. Navy
NTT DATA Federal Services, Navy Vice President
"The lessons I learned in the military surround working with different broad sets of people, owning the outcome of a situation, and empowering people. I also made some of my best lifelong friends in the military. A lot of that comes from working on hard problems together and being close together while achieving the goal."
Dave Kapusta
U.S. Air Force
NTT DATA Federal Services, Chief Operating Officer