Want to Attract and Retain Top Talent? Cross the SLA / XLA Chasm.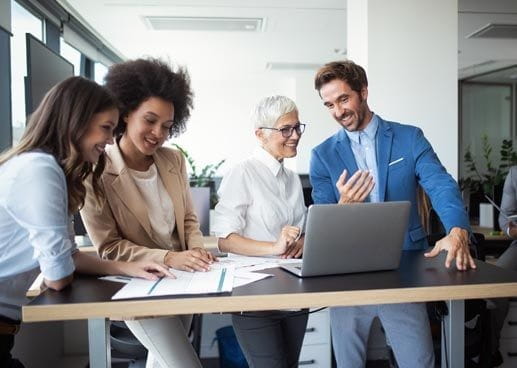 The effortless way technology has simplified activities — such as shopping for clothes, selecting tv shows and arranging for rides — in our personal lives, has conditioned us to expect the same ease-of-use at work. When there is friction or frustration in the workplace, valuable employees will seek change. More and more that change includes abandoning their job at your business for more productive and engaging pastures. In fact, according to Microsoft, 45 percent of employees — or nearly half of the workforce — accept a job or stay with an organization based on the quality of the experience they have had with the company.
Business leaders recognize that keeping customer-facing employees happy translates into keeping customer relationships profitable and secure. Design thinking and journey mapping techniques used to "walk in the customer's shoes" help determine points of friction and potential improvement for customers. These same processes are increasingly being turned on employee experiences. Maintaining a compelling experience is an ongoing challenge. Organizations must find a reliable way to sustain advances to attract and retain both top employee talent and customers.
The solution, as we see it, is continuous evolution of business objectives, employee experience (EX) measurement and incentives that reward improvement. The core challenge most IT organizations face is that these options fall outside the wheelhouse of traditional service level agreements (SLAs).
If your initial reaction is something like "Wait. You mean to say changing the way we measure and contract for services is impactful to employee retention strategy?" The answer is emphatically "Yes!"
If your reaction is more like "I don't need this because my services are in-house. I don't contract for these services," then we suggest whomever provides a service, (regardless what the service is), also have these challenges and can apply these solutions.
Why your comfortable old SLA shoe no longer fits
IT effectiveness has been conventionally measured with SLAs, or contracts between service users and service providers. Example SLAs include the parameters of service desk efficiency, system uptime, response time, cost of specific IT services, and etc.
Traditional SLAs are intended as bare minimum levels of service put in place to avoid penalties. SLAs have no inherent intent to create a compelling experience. SLAs also fall short of enabling partnerships focused on perpetual improvement, and often, as a result, SLAs can eventually degrade into a somewhat adversarial relationship. That the term "watermelon SLAs" is widely understood remains a key evidence point. Traditional SLAs are almost always green on the outside (contractually compliant) while red on the inside (adversarial from the business user's perspective).
Clearly, breaking out of the SLA comfort zone requires a new mindset that humanizes EX based on targeting the achievement of real business outcomes. Attracting and retaining top talent requires adopting a human-centric, rather than IT-centric, perspective of experience.
Enter the eXperience Level Agreement (XLA) and our 3 critical steps for success
Outcome-based contracting, or XLAs, have been discussed by many, attempted by some, achieved by few.
Where an SLA measures if an employee's issue was resolved within the contracted parameters to avoid a penalty, an XLA measures actual business achievements in concert with the employee experience. When employees are more productive, faster and satisfied with the experience, everyone should win.
Lastly — but in many ways most critical — traditional SLAs don't account for the impact of problem avoidance. Most traditional agreements are paid by engagement volume (tickets) with penalties for substandard delivery. Measures which avoid problems don't typically improve sentiment because people only know about problems resolved. Problem Avoidance = Customer Delight yet traditional contracts and SLAs create the opposite effect.
NTT DATA offers a unique, 3-step approach to shift from SLAs to XLAs:
Identify real business outcomes and ideal employee experiences. Start with defining and ranking what defines success for your business (perhaps immediacy, external vs internal, value, cost). Rank groups of employees by business function. Then define the ideal employee experience that facilitates the priority business outcomes you are after. The goal is to define what compels both your business and employees to be happy and successful.
Measure outcome and experience to guide continuous improvement. While happy employees are obviously a good thing, without relevant business impact, happiness will not be enough. Employee experience metrics include sentiment, system, application performance and workflow performance monitoring. Business outcomes give us the anchor to focus and shape the reality of daily events, but more importantly, the business justification to suggest compelling change.
Reward positive results. The number of reasons SLAs do not work are no secret. Most importantly, SLAs in contracts are intended as minimum necessary performance levels to avoid a penalty. By definition, these cannot engender business outcomes or high levels of satisfaction. Most studies of human behavior agree carrots are worth more than sticks. SLAs are sticks.
These three steps aren't unlike family interactions. Know what makes your family happy in the context of being safe and productive members of society. Measure their achievements and happiness. Use rewards more than penalties. Most important, if you don't do all three, the family will struggle to be happy.
One real-life example
All hospital nurses and doctors want to spend more time with patients. They want better clinical outcomes, less pain for their patients and quicker returns home. However, traditional hospital helpdesk SLAs measure how fast someone answers the phone, how long a call takes and how often a problem is resolved during a call. An XLA journey would start with understanding what gets in the way of nurses and doctors spending more time on care.
We undertook such a journey to implement XLAs and improve employee sentiment, (and patient care) with a large hospital system. One of the challenges we jointly addressed involved the critical-but-significant time operating room nurses and doctors spent prepping for procedures. This was identified as both a source of employee friction and high impact to hospital cost and patient safety. While clinical staff performed prep tasks, such as logging into devices, accessing patient records, testing charting interfaces, validating backup systems and familiarizing themselves with a case, support staff had to be on-hand just in case of a fault.
Our team examined the environment and uncovered the primary causes of frustration in this process. We then suggested the joint objective of increasing operating room utilization, a very simple statement of purpose. Clinical and support staff agreed to specifically increasing utilization two percent per quarter over the next year. The business outcome with specificity immediately created an environment of joint cooperation to identify, measure and validate changes together. Sentiment became immediately positive. During the first two quarters, the measured increase was only 1.3 percent. But as you might imagine, the value of that amount was staggering. More important, instead of focusing on what went wrong, everyone focused on "forever improvement" creating momentum to engrain and expand the partnership.
Sustain engaging experiences with XLAs
Successful XLAs partnerships result from this 3-step lifecycle:
Define real business outcomes and the ideal employee experience
Measure both outcomes and experience to guide continuous improvement
Reward positive results
Learn more about how NTT DATA has found success with our 3-step SLA to XLA process to continuously identify the right outcomes, measure the experience and establish joint incentives to meet the evolving expectations of your dynamic workforce.