How Real-World Data is Critical to Success in Precision Medicine R&D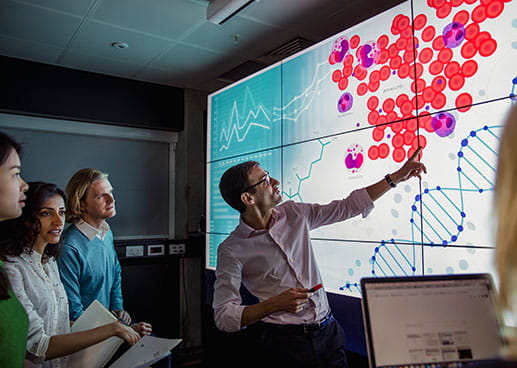 A recent article in Nature detailed the discouraging reality of "blockbuster" drugs: most of the people who take them don't benefit. The article cites a study published in Progress in Cardiovascular Diseases showing that for those taking one of the top ten highest-grossing drugs in the United States, between 1 in 25 and 1 in 4 see a benefit, and for statins, the results are even worse, with only 1 in 50 benefitting.
This is a problem the pharmaceutical industry wants and needs to solve. Long-term success for both drug companies and patients lies in ensuring delivery of only the right drug, to the right patients, in the right dose, at the right time.
So how did we come to the situation where patients are taking drugs that aren't effective for them, increasing their costs and risks?
The problem lies in the traditional approach to research and development — in particular, the use of clinical trials with large cohorts of patients who share a condition but often don't share disease etiology or genetics. In traditional randomized controlled clinical trials (RCTs), a drug might get tested on people whose condition stems from a biologic pathway that is unrelated to the drug being tested, because researchers lack advance information about the genetics of participants and the etiology of their disease. This is often presumed to be a cause for the failure of drug candidates in late-stage trials and, after the drug is approved, why the drug does not consistently deliver the expected value to all patients receiving it.
We must find a better way, and precision medicine looks to be the answer. That is why we believe it is the wave of the future. It is also the reason value-based contracting for pharmaceuticals and medical products is on the horizon. Health plans don't want to pay for treatments that don't work for their members.
Cancer research already has shifted away from the traditional research model. Tumor genotyping has given oncologists insights into the driver mutations, and we've learned to match patients and drugs (or drug trials) more effectively, using companion diagnostics. For example, the drug Gleevec (imatinib) can double survival rates of leukemia patients with a chromosomal abnormality in their tumors called the Philadelphia translocation, and Erbitux (cetuximab) improves the survival of people with colorectal cancer whose tumor cells carry a mutated EGFR gene but not a mutated KRAS gene.
Genotyping has also been used to direct cancer drug research, as specific biological pathways of disease are better understood. These new insights help researchers focus their efforts on small and large molecules that target these pathways.
One way of determining in advance who will benefit from a drug and who won't is to analyze Real World Data (RWD) to find commonalities among responders, non-responders and adverse responders. Once patients have been stratified into more targeted cohorts, researchers can intelligently recruit only those patients that are likely to benefit from the drug being tested. And researchers can also learn more about the etiology of the disease, gaining insight into more effective research directions.
RWD can also bring insight about medication adherence in a population, overall medical costs and outcomes. Pharmas and medical product companies who nurture the ability to access, link and analyze RWD will have a distinct competitive advantage in the very near future.
Big data sets and how to gain access
As the life science industry braces itself for demands of precision medicine and value-based contracts, the big question is: How do we gain access to the data we need, and once we have it, how do we make it useful across therapeutic areas? Most pharmaceutical companies currently lack access to this critical data, and their IT systems aren't prepared to integrate the data and run sophisticated analytics.
Useful RWD can come from prescriptions, insurance claims, EHRs, lab tests, pathology, clinical notes, wearables, patient self-reported data, surveys, social media and other sources that can provide insights into the social determinants of health. The data is needed both in the US and for international patient populations and covers the full spectrum of therapeutic areas.
Gaining access is getting easier, with the advent of vendors who are in the business of aggregating just this kind of patient data, including companies such as Truven Health, Symphony Health, IQVIA (formerly QuintilesIMS) and Optum.
But that still leaves the problem of how to select, integrate and use the data. Most life sciences organizations have a patchwork of systems and applications that aren't designed to play well with others. That fragmentation makes integration and analytics more difficult. But a there's a solution to that problem, too: systems integrators. These IT service companies live and breathe systems architecture and integration, and a carefully selected vendor can help you build and/or execute an RWD roadmap starting from your current state assessment. Look for a services organization with good past performance that is vendor-neutral, has current industry insights and can work with a variety of open source as well as proprietary systems to ensure you get the most value from your investments.
The key success factors to look for in a systems integrator for this effort include significant expertise in cloud and Hadoop, understanding of healthcare and life science data types, and experience with data analytical tools and frameworks. The vendor also should have a solid understanding of healthcare data privacy, security and compliance, the expertise to integrate with enterprise IT systems such as a CRM within a pharma organization and significant executive commitment and investment in life science RWD analytics practice.
Beyond research – patient engagement and marketing value
Besides research, RWD insights can have a significant impact on targeted marketing and sales efforts. Use cases with short-term value include:
Marketing and operations can use the data to identify target patients and set automated messages to sales reps or customers during and after a product launch.
Those responsible for health economics and outcomes for value-based contracts can integrate patient data from payers to monitor and extract specific health measures indicative of outcomes of a drug to demonstrate efficacy and prove their products' value to payers.
Sales strategy teams, particularly in generics pharmas, can use RWD insights to better understand competition, pricing and market share and predict entry of new players into a product market.
The critical first step to all these biopharmaceutical use cases is ensuring a very robust, integrated and compliant RWD lake or warehouse that can flexibly enable artificial intelligence (AI) or business intelligence (BI) and analytics. Once the value is demonstrated for a single brand or use case, you can expect to see additional internal use cases tapping into this core RWD warehouse.
Learn how NTT DATA Services serves the Life Sciences industry.