Q&A with Award-Winning NTT DATA Services Consultant Doug Hautop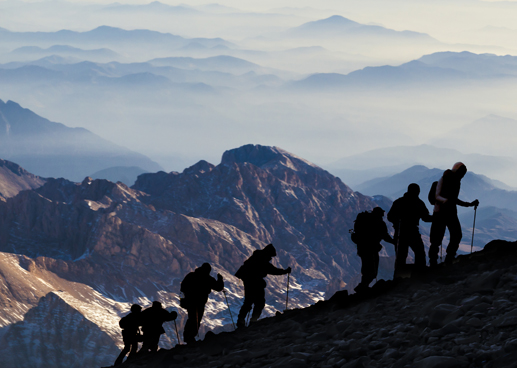 Just four years after being spotlighted as a Rising Star by Consulting Magazine, Doug Hautop, vice president and portfolio executive for Financial Services at NTT DATA Services, has been recognized again. This time, Doug has earned the magazine's prestigious Top 25 Consultants Award for his laser-focused commitment to client and company success. I sat down with Doug to hear his thoughts on competition, consulting and what motivates him.
Q: In your "Game Changers" video, you talk about how you were always competing against your four older brothers. Do you think being competitive is what drives success in consulting?
A: Well, I've always been competitive. When I was twelve, on our last morning of a family vacation, I came out of my room, tennis racket in hand, and challenged them to a game. My brothers, still in their pajamas, laughed and told me to chill out. "I didn't come on vacation to relax," I said. "I came here to win." I think my competitive nature drew me to the consulting business. But I've learned that the best consultants don't compete for individual glory; they compete for team success.
Q: Why do you think you've been recognized as a Top 25 Consultant?
A: I didn't get Top 25 for going it alone. I've been recognized because I led a talented team that enabled our client to achieve its goals. It's all about client success. Without their success, anything we do doesn't matter. As consultants, we come to the table with a lot of experience and know-how, but we listen, learn and adapt depending on the situation and the client's needs. Our adaptability is key to helping our clients be successful.
Q: You earned the award in part because of the successful transformation you led for a top 10 bank. How did you approach an engagement of this scale?
A: The bank engaged our consulting practice to help them mobilize the strategy and drive the implementation of a wholesale banking transformation project. The goal was to generate an efficient end-to-end lending process in compliance with regulatory requirements. It was huge in scope — a multi-year initiative touching much of the people, processes and technology used across many business units, materially affecting a large portion of the bank's revenue base.
It was a marathon of an engagement, and we saw it as a collaborative journey with our client. We knew we'd need to be adaptive to meet all the ups and downs of a long delivery schedule. We didn't try to force fit consultants into the engagement even if they were all-stars at other banks. If they didn't fit our client's culture, we made substitutions and learned when to go in another direction. We were very adaptive in the way we built and then evolved the team, collaboratively moving teammates in and out to fit the needs of each leg of the journey.
Q: As you reflect on successes and challenges of that engagement, what are you most proud of?
A: The go-live was a success. We created a very stable production environment, with no severity-one issues in all the months we were engaged to bring them to a steady state. Most importantly, the external feedback from customers and oversight interests alike has been reported as very positive.
One of the biggest challenges when embarking on large transformational projects is gaining stakeholder consensus. This is one of the areas in which we excel. Because we aligned our industry expertise to key program roles, we were able to generate the right team of industry operators, executives and consulting professionals who have worked in banks and who understand drivers and environments. Time and again my clients tell us this is what earns their trust.
Q: As a two-time award-winning consultant, what makes you hang your hat with NTT DATA Services?
A: We have a fresh feel among a mature consulting industry. The logo on my business card doesn't evoke worn-out assumptions about what kind of company we are. That's an irresistible challenge and opportunity to demonstrate what we can do for clients. And, to put it simply, we play harder against the entrenched firms.
Another reason is the adaptability and caliber of our teams. Our consultants have, on average, 15 years of experience providing trusted guidance to financial services firms. There's a get-in-the-game attitude — from our consultants to our executives. The Top 25 Consultants Award is a testament to this.
Lastly, we're part of a top 10 global IT services provider on the digital frontier, so we've got the global workforce behind us to make our clients' visions a reality. With the means and appetite to evolve into a world-class consulting practice, I wouldn't compete anywhere else.
Q: You've talked a lot about competition and teamwork. Is that what motivates you personally?
A: I think what really motivates me is being part of a team that pulls in the same direction for a greater cause. That applies in life, not just in consulting. For example, for several years now, I've helped organize an NTT DATA Services team here in Charlotte, NC, that participates in the Stephen Siller Tunnel to Towers Foundation Tower Climb. Stephen Siller was a firefighter who lost his life in the Twin Towers on September 11th 2001. The climb raises money to provide specially adapted smart home technology to catastrophically injured service members. It's a grueling event — some of us strap on heavy firefighter's gear and race up the 60 stories of one of Charlotte's tallest buildings — but the shared sense of mission keeps us going. It's a privilege to be part of it. Find out more at: www.tunnel2towers.org.