According to the 2021 Global Customer Experience Benchmarking Report, CX is moving to the world of added value. Some 90% of organizations agree that CX is a primary differentiator and almost 60% of global consumers strongly agree that CX is a way to differentiate from the competition. The SAP Customer Experience portfolio offers a truly transformational, integrated approach to put your customer at the core of your business.
We engage with our clients to provide strategic advisory and road mapping service. We help develop a 360-degree view of end-customers and interactions across their ecommerce platform while supporting omni-channel presence including phone, tablet, internet, desktop and in-store. And we assist our clients in implementing these strategies for their SAP CRM platform by leveraging pre-built products and accelerators that help to improve implementation timelines and overall customer experience.
Let's start the conversation.
With NTT DATA as your partner, you will reap consistent results across all SAP packages and integrations, no matter the size.
Deep industry, process and platform knowledge supports rapid, successful deployments
Rollout services can expand geographically or addition of product lines
Extensive cloud hosting services support your customer-facing applications and platforms
Strong project management capabilities manage any end-to-end implementation
A roadmap for improvement addresses and eliminates customer service friction points.
We've helped multiple clients dramatically transform their go-to-market processes, customer interactions and customer experience. Find out why we can help you, too

360 view of customer interactions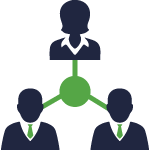 Seamless collaboration

Harmonized customer experience

Rapid deployment