After dealing with uncertainty over the past two years, organizational resilience and innovation is paying off. Overall, executives today are more hopeful about the future and focused on driving growth, controlling costs and improving productivity. Developing engaging customer and employee experiences continues to be key. Discover the digital strategy, investment and innovation lever business and IT leaders are pulling for success.
Despite continued disruption, executives are less concerned about potential negative impacts from workplace, supply chain and competitive disruption. Investments in reskilling employees, modernizing processes and technologies, and creating new products and services have left respondents feeling better prepared to meet the priorities and challenges ahead.
How Executives Drive Growth
At a Glance
50%
Invested in new reskilling initiatives
48%
Integrated modern technology into processes
45%
Created new products, services and/or business models
45%
Incorporated sustainable practices into internal operations
35%
Revamped our customer service efforts
With bolstered business resilience, many organizations have shifted their focus to growth, profitability and productivity. 51% of respondents say that growing the business is their top organizational goal for the next two years, followed by improving profitability (48%) and increasing process efficiency (45%). Organizational strategic planning is increasingly long-term, while innovation focused on gradual, continuous improvement on existing products and services is believed to deliver the greatest return on investment, according to 42% of respondents.
Even as executive confidence is growing, organizations continue to face significant—and now familiar—challenges, including integrating legacy technologies, driving compelling customer experiences and using data effectively for decision-making. Employees still feel unfulfilled in their roles as employers struggle to provide positive organizational purpose, culture and leadership.
say growing the business is a top priority over the next two years
#1 Innovation Challenge: Outdated Technology
Outdated technology is the #1 challenge impacting innovation according to the business and IT executives we surveyed. Lack of interoperability with legacy systems (38%) is second only to lack of budget and funding (41%) when it comes to standing in the way of modernization.

Changing Customer Needs Impede Great Experiences
As in last year's Innovation Index, rapidly changing customer needs and desires were cited as the top challenge to delivering high-quality customer experiences for 41% of respondents. And while customer unpredictability is high, 38% of executives said they lacked the resources to deliver products and services on time.

45% of Employees Remain Unfulfilled
Despite employee engagement and retention increasing as a priority nearly 70% year over year, 45% of employees still feel unfulfilled in their roles. Only 34% of organizations have addressed work/life balance for their employees, with just one in five offering remote work. Of those that do offer remote or hybrid work, less than 20% have optimized their flexible processes.

Only 20% Say That Data Creates Value
Businesses are still struggling to leverage their data. Only two out of five leaders say that data creates value for their organization, with 43% calling their data inaccurate and useless. Fewer than half of those we surveyed were completely confident in their data-driven decision making.

Leaders Are Better Prepared to Grow
Leaders in our study who focused on four key factors over the past two years—value and speed, resiliency, insights and a winning workforce—are ahead of the game. They are more likely to have seen profitability over 25% during the past two years and have a better focus on innovation-focused culture (52% vs. 40% non-leaders). They're also more able to deliver speed of service, drive operational cost reductions, use data to inform decision-making and offer flexible work options for their employees.
The Rise of the Digital Enterprise
As organizations shift their focus from disruption to growth and accelerate their plans to deliver new digital experiences and hybrid workplace models in pursuit of market growth, four technology focus areas stand out year after year:

Public cloud investment grew from 58% to 76%

Mobile application use doubled to 74%

Composite application use quadrupled to 43%
Edge computing tripled to 30%
In terms of future focus, AI is one area where most organizations are placing a sizeable bet, with 93% of executives expecting AI to be in common use within the next two years.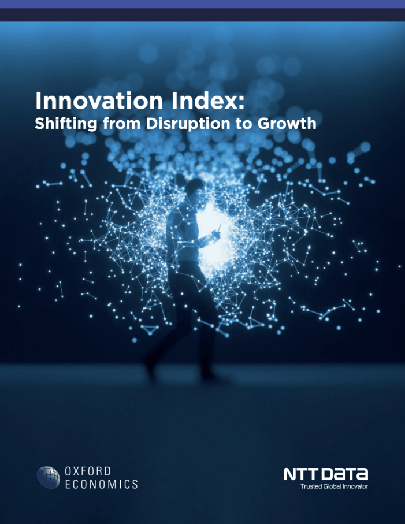 Learn more about how business and IT leaders are shifting their focus from managing disruption to achieving growth.