5000+
Salesforce
Certifications
1900+
Salesforce
practitioners
20+
Years in Partnership with Salesforce
3500+
Successful Salesforce Projects
Why Choose Salesforce?

Customer 360, Salesforce's complete suite of products delivers sales, service, marketing, commerce and IT teams with a single, shared view of data to help nurture customer and employee relationships.
Accelerate time to value with Salesforce's out-of-the-box capabilities with existing data sets and platforms
Clear the clutter with efficient process redesign services and tool kits that inspire user engagement and greater realization of platform value
Connect your application landscape with an API forward strategy with Mulesoft
Consulting Services
We design and develop the best strategy to resolve business challenges and achieve digital transformation along with Salesforce and our comprehensive technology platform.
Implementation & Integration Services
We build and integrate the entire set of Salesforce products, including Sales Cloud, Marketing Cloud, Service Cloud, Experience Cloud, Industry Cloud, Omnistudio, Mulesoft, to deliver true end-to-end solutions.
Customer Engagement & Experience
Our experts assess and help execute your customer-centric business strategy using Salesforce platforms to deliver superior experiences with a 360-degree view of your customers.
Application Support & Optimization Services
We provide full lifecycle support for Salesforce, updating it to meet your changing needs, adding multiple clouds, or working to harmonize it with your surrounding CI/CD environment.
NTT DATA Recognized in Salesforce Partner Innovation Awards 2022
We helped BBVA optimize their processes for the measurement of their carbon footprint using Salesforce Net Zero Cloud. This project is a winner for the Salesforce Net Zero Consulting Partner Innovation Awards 2022.
We're a Leader in Salesforce Services
NelsonHall NEAT Report for Salesforce Services 2022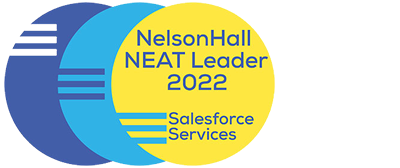 NelsonHall rated us a Leader in its 2022 NEAT Report for Salesforce Services, citing our strengths in MuleSoft and Overall Salesforce Services Market Segments based on our ability to facilitate digital transformations and meet future client requirements.
Why Partner With Us?
A rapidly changing environment has many organizations battling for relevance with their customers, partners and employees.
We can help make you indispensable to your customers, build and maintain an engaged workforce or gain competitive advantage through your partners.
Industry Expertise
Deep domain knowledge and industry cloud expertise in manufacturing, healthcare, insurance and more. We leverage Omnistudio, out-of-the-box business process templates and industry specific data models to simplify complex business processes with increased business agility and faster time to market.
Transform Project Discovery
Roadmap to inform decision making, reduce project scope, and achieve faster time to go live while reducing technical debt with NTT DATA OrgMD accelerator, which offers an automated tool set and scorecard that captures and grades Salesforce Org health in 10 business days
Proven Client Success
Proven cost savings, business flexibility, and access to expert advisors and leaders
You'll stay ahead when you leverage our industry and data-driven approach—delivered by our team of over 1900 practitioners with more than 5000 Salesforce certifications.