The TikTok-ification of Insurance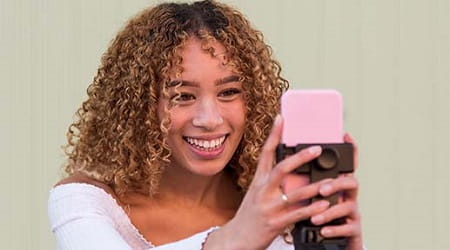 We all know that social media platforms use vast amounts of data surrounding our online activity to power algorithms and identify who we are and what we want. For years, insurers have tried to do the same.
Insurtechs like Lemonade emerged, claiming to invert the traditional insurance model to provide "Instant Everything" using an artificial intelligence bot that crafts the perfect insurance experience. Similarly, Vitality's behavior-change platform uses technology and data analytics to reward people for making healthier choices that lead to better long-term health outcomes.
Customers want instant customer service, simple user experiences, and relevant options. But most importantly, customers want their insurance experience to resemble the highly personalized, intuitive time spent on other apps. As a result, one app profoundly influences industries and redefines digital engagement standards: TikTok.
How does TikTok use data?
If you're not active on TikTok, you've probably heard about the swelling popularity of the app from your friends, your kids, or shared across other forms of media. TikTok is now considered the world's third-largest social network, trailing closely behind Facebook and Instagram. The TikTok app famously uses a highly personalized algorithm to deliver relevant content to users through the "For You" feed, which displays the preferences unique to each user.
The highly intelligent system recommends content to each user based on a combination of factors by registering interest and disinterest through data collection and analysis. TikTok leverages user interactions, video information, and device and account settings to produce highly personalized recommendations.
With all the hype, it's difficult to ignore the app's influence on a more meaningful conversation — how can organizations better use data to reimagine user experiences?
What the "TikTok-ification of Insurance" will look like
The banking, financial services, and insurance industries recently popularized the term "Amazonficiation" to describe the new marketplace approach to buying, selling and distributing products. Articles like "Why the Future of Banking Will Look Like Amazon" outline how the leading platform redefines distribution models. Similarly, "TikTok-ification" represents the prototypical model for effective data collection, analytics, and user experience. The future of insurance products and services will resemble the personalization achieved on TikTok because, according to research done by NTT DATA and Oxford Economics, 40% of insurance leaders are already implementing predictive data analytics, and 37% are implementing machine learning to get there.
Insurers must start by asking who their customers are. This questioning doesn't mean looking at customer demographics or generating a nebulous user persona; it means nurturing an understanding of one unique and complex individual.
What is their name? How many children, if any, do they have? Where do they spend time online? What type of trips do they take? What sort of car do they drive? What are their immediate needs? What do they value?
The "TikTok-ification of Insurance" will look like the answer to all these questions; it will be the journey insurers take to know their policyholders individually and their capacity to meet their customers' needs in the same way. Data is the connecting link, the humanizing variable, and the secret sauce that will differentiate the slow-moving giants from the trailblazers.
The critical link between the data-driven enterprise and customer engagement
TikTok is undeniably a data-driven enterprise; the platform gathers user data to create a 360-degree view that identifies precisely who its users are and what they want. Consumers will spend time on platforms that deliver what they want, and insurers are taking notes. Of course, insurers will not remodel their platforms to mimic this wildly popular video platform on the front end. However, they will start to model back-end data collection, analysis, and personalization around TikTok's intuitive algorithms.
Predictive data analytics drive results; reports show that the implementation of Big Data has resulted in 30% better access to insurance services, 40 – 70% cost savings, and 60% higher fraud detection rates. As a result, the insurance data analytics market is booming; one of the key insurance market trends in 2022 is the acceptance of advanced analytics techniques.
However, to accomplish TikTok's level of personalization, insurers must find a way to transform enormous quantities of unstructured data into actionable insights. To do this, insurers are introducing interconnected digital platforms that can liberate data from silos, offer insightful analytics, visualize scattered data on one comprehensive dashboard, and accelerate speed-to-market for their products, services — and in some cases — products and services provided by other companies.
In the journey to embracing digital ecosystems, we encourage insurers to carefully observe TikTok's data usage strategy to guide the path toward the future of insurance.
Predictive analytics will drive the future of insurance
The "TikTok-ification of Insurance" starts with data analytics. Analytics are a company's most important tool to gain customer insights. Companies in insurance are already using predictive analytics to help with:
Improving pricing and risk selection
Identifying customers at risk of cancellation
Guiding cross-sell opportunities
Detecting and mitigating the risk of fraud
Measuring customer brand loyalty
Finding and targeting potential markets
Creating a 360-degree view of customers
Building a personalized customer experience
The insurance industry will transition from using predictive analytics to prescriptive analytics, the next frontier of analytics. This type of analytics combines descriptive and predictive analytics to create a road map and turn data analytics into business intelligence. Soon, entire insurance business strategies will be directed and augmented according to recently available data.
How to build a "For You" feed for insurance
Imagine an intelligent data platform that stores customer, policy, and claims data in one place, allowing insurers to use historical data from previous claims to inform new policy underwriting. Imagine a platform that generates diverse external data sources, liberates data siloes, and builds predictive algorithms that demonstrate the value of insurers' data lakes. Imagine a platform that tracks interactions and life milestones to embed insurance into people's daily lives seamlessly.
Insurers can deliver the equivalent of a For You feed, featuring relevant products and services to every customer based on their needs. Leaders that modernize applications and transition to a unified platform are one step closer to making these possibilities a reality.
In conclusion, TikTok is more than just a social media app for content creation and consumption; it has become the modern paradigm of data analytics, user engagement, and personalization. To compete with insurtechs, leaders will look to Big Tech, IT and software providers, and other industry pioneers to guide their digital transformation.
Adopting a digital insurance platform enables insurers to keep up with this transformation by shifting from complex core systems to being more agile, flexible, and innovative in the existing business model. In addition, it helps insurers liberate data and use it to deliver elevated CX. The future of insurance is happening now, and generations that have grown up online expect digital-first experiences that populate as quickly as their next personalized video.
Learn more about related topics:
To share your thoughts, connect with Mercedes on LinkedIn.