A Team Player, Deb Brasfield Offers Perspective on Diversity and Inclusion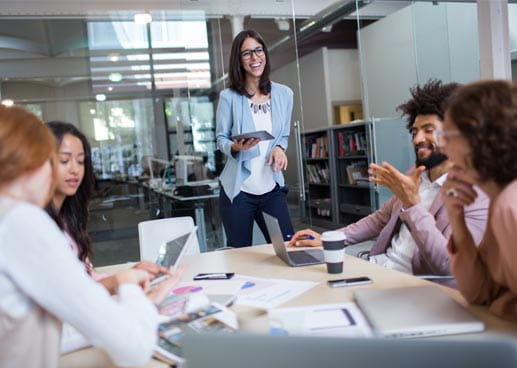 I learned how to be a team player early in life and was always competitive. (For example, I was one of the only girls my age that played little league and hockey and got used to being just one of the guys.) I graduated high school early and instead of going to college right away I jumped into the workforce at a car dealership. Once again I was around all men, and just became part of the team. At 18 I became Assistant Office Manager and wanted more of a career, so a friend referred me to CIGNA Retirement & Investment Services. They were only really hiring college students, and I didn't necessarily fit the mold, but the hiring manager knew my friend, and she granted an interview. This strong, female leader saw my potential and brought me into her group.
I learned all aspects of retirement plans, advancing to many roles; including a Transition Manager (Project Management) role that supervised the transfer of customer plan assets and participant records. In this role I remember working with a union attorney (and former New York State prosecutor), who tried to intimidate me. I held my ground and earned his respect, something that yielded further sales referrals. Sometimes it seems like women need to prove themselves more than our male counterparts. Having strong advocates (like that female leader who took a risk and hired me) are key to climbing the corporate ladder regardless of gender or ethnicity. She taught me that it's okay to take a risk, have high expectations and that people will rise to the occasion.
During my time at CIGNA I also decided to go to college. At 25, I was one of youngest people accepted into Cambridge College, which is geared towards advancing minority working adults. In three years, I was able to leverage my work experience and pursue an accelerated learning program; resulting in obtaining my M.Ed. with focus on Business Management and HR Management. College was where I really learned about embracing diversity and collaboration, and how to integrate the perspectives of others for the greater good while also helping increase my self-confidence.
Throughout my career, I've had to face career changes I didn't foresee. When I was going through a layoff at CIGNA, my experience with outplacement services allowed me the opportunity to evaluate who I was, and what motivated me. I quickly identified my passion lied in helping people, and helping organizations grow and change. This truly changed my life. I leveraged my networking relationships to land a Business Process Management consulting engagement at Hartford Technology Service Company (HTSC), which was my foray into technology. I remained at The Hartford supporting strategic business and technology initiatives for about five years and faced layoff once again. I leveraged the educational resources offered by the state and took a General Insurance Certificate Class. Now armed with my marketing skills, Insurance Certificate, and informed network, I pursued Travelers and landed a Project Management role in their Strategic Business Unit.
Both times my career advanced after layoff due to my drive and ability to network. I saw many other women and men remain stuck after layoff; taking much longer to land a job and often not seizing the opportunity to create a new beginning. Some people need more guidance and support, which is where Employee Resource Groups such as Women Inspire NTT (WIN) can help. It's up to each one of us to steer our career and capitalize on available resources.
After almost five years at Travelers supporting most Commercial Insurance Business Units with product, operations, and platform initiatives, I was introduced to Carlisle & Gallagher (CG) and took a risk to branch out into external consulting. My consulting with CG started with Change Management, Project Management & Agile IT Program Management servicing Financial Services and Insurance customers. When NTT DATA acquired CG and one of my engagements ended, I landed on the bench and seized the opportunity to help connect the dots between the two organizations. I was lucky to have an advocate who recommended that I move to the Insurance Practice to help improve operations, which is how I became the Chief of Staff/Director of Operations.
My career hasn't been without the challenges faced by many working women. Twenty-four years ago, I made a conscious decision to be a working mom and have struggled to balance the demands of work and family. I've sacrificed position and salary to base my career decisions on being around for my family, which has made it more challenging to climb the corporate ladder. But over the last 10 years or so I've seen more men taking on a lead with their families, which is shifting how companies are dealing with this business challenge. Regardless of our gender or ethnicity, we all can advance in our careers by being confident in who we are and standing up for ourselves while also accepting help along the way. I've been very fortunate to have advocates helping to advance me to the next step. In return, I try to make a difference and want to help advocate for others, which is why I'm so excited to have found WIN.
The theme throughout my career has truly been helping people and organizations come together to leverage talents and expertise to make work a better place. This includes embracing the strengths of all different types of people — gender challenges being one of many. My teambuilding experience in other companies has informed how I work at NTT DATA Services and added a different flavor to integrating teammates from other cultures into our team. We're still working through some of the cultural integration with Dell Services, but day-by-day I see improvements. Learning more about all teammates, and what they value, helps me build a stronger team. Years ago, a teammate introduced me to a phrase that has stuck with me, "Together Each Achieves More (TEAM)." I truly believe that.
I am now one of those empty nesters who is freeing up time to give back and make it easier for women — and men — who choose to be an involved parent still be able to advance their careers. WIN is one of those avenues that can help spread education and provide resources to open more pathways into leadership roles. We need to be an advocate for each other and realize that by helping others we're also helping ourselves. It's a Win-WIN strategy!
At NTT DATA Services, I like to think of our Insurance business unit as small, but mighty. Of the few women on our team, four of us are engaged in WIN. That alone has already helped build alliances, which can help make sure our voices are heard. One of the greatest attributes of my current role is that I'm the glue that connects the team together, as well as the one who reaches out to our business partners to build and improve relationships. WIN has helped me expand my network, further assisting me with helping others. I look forward to this year's expanded WIN programming, and how we can further engage women and men to promote diversity and inclusion across NTT DATA.
Read the announcement by NTT DATA Corporation, with a statement by Yo Honma, President, and CEO of NTT DATA.
#balanceforbetter #IWD2019 #NTTDATA @nttdataservices
International Women's Day 2019 blogging schedule: