Cultivating Change: Kim Curley on Gardening, Growing Leaders and Transforming Organizations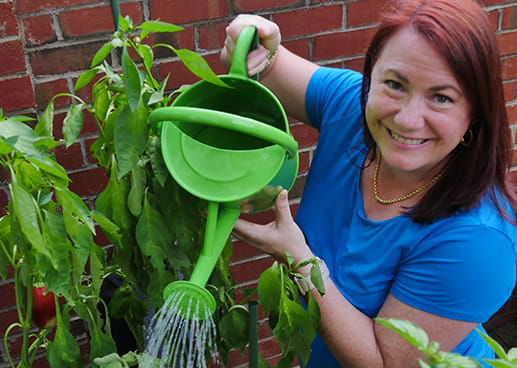 Kim Curley is a Senior Director within NTT DATA's Consulting Services with over 25 years of consulting and financial services industry experience. She leads our People and Organizational Change, Process Optimization, and PMO practices, helping our financial services clients adapt and thrive during rapid industry disruption. I had the pleasure of chatting with her about how she helped a top bank change the way it approaches change, her work on gender diversity at NTT DATA and her love of gardening.
Q: Your colleagues call you a "professional nurturer," what's behind that name?
A: It comes from my love of gardening, but it goes beyond that. A long time ago I realized that as a knowledge worker gardening could be a way to express my need to touch and produce physical things. So, I started planting native flowers and shrubs in my back yard. Today, it has grown into a thriving habitat for bees, squirrels, chipmunks, birds and butterflies because everything I planted has a job to do, serving as either a food source or home for the local wildlife. I guess I am a professional nurturer because I see my greatest gift to our firm as cultivating talent within the organization, helping colleagues untangle nettled situations, assisting them with designing interesting solutions or just helping to create the right environment where budding consulting talent can grow.
Q: You have an impressive 25-year track record as a business consultant and as a practice leader who grows consulting talent. What skills stand out in enabling the best from your consultants?
A: There are three capabilities I strive to grow in the consultants I mentor: the ability to lead people, drive organizational change and make processes better. We've all heard the stat that 75% of all IT projects fail — well, it's not because of the technology; it's because of how it was deployed into the organization. There is no system that accomplished anything of value for a business without humans attached to it. Strong consultants understand that you cannot make a technical change without understanding and mitigating the impact on human experience. Our clients understand that. That's why they seek our expertise.
Q: Tell me about a time where your change management approach made a significant impact on a client's success?
A: Regulators had asked a top US bank to provide more comprehensive reporting for one of their core lines of business. The bank wasn't able to do it — they either couldn't extract it effectively or were not capturing it in their 30-year-old homegrown system. So, they brought in NTT DATA to help them design and manage an end-to-end commercial lending transformation project. This was the largest commercial lending implementation of its kind, impacting more than 20,000 associates, sun-setting 10+ major systems, changing 125+ applications and directly affecting a huge percentage of the client's overall revenue stream. The project was a success — and not just because the lights went on Monday morning when we turned on the new system, but because people could do their jobs well and generate revenue for the bank, with no disruption — better even than they could before. We had prepared people so well for the conversion that we could stand down in only two weeks.
The reason for this success has everything to do with people. More than 3,500 people were trained through web-based and instructor-led methods. We created a champions program designed to increase adoption and support employees in their local offices at go-live, and we built a performance management enabling system to give them job aids at their fingertips. Our readiness program was comprehensive. We changed the way that company looks at change. The firm now sees organizational change management as a critical element to their initiatives.
Our preparation of employees is extensive, but it is also customized to our clients' cultures and needs. As experienced financial services consultants within an end-to-end IT services provider, we have an incredibly rich variety of solutions that we can bring to our clients, but our special sauce is created when we apply them in the right way at the right time for our clients. It's a bit like having basil in your garden — it's what you do with it in the kitchen that creates great results.
Q: You helped to pioneer the Women Inspire NTT DATA (WIN) initiative in the U.S. Tell me about that.
A: WIN is NTT DATA's gender diversity initiative. Its purpose is to support women and their development within our company and — importantly — within a technology industry that has traditionally been dominated by men. Here in Charlotte, we convene once a month to network, catch up and sometimes dive into deeper issues, such as implicit bias. We recently held a panel discussing everything from work-life balance to career paths. Next up is a session on effective communication and the challenges women sometimes face.
WIN is not only good for our people; it's good for business. Studies show that businesses with more women in leadership perform better financially. Our clients — the CFOs, the CIOs, the business line leaders that we serve — are increasingly women and expect to see greater diversity on our teams. It's an exciting time to be in consulting at NTT DATA.
Watch Kim's Game Changers video here.
Get to know NTT DATA
Enhance the speed, adoption and sustainability of business transformation: learn more about NTT DATA's Organizational Change Management services. See our full breadth of IT services for Financial Services institutions.