Connecting the Dots at the Intersection of Demanding Industries and Technology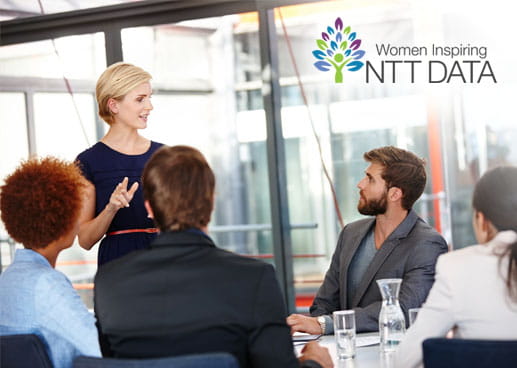 As I look back on my career spanning almost 18 years, one thing is quite evident 'the dots always connect.' I entered the IT Services industry in 2000, with an MBA from a top business school in India. I still remember Day One very vividly. Before the beginning of the 'official' placement season began on campus, I was offered two jobs — one at the top private bank in India, and the other at the top IT services company in India. I chose to start my career with IT services, which seemed at that time a more exciting, emerging and challenging industry to dive into. For close to two decades, I have worked with clients and in teams across different parts of the word – India, Japan, Europe, U.S.A., Canada, Latin America — and across roles spanning Technology Consulting, Technology Services, Client Management, and Business Strategy. I've facilitated complex deals, and led P&Ls in different industries. Over the last six years I've helped build and lead the game-changing growth of Financial Services business for Dell Services (now NTT DATA Services) for North America. I'm proud to say this business is now a multi-hundred-million-dollar P&L, with global clients and teams in all major regions of the world. The dots have connected wonderfully. Today, I find myself at the intersection of the demanding and ever-changing Banking and Financial Services industry. And what truly enables it today? One word: technology.
Building on world-class leadership
I became a part of NTT DATA through the acquisition of Dell Services in 2016. After the integration was completed, I was pleasantly surprised by many aspects of NTT DATA. Coming into the company as an outsider, the global nature of the business was impressive. Our global presence, the strength of our workforce and the bottom line results were less known that most of our competitors. The other element that surprised me was the existence of world-class leadership development programs, such as the Global Leader's Program (GLP), which bring leaders together across NTT Group companies over a one-year period to focus on projects of strategic value. Lastly, I was also surprised by the potential of all facets of the NTT Group, with companies that can deliver integrated and elevated client value. It was evident to me that was at once, the greatest challenge and the greatest opportunity — how to bring together these companies in a way that we could solve customer challenges more effectively and efficiently.
Of course, we can't enjoy the privileges of a global company without encountering the challenges. And gender parity remains an important issue in our industry and across our clients' industries. It has also been a challenge close to my heart for more than a decade. I had the opportunity to be the North America lead for Diversity & Inclusion for Wipro, one of my previous employers. In addition, I was an active member of Women In Search of Excellence (WISE), at Dell. Including women in leadership roles — and what organizations are doing to provide women a supportive and motivating work environment to grow and succeed — is an issue of significant importance at the highest levels of the organizations I serve; both in the banking and financial services business, and in the tri-state area. I am often told by our clients and partners that they find it very encouraging when they see a woman leader sitting across the table in a senior management role. However, the fact is that I am one of the very few women at NTT DATA Services leading a sub-vertical is a clear indication we need more women like me, and we need to create an environment where this is seen as a priority for our executive leaders.
A very passionate and engaged discussion
The idea of Women Inspiring NTT DATA (WIN) is the result of a very passionate and engaged discussion in one of the first 2017 Leader-to-Leader programs in which leaders in FSI debated if "Diversity" is one of the core values of NTT DATA Services, and if it is, how we can do more to exhibit diversity in our sub-vertical.
To me, WIN is about elevating the conversation, and getting the topic out in the open in a very constructive and goal-oriented manner. We want WIN to be an priority for our Executive Leadership, and have that level of visibility. As always, our actions have to speak louder than our words, although I do believe, when it comes to this issue, words are very important. WIN intends to provide a multi-layered approach to support and grow women through a stages/ lifecycle approach from talent attraction, talent pool for positions, to promoting women in leadership roles and finally having an environment that women feel supported and motivated to succeed.
Enabling ambition and growth
It is very important that we make this an inclusive exercise, in which the issue is on everyone's agenda. One of the programs we intend to launch through WIN is mentorship. I firmly believe that mentorship is a very strong asset NTT DATA Services, as a global organization, must use to draw in colleagues and leaders to enable change — regardless of gender. The most important and candid conversations can happen when women are able to seek guidance and advice that enables their ambitions and growth potential. I believe it will make a significant difference to advancing the leadership of women at NTT DATA Services.
I am an eternal optimist. That is the only way to look at the future! I am very proud of my team and have full confidence in them being able to build deeper relationships with our customers, employees and partners. Through that process I believe we can drive the profitable growth of our business. At the end of the day, we are and will always be a people's business. We may have the best tools, technology and enablers, but it will always be about the people. It is very important that NTT DATA creates a brand and a work environment where the best talent wants to work and thrive. To enable that it is imperative that we set goals to help women leaders thrive. Five years from now, for NTT DATA to become the trusted IT innovator for our clients and partners, I dream and wish to see NTT DATA have a woman as CEO.
Read what Toshio Iwamoto, President and CEO of NTT DATA has said about International Women's Day.
To learn more about WIN check out these previous posts:
To learn more about #PressForProgress, visit the International Women's Day website.