Innovation Index: How Insurers Can Prepare for Constant Disruption
Insurance organizations that prioritize employee and policy holder loyalty will lead the industry during times of constant disruption. They also invest in the right technologies to drive performance and support better decision making through intelligent data.
Our research shows that you can learn a lot from those leaders.
Download our Innovation Index now to explore how insurers are remaking their strategy and operations through digital.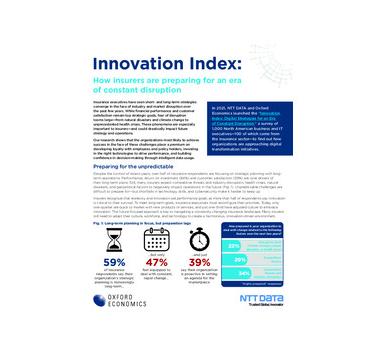 42% of insurers consider their performance in CX above average compared to 53% of the leaders
33% of insurers consider their performance in sustainability above average compared to 43% of the leaders
36% of insurers consider their performance in developing an innovation focused culture above average compared to 25% of the leaders