Law Enforcement Agency Embraces Digital Transformation With ServiceNow
Federal, state and local law enforcement agencies are transforming service delivery through digital technology. One of the largest law enforcement agencies in the U.S. sought to replace legacy tools and manual processes with an enterprise platform that would become the foundation for its digital transformation.
NTT DATA created a strategic roadmap for the ServiceNow platform, providing enterprise capabilities to improve efficiencies and support digital initiatives. The first phase of the implementation leveraged IT Service Management (ITSM), IT Business Management (ITBM) and Field Service Management (FSM) to reduce operational costs, improve control, and support the employee experience.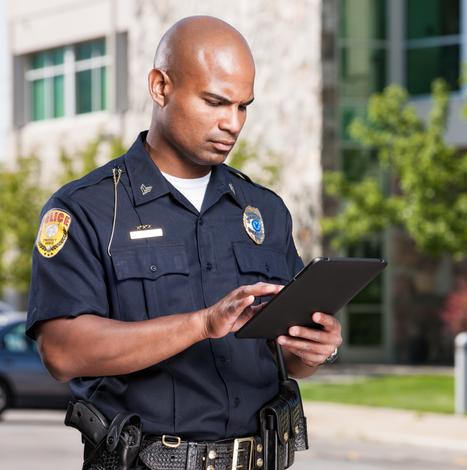 For an agency protecting more than three million citizens, digital transformation isn't just about improving operations; it's about enhancing services and minimizing risks.
With nearly 4,000 sworn and professional staff and over 800 reserve personnel, this agency provides law enforcement services across several commands and divisions, including land, air and sea-based patrol, emergency management, forensics, specialty operations and other public safety services.
Although the agency already had a cloud-based ITSM solution in place, the tool had hit its limits—and even with extensive customization, it no longer met the organization's needs. The agency wanted an enterprise platform easily configured to its needs and scalable across other functions—without the overhead associated with customized configuration requests or integrations. The agency chose ServiceNow as the solution best aligned with its current and future needs.
Improves operational costs
Reduces long-term maintenance and licensing costs
Provides better governance and control across all of IT
Delivers clear platform strategy via a multi-year ServiceNow roadmap
Simplifies employee experience with integrated automations
Replaces manual tasks done in spreadsheets and email
Create an effective strategic roadmap
NTT DATA has a long-standing relationship with the agency, providing it with global capabilities in cloud, networking, data centres and collaboration. Based on the success of that relationship, the agency called upon NTT DATA's ServiceNow expertise to assist in the process design, configuration and implementation of its ServiceNow platform.
ServiceNow offers modern cloud-native capabilities, easy integrations with other systems, and out-of-the-box capabilities to support an overall transformation roadmap, and could meet the agency's immediate needs for an ITSM solution and be a foundation for digital workflows across the enterprise.
Together, the teams created a strategic roadmap aligned with its digital transformation goals across business units and timeframes. The NTT ServiceNow team helped guide the agency during the roadmap discussions, working with the IT team, directors and executives to develop a plan that follows ITIL best practices, allows for effective change management, automates workflows and increases the value from its investment in licensing and implementation. In the first phase of the roadmap, the agency focused on three key pain points:
Replace its legacy system with ServiceNow IT Service Management (ITSM) as the base enterprise platform
Improve field technician capabilities with Field Service Management (FSM)
Roll out Strategic Portfolio Management (previously IT Business Management or ITBM) to deliver agility on other IT initiatives
Automation boosts efficiency and productivity
The agency desired increased maturity in its processes and relied heavily on its legacy system. As a foundation for future transformation, the base ITSM implementation focused on establishing ITIL best practices for processes and automating workflows in four key service management areas: incidents, problems, changes and requests.
The IT team gained immediate efficiencies from ServiceNow, both from the automations and from simple day-to-day use, management and governance—all of which required less time and energy than the legacy product it replaced. While this time savings ultimately translated to reduced operational costs, it also led to more productive law enforcement units and employees—especially important when many of those employees are tasked to serve and protect.
In addition to base management capabilities, the agency also enhanced the employee experience with a new service portal and the ServiceNow® NOW Mobile app, both of which help connect employees with the answers and help they need, reducing the burden on IT support staff.
Frictionless field service
Service technicians are responsible for various tasks that support the effective operation of the law enforcement agency and its sworn and professional staff. Many technicians work in the field to service vehicles or equipment such as radios. Before the ServiceNow implementation, technicians had to return to the office to update ticket status after repairs rather than update tickets in the field—a source of considerable inefficiency in ticket resolution time with high overhead.
ServiceNow's FSM provides end-to-end support for field service, from dispatch and scheduling to more empowered field technicians. Administratively, the agency can better schedule and dispatch work orders to technicians, while the field staff benefits from clear debrief documents and the ability to source and track service parts. In addition, with the FSM Mobile Agent, technicians can manage their activities on the go, helping improve service delivery and reduce travel time.
One of the largest law enforcement agencies in the United States deployed ServiceNow as the foundation for its digital transformation, reducing costs and improving productivity and employee experience.
Industry
Public Sector, Law Enforcement Agency
Headquarters
United States