How the Metaverse is Already Reshaping the Future Organization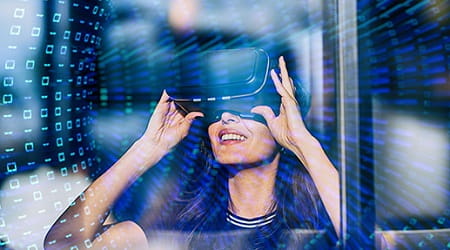 Digital disruption is continuing to forge ahead, and no industry is immune. Since 2000, more than half of the companies listed on the Fortune 500 have either gone bankrupt, been acquired, or ceased to exist. Those that have not survived generally stem from a failure to innovate, embrace new technologies, and transform. To thrive through the next industrial revolution, organizations must adopt new trends and change at a pace that keeps picking up.
Enter the metaverse, a virtual environment where users can interact through connected and immersive experiences facilitated by VR-driven technologies. Organizations implementing the technology can connect, engage with, and incentivize human and machine users to create new value exchanges, revenue streams, and even entire markets. The metaverse draws on multiple technologies and platforms to provide the near unlimited virtual reality world. Some elements include digital currency, social media, infrastructure, gaming, digital assets, nonfungible tokens (NFT), and more.
Why embrace the metaverse?
Immersive Experiences: Moving from 2D to 3D delivers more immersive experiences across work, interactions, and events.
Increase Business: Companies can create new revenue streams and expand the delivery of products and services through new experiences.
Limitless Boundaries: VR is not bound by the rules of gravity or personal limitations. Offices, experiences, and connections to people are near unlimited.
Economic Development: Some projections are as high as a three-trillion-dollar metaverse market creating substantial new jobs on a global scale.
Accelerated collaboration, problem-solving, and training: Connecting leaders and practitioners powered with AR tools will drive better collaboration, use of data, and modeling to solve problems and generate solutions.
It's COOL: Opportunities to engage and interact in VR are engaging, fun, and out of this world!
Examples and use cases of the metaverse
Banking - In Kiyaverse, users can adopt an avatar, or "virtual humanoid," and add features for clients, partners, and employees. It will also come with tokens as NFTs and support central bank digital currency (CBDC). Kiyaverse has said it will interface its open API connectors with aggregators and gateways to allow for a super-app and marketplace on the metaverse.
Retail - Nike partnered with platform Roblox to create their metaverse – Nikeland. Users can customize avatars with Nike clothing, such as classic shoes like the Air Force 1 or Nike Blazer. Nike is also keeping players up-to-date with new products. Users can enter the metaverse platform to play minigames with friends, such as tag, dodgeball, and the "floor is lava." Nike is letting developers use its toolkit to create minigames to foster competition and creativity, meaning digital visitors can soon enjoy an array of independently produced Nikeland games.
Healthcare – The Epazz DeskFlex Metaverse Solution uses Epazz Slims, virtual reality glasses embedded with multiple nano cameras, and motion sensors to help create an actual 3D representation of people. Patients and physicians can meet virtually to convert in real-time during clinical assessments with total sensory involvement. Patients can feel a sense of touch and general movement in augmented reality.
Building talent to deliver the metaverse market
There is already a skills gap related to the metaverse economy with emerging high-demand skills, including UX and UI design, NFT development, graphic animation, and blockchain applications for the metaverse. Organizations should start addressing these skill gaps to ramp up their specific use of the metaverse and the related VR spectrum of technologies.
What organizations should consider when it comes to talent in the metaverse:
Engage and put in place an upskilling program with their workforce
Provide employees with the opportunity to spend time in VR and interact to the extent possible
Create a VR and metaverse strategy — who will be involved, define a budget and roadmap
Adopt an open and creative mindset and begin building use cases
Attend events and demos
Build a network related to the VR marketplace
Digital disruption will always be a continuous driving force for change. To stay ahead, organizations will need to adopt new trends and technologies to thrive and, to some degree, survive. The metaverse offers a vast possibility to improve internal and external experiences and become more productive. Organizations should proactively take early steps, including piloting proofs-of-concept and building talent around centers of expertise (CoEs) to position themselves to transform into the 3D economy.
Adapted from the NASSCOM Masterclass session "How will the Metaverse shape your future?" (August 10, 2022)