How AWS Next Gen Stats Are (Greatly) Enhancing Your Football Watching Experience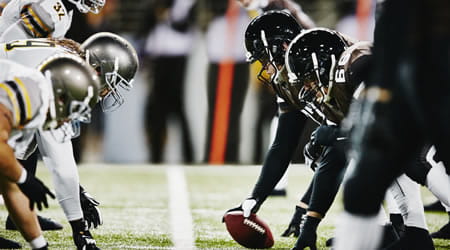 If you're wondering whether your favorite team will play in the big football game on February 13, here's something else you may have wondered while watching an NFL game — What are AWS Next Gen Stats?
Several times throughout each televised game, the announcer will mention that the information he has just shared has been "brought to you by AWS Next Gen Stats." You've probably heard it and may not have given it another thought. Well, here's why you should.
AWS Next Gen Stats was introduced to football fans in 2018 and the technology continues to amaze those who have digested the incredible, real-time information that is being enjoyed by announcers and viewers…and NFL coaches.
Long gone are the days when you'd watch a game and ask friends questions like, "How fast do you think Tyreek Hill can run?" or "How fast do you think Josh Allen can throw the ball?" Well, wonder no longer. Now those questions, and hundreds of others, can be answered with AWS Next Gen Stats.
How it's done — the simple version
Each skilled position player (quarterbacks, running backs, wide receivers and tight ends) has an RFID tag attached to their shoulder pads. The tags transfer data with RFID receivers located throughout the stadium. The NFL first tinkered with the technology in 2009, long before they turned to AWS. They were using a tag that was about the size and weight of a cellphone — an early, brick cell phone — the kind you couldn't fit in your pocket and very impractical when you're being chased by a 250-pound linebacker who runs a 4.5 forty.
AWS worked closely with Wilson Sporting Goods, which produces the official NFL football, to ensure the small RFID tag for the ball was unobtrusive and didn't affect its trajectory. In total, there are about 250 devices in operation during the game.
Through machine learning built with Amazon SageMaker, AWS Next Gen Stats generate info in real-time even though there are a tremendous amount of variables to take in. Why machine learning? Because simple business logic-specific, rule-based systems can't keep up. Machine learning can. Through Amazon QuickSight, AWS' business intelligence tool, the NFL gains immediate insights that are shared in an understandable format with broadcasters and fans.
Here is a small sample of the many stats "brought to you by AWS Next Gen Stats."
Quarterbacks
Completion Probability – The name is self-explanatory and takes into account how likely it is for a pass to be completed. It does this by calculating the length of a pass, how closely the receiver is being covered, how close the nearest defender is to both the quarterback and receiver, and more.
Air Distance – This is a really fun one and probably the first thing you wonder after a quarterback heaves a Hail Mary pass at the end of a game. It tells you how far the quarterback threw the ball.
Aggressiveness – This is a stat that will prompt the announcer to label a quarterback as a "gun slinger." In other words, how open they are to taking chances. It calculates how many times a quarterback throws into tight coverage, a good indicator of which QBs are most likely to throw interceptions and incompletions, as well.
QB Speed (passing, not running…although that can be calculated too) – This is the stat QBs probably brag about the most — how fast they can throw the ball. It's the answer to a question that has been asked about quarterbacks for over 75 years.
Time to Throw – This calculates the difference between the time the ball is snapped and how long it takes the quarterback to release the ball. No doubt, it's one of the stats in which an offensive line coach is most interested. And one an opponent's defensive line coach will use to see what they'll be up against.
Running Backs
Efficiency – While they don't call it The Walter Payton Stat, they probably should. It calculates how long a running back actually travels on a play; Payton would have had one of the best.
Average Time Behind Line of Scrimmage – Next Gen Stats calculates how long it takes for the running back to get across the line of scrimmage once he gets the ball. It's a great stat for offensive line coaches, as well, helping them see how fast their linemen are opening up running lanes.
Eight (or more) Defenders "in the Box" – This calculates how often a running back faces a stacked box, meaning how many defenders are lined up at, or close to, the line of scrimmage. If it's fourth and one, defenders are going to "stack the box." Wide Receivers and Tight Ends
Yards Gained After Catch – This is a great way to determine how well wide receivers and tight ends run with the ball after they catch it.
Average Separation – This is great for determining which receivers and tight ends run the best routes and how good an opposing team's defensive backs are playing. It considers how close the nearest defender is to the receiver on completions or incompletions.
Highlight plays
If you're wondering how fast a running back or wide receiver ran on that record setting touchdown, Next Gen Stats will let you know. It calculates the fastest QB sacks, how far a defender ran to make a tackle, and more. In other words, it lets you get stats on the big plays.
Putting it all together
Take a pass play, for example. Each one is calculated in an array of ways and combines them before you can pick up another buffalo wing. Here is what's calculated, along with other elements, on each pass — the completion probability, how far the ball has traveled, how much separation the receiver has between the nearest defender, how far they are from the sidelines, how many yards they gain, and are expected to gain, after a catch, how fast defenders closed in on the quarterback, and more. Much, much more.
Simply put, AWS Next Gen Stats provides more information than you can imagine. And if you're not a football fan, don't worry. AWS Next Gen Stats also provides mind-bending information on professional soccer, F1 racing, the NHL and the PGA Tour.
If you want to know how AWS can change your game, contact the experts at long-time AWS partner NTT DATA here. We'd love to hear from you.