4 Reasons Why Organizations Can't Keep Up With App Development Needs and How to Address Them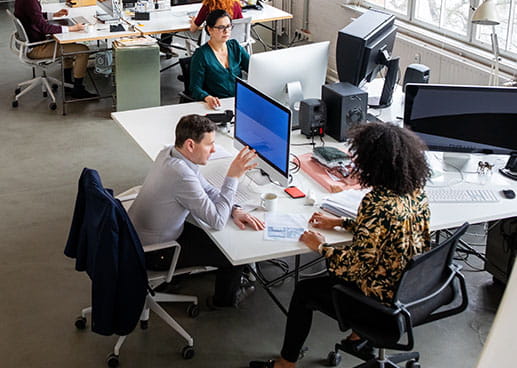 Businesses are heavily investing in foundational technologies to advance their digital transformation journeys, including cloud, SaaS, cloud native application development and application modernization. Many have undergone initiatives to implement Agile and DevOps practices and tools. And While these investments deliver substantial benefits, many product teams and IT organizations simply can't keep up with accelerating digital business demands in the face of today's global talent shortage.
No question, it's a great time to be a developer. It's a simple supply and demand issue and if you possess much needed skill sets that HR teams are having a hard time finding, you'll have a job and will probably get paid handsomely for it. But a lack of developers aside, here are 4 additional reasons why the need to develop applications faster and better exists (Then find out about a great option to address them).
1. Most cloud migrations deliver more infrastructure and operations benefits than application development improvements
Most applications are rehosted to the cloud while potentially being repackaged into containers. The virtual cloud datacenter brings tremendous flexibility and modernization when compared to most legacy datacenters, but the improvements are focused on infrastructure and operations domains. Complex application portfolios and legacy, monolithic application architectures often remain unchanged.
2. Migrating from on-prem commercial software to SaaS doesn't accelerate functional releases
Many organizations have been moving from on-premises commercial software to SaaS products. This reduces the cost and pain of managing a local infrastructure and often results in more customer-friendly licensing models. However, this is similar to a cloud migration where the SaaS product(s) do little to improve the effort and time required to bring new application features to market.
3. Core business processes are still running on complex, monolithic systems of record
Digital divides result when organizations have modern customer engagement applications and outdated or monolithic core systems. The front-end customer engagement systems may work well to support basic customer engagements and self-service processes of the past, but don't support today's full digital customer journeys or mobile-first experiences.
4. Custom application development is time- and resource-intensive
While developing custom applications has been transformed and accelerated with cloud technologies, cloud native architectures and cloud native practices, it is still resource intensive to design and develop applications. New development technologies like PaaS, microservices architectures and test-driven development practices, for example, make the development team more productive and accelerate development cycles. However, writing custom code is complex and time consuming.
The question, then, becomes, "How can I get applications developed faster and with fewer IT resources?"
Introducing the power of low-code application development
Low-code application development (aka low-code) is a great application development solution that addresses the aforementioned challenges. While low-code, as a concept, has been around for decades (think 4GL code generators), many aren't aware of the power of modern low-code platforms.
Low-code platforms have advanced and are now strong alternatives to most custom application development projects and commercial software customizations. The benefits include:
Accelerated application development — Applications can be developed 50 to 60 percent faster than traditional development.
A larger resource talent base — Rather than compete with technology companies for scarce cloud native architects and developers, traditional developers can easily get up to speed on required low-code skillsets.
Fewer resources — When compared to custom development, low-code requires fewer resources to deliver new applications.
Decreased development costs — Costs can decrease 50 to 70 percent, as fewer resources can deliver applications faster than traditional development methodologies.
One challenge enterprises face with low-code platforms is the ambiguity in the market, so the question becomes, What is the difference between low-code and no-code application development?
A clear reason for the ambiguity between no-code and low-code app development is that there simply isn't a clear definition and distinction between the two. And the ambiguity is enhanced because many vendors market their products to solve multiple needs or extend capabilities across multiple product categories. If looking for distinction between the two, just remember that no-code requires zero coding experience and low-code demands a certain level of it. Low-code fits in the middle — it's less expensive that traditional, full-code application development and more flexible than no-code, allowing for more customization and accommodating a wider range of customer use cases.
What to consider when trying to determine if low-code or no-code will meet your needs
If it's unclear which type of platform your organization should turn to, simply think about your business goals, such as:
Addressing fragmented business processes, such as manual activities (filling out spreadsheets and emailing them to facilitate workflow(s).)
Improving employee experience(s) and boosting productivity with automated workflows. This unifies the experience and process(es) across disparate backend systems.
Developing new customer-facing mobile or responsive web applications.
Addressing extensions and/or customizing of commercial software.
Modernizing and transforming obsolete legacy systems with modern applications as an alternative to replacing legacy applications with commercial, off-the-shelf (COTS) software.
In short, don't fixate on finding one platform to do everything. Large enterprises likely have multiple platforms and low-code options that allow for citizen development may not be the best for professional developers. Also, consider the platform vendor's core business and their other products. For instance, there are many "pureplay" platform providers and nearly all cloud and commercial software providers are investing heavily in this area.
With many options to choose from and a lot riding on your ability to successfully incorporate low-code/no-code application development, it's important to turn to application experts like those at NTT DATA.