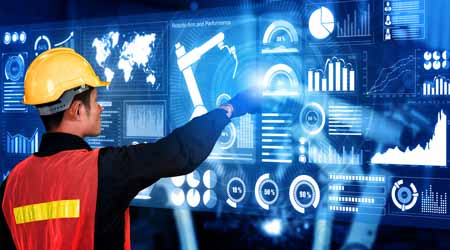 With the changing landscape of e-commerce and increased demand for online grocery delivery services, the future of cold chain logistics looks bright. The global cold chain logistics market is expected to be around USD 801.26 billion by 2030 and is anticipated to grow at a CAGR of 14.07% from 2022 to 2030. Further, the 2023 27th Annual Third-Party Logistics Study found that 67% of shippers and 72% of third-party logistics (3PLs) providers plan to expand their cold chain capabilities and capacity over the next three years.
However, massive disruptions, including the COVID-19 pandemic, labor shortages, and ongoing global conflicts, mean cold chains must continue to evolve to realize such growth. In the past, cold chains used historical data to forecast demand and build contingency plans. Since tomorrow's cold chains cannot account for every possible disruption, organizations must invest in new capabilities that help them pivot quickly, reassess when needed, and reinvent when necessary. Cold chains also need to consider investing in new areas of impact, such as sustainability (reduced emissions, specialized backhaul, energy savings, etc.), along with more traditional areas, such as reduced maintenance costs.
Trends that are likely to impact the future of the cold chain include:
E-grocery orders: The share of the U.S. e-grocery delivery and pickup market grew from 25% to 44% and 32% to 54%, respectively, in 2022, a trend that is likely to continue in the coming years. Customers have grown accustomed to the convenience and time-savings provided by e-groceries during the pandemic. E-commerce is anticipated to account for 20% of the U.S. grocery market by 2024. As more customers grow comfortable using this new way of shopping, companies will look towards leveraging more long-term solutions. One solution is merging brick-and-mortar stores with traditional distribution processes to create Micro-Fulfillment Centers (MFCs) and E-fulfillment Centers (EFCs). These two types of centers help streamline service delivery, operating separately or in conjunction with normal in-store operations. In the shortage of retail space, companies can use larger, small-volume store space to have a hybrid store that operates as both MFC and Retail Store. When appropriately implemented, MFCs and EFCs can handle surges in smaller e-grocery orders, providing stability to a company's supply chain network while removing the intense physical labor of more short-term solutions. With the integration of MFCs and EFCs into daily operations, digital apps and online experiences become even more vital in driving consumer loyalty and satisfaction. The seamlessness of a customer's experience, delivery reliability, and access to information are essential considerations for today's e-grocery consumers.
Unique alternative solutions: Amazon recently announced Autonomous Mobile Robots (AMRs), which store the customers' orders for last-mile delivery. More impressive, however, was their announcement of the "Smart Fridge." The Smart Fridge will use a Perpetual Inventory System that flooded the retail industry in recent years but is integrated with your refrigerator. It will monitor inventory levels of items and replenish when you begin to run low. Amazon's approach could open the door for e-grocers everywhere. The future of groceries could be heavily impacted when this technology advances its capabilities throughout all standard refrigerators and grocery stores.
Another unique innovation is from The Kroger Co., which has piloted a temperature-controlled cart that houses curbside pickup grocery orders for self-service customer retrieval.
Automated solutions to attract and retain talent: Working in a cold chain can be demanding, often requiring working long hours in frigid environments, adhering to strict timeframes, and handling fragile products with care. Automated solutions can not only help cold chains operate more efficiently, but they can also attract and retain talent through value-add benefits. For example, cold chain workers frequently walk ten or more miles during their shifts. Goods-to-person technologies, such as cube-based automated storage and autonomous robots, can streamline the fulfillment process by picking and delivering items directly to cold chain workers, helping to reduce their manual labor while also reducing picking errors. Robotic picking machines will also become more efficient, enhanced with advanced gripping and vision systems to expand the range of products that can be picked while also offering high operational reliability.
Resiliency: To reduce risks and avoid disruptions (geopolitical, port congestions, container shortages, trade wars, etc.), there will be a demand for continuous agile, reliable, safe, and resilient supply chains. One point to note is the sourcing for items, which will be optimized for distribution on a global scale, with customized design of machinery and storage to account for different delivery times, distribution efficiencies, distribution, and storage environments.
Another key trend shaping the future of the cold chain is food waste. Approximately 931 million tons of food are lost or wasted globally every year. There has been a growing awareness and studies on the environmental and socioeconomic impacts of addressing food loss and waste. We will discuss more on this topic in our next article, "Cold Chain Capabilities."
Predictive technologies: Innovative predictive technologies allow cold chains to blend sustainable transportation at specific temperature thresholds with integrated temperature control and real-time strategies. As cold chains continue to evolve, increased use of condition monitoring (sensors, temperature tracking, state-of-the-art machine monitoring software) will be leveraged to improve the safety and quality of cold chain products. Connected cold chain solutions are more advantageous than conventional methods, helping reduce human handling errors while providing better customer service and improving business growth. Examples of these solutions include IoT monitoring, from devices to product locations and temperature, which helps boost efficiency in cold chain maintenance of warehouse refrigeration systems and frozen distribution centers. Another example is unified commerce platforms for integration and collaboration.. As such, unified commerce platforms will help cold chains increase inventory profit, enhance data security, and enable advanced analytics.
In summary, the demand for cold chain solutions is snowballing. In the 2023 27th Annual Third-Party Logistics Study, shippers (82%) and 3PLs (84%) said that demand for cold chain capacity would increase over the next three years. By investing in new technologies, reducing food waste, and helping workers operate more efficiently, cold chains can meet this new demand while helping to redefine how and when temperature-controlled products reach the end consumer.
If you would like to learn more about the future of cold chains, we invite you to download the 2023 27th Annual Third-Party Logistics Study.
This post is part of a multi-part series on the Cold Chain. View the introductory post.