Seven Steps to Build the Best Cloud Team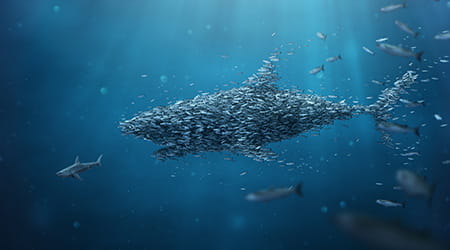 Cloud adoption is at an all-time high. Yet, staffing to support new cloud systems continues to lag. The common industry trope is to blame the lag on an industry-wide skills gap. In a recent Medium series, I argue that the "Skills Gap is a Lie"; in truth it's a chasm that is exacerbated by hiring managers seeking out the wrong things when trying to build cloud teams.

Creating the best cloud team starts with finding members who will allow your team to grow and thrive. When looking to build your cloud team, the analogy of building an all-star fishing team may be helpful. Seek out potential, look beyond skills and search for fishermen with the ability (and interest!) to learn more about fishing. Teaching members of your team to fish will not only feed them, but it will also feed your company, allowing growth and collaboration throughout the team and company.

Hiring for a specific skillset versus hiring for potential is significantly less rewarding. Continuing our fishing analogy, say, during your all-star search you come across two different people:


Candidate A: Understands how to fish with all the newest technology. They understand the fancyschmancy-fish-catcher3000 like the back of their hands and they have specific fishing skills that make them appealing to anyone.

Candidate B: Understands basic fishing concepts but isn't an expert on all the newest technology. However, they adapt well to new environments, are quick learners and all have exceptional critical thinking skills.


While Candidate A may seem most appealing, hiring a team of unadaptable fishermen and then trying to teach how them to man a boat with unfamiliar technology will only result in a sinking ship (figuratively and literally). However, if we put Candidate B on the boat, and teach them how to man the boat, eventually you will not only have an all-star fishing team, but you will have your team members collaborating with one another and effectively problem solving to create solutions.


Hire for potential
The lesson here is to hire for potential, not perishable skills. As Lao Tzu timelessly noted, "Give a man a fish and you will feed him for a day. Teach a man to fish and you'll feed him for a lifetime." Ultimately, if a candidate's skill set perishes quickly, they won't be fishing for a lifetime. Conversely, if a candidate has the propensity for continuous learning, regardless of the tool used to fish, they will indeed have ongoing success.


Be motivated by causes and values
By creating a team that is driven by values and beliefs rather than results, you can create a team aligned to an objective. A team motivated by a value or message is going to work more effectively and collaboratively to achieve a desired cause.


Exploit and learn one another's strengths

Consider your team's assets and where your team is lacking, providing a Socratic environment that allows your team to effectively build off one another. Incorporate your teammates into your work, take advantage of their ideas, experiences and different points of view. When there is room for collaboration, there is room for teammates to teach and learn from one another, endorsing team growth.


Bring out and foster your team's excellence
Being a good team leader means bringing out the talent of each member of your team. Sustain standards and beliefs, provide clarification and coaching for members, while maintaining an environment for new ideas. Being a strong mentor establishes a high learning environment for everyone and creates a strong workplace community that fosters team growth.


Step outside of your comfort zone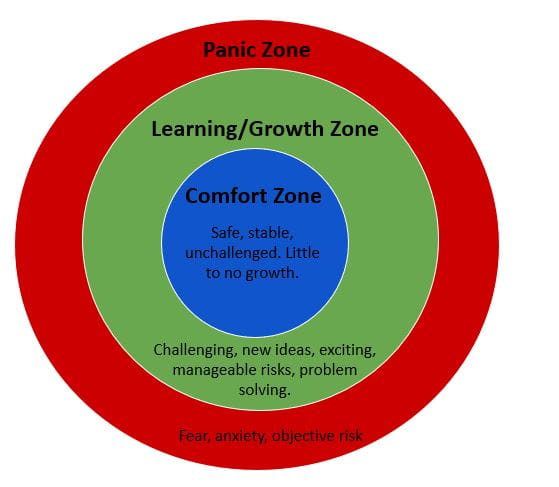 One key step to encouraging team growth is through stretching out of your team's comfort zone. Moving from your team's comfort zone towards your learning zone can be done through small obtainable goals and manageable risks. It is important to promote growth without pushing your team to the panic zone, especially through irresponsible and objective risks. This will only cause stress and exhaustion rather than healthy, beneficial growth. Create a space for experimentation, mistakes and learning, inspire a workplace attitude that allows new ideas and continuous improvement. Challenge ideas and allow your team to act on and explore their ideas. However, most importantly, allow curiosity to thrive.


Acknowledge faults

Another key to further growth is through understanding and acknowledging when you are wrong or when a mistake is made. The best way to illustrate to the team that mistakes are acceptable is to lead by example. Accepting failure allows for you and your team to understand when there is a mistake. Take the time to learn from it. Becoming defensive or ignorant towards mistakes discourages communication within your team. Never underestimate the power of the tone from the top.


Understand the problem as well as you understand yourself

Understanding the problems the team faces as well as you understand yourself is essential. Understanding yourself is critical in recognizing what strengths you can bring to your team when problem solving. Fully comprehending the problem is equally as critical: vocalizing the problem that needs to be solved and pinpointing cause and effect all help the team create resolution.

When searching to assemble your all-star cloud team, skills shouldn't be your driving concern. Growth should. Stop focusing on the skills gap and start focusing on building a team filled with lifetime potential using these seven steps.

Do you consider yourself a solid 'fisherman' that enjoys learning and growth? Join our team. Explore the current opportunities on our careers page.