Vaccine Attestation and COVID-19 Testing Mandates – I've Got an App for That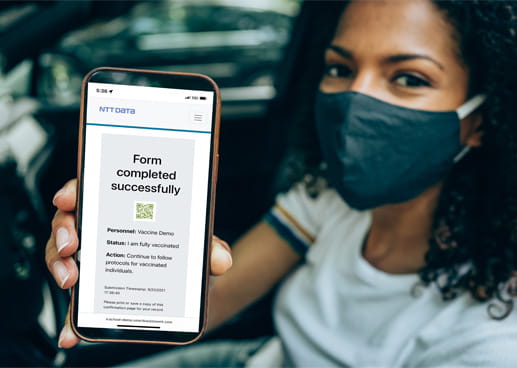 Each night I sit down with Lester Holt, and he gives me the news. I have been getting my daily news from Lester since his early days as a reporter in Chicago. Sometimes Lester has good news, but lately, it is mostly bad. Sometimes I watch Lester and wonder what I can do to help? Whether it is donating to a worthy cause or supporting a struggling business, I am fundamentally a technology guy, so I look at most problems from the perspective of technology. I often ask myself, "How can technology solve this problem?"
Recently, Lester told me that U.S. President Biden was going to issue a vaccine mandate for federal workers to help stop the spread of COVID-19 in the U.S. Sure enough, the very next day, I read on Twitter, Lester was right. President Biden issued an Executive Order mandating vaccines for federal workers and contractors. "Each agency shall implement, to the extent consistent with applicable law, a program to require COVID-19 vaccination for all of its Federal employees, with exceptions only as required by law."
Scrolling through my Twitter feed, there were a lot of comments. Twitter has a lot to say. Of course, there were many political comments, but I scrolled through those. Twitter was wondering:
How will the mandate be enforced?
How will the mandate be tracked?
How will data be protected?
What about HIPAA?
Where will this data be stored?
Now these were problems that a CTO could solve.
Lester, Twitter — I got this.
Throughout the pandemic, NTT DATA has been using technology to help organizations combat the many challenges presented by COVID-19. From enabling remote work to contact tracing, our engineers have jumped in to deploy solutions rapidly. NTT DATA recently released a new version of our Smart Back to Work Application to help organizations comply with federal vaccination attestation mandates. From a mobile phone or desktop, workers can complete and submit a quick vaccine attestation. Once complete, aggregate data is compiled on an easy-to-read dashboard so that administrators can quickly view where their organization stands on compliance.
As many of our clients know, accessibility and security of information are critical to the success of an application. The Smart Back to Work Application is cloud-native on Amazon Web Services and can be hosted in AWS GovCloud. Security is accommodated through a tool from Cloudicity to manage real-time compliance with the technical requirements of the National Institute of Standards and Technology SP 800-53, NIST Cybersecurity Framework, HITRUST Common Security Framework, and HIPAA/HITECH Code of Federal Regulations.
Over the course of the pandemic, COVID-19 has evolved. So too, has our response. That is why NTT DATA's application has been built with the flexibility to accommodate new regulations and requirements — such as COVID-19 testing, daily health assessments, vaccination status and boosters. We have fine-tuned the application to accommodate organizations of various sizes. A solution similar to the Smart Back to Work Application has been used effectively to help test and manage COVID-19 exposure at colleges and universities. Colorado State University Pueblo was recently awarded the 2021 Excellence and Innovation Award for Campus Pandemic Response from the American Association of State Colleges and Universities. A key component of this program is using NTT DATA's COVID-19 Smart Back to Work Application app to conduct daily self-assessment, which monitors health from students and employees along with advanced reporting of a robust on-campus testing program administered in partnership with Spartan Medical.
Although many of our federal and state partners are challenged to comply with the new mandate, the good news is that NTT DATA has an app for that.