Bridge the Digital Divide with Comprehensive Legacy Modernization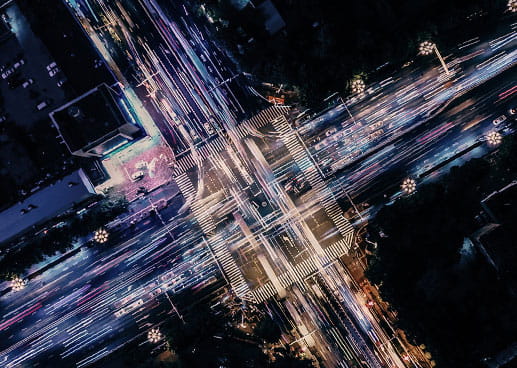 More than 70% of global enterprise CXOs consider mainframe or legacy modernization a strategic business priority over the next three years, according to a news report by CIO and Leader. For our clients, the need to accelerate digital transformation is a constant pressure that has only accelerated during the pandemic. Yet, modernization efforts are easier said than done and having the right roadmap and strategy can make all the difference to achieving these modernization goals.
Companies accelerate at different rates
Organizations are looking to combat pressure from cloud-native upstarts and address quickly changing customer expectations by focusing on user-centric (vs. app-centric) value streams. Yet, the result of this "acceleration pressure" has created a divide, leading to incomplete adoption, resource constraints, and a two-tiered approach to technology.
Like a low tide exposing the rocky shore over the last year, COVID-19 has exposed this digital divide. In many cases, attempts to address COVID changes have aggravated the situation leaving three types of organizations.
Digital Focused – The most mature of the three, digital is pervasive across the business strategy of these organizations. They have a clearly defined cloud strategy that is well underway, often supported by Agile and DevOps at scale. Moreover, the transformation roadmap for non-digital assets is defined and being actively worked on.
Digital Fractured – Representing most organizations, digital-fractured organizations include digital in their business strategy, but it has not yet become core to the business. Agile and DevOps are found in pockets within the organization, and the transformation roadmap for non-digital assets is often lacking or incomplete.
Digital Deferred – About one-third of businesses fall into this category, with a business strategy focused on digital extension or enhancement of legacy systems. Their Agile and DevOps efforts are limited to experimentation, and the transformation roadmap for non-digital assets is non-existent.
Transforming legacy
Cloud and digital platforms empower organizations to achieve a Digital Focused perspective, becoming more competitive and closing the digital divide. Cloud platforms can drive innovative services that abstract technical complexity and accelerate the modernization of legacy applications with transformational capabilities based on automation, AI/ML, big data and more.
Yet, digital divides cannot be closed with technology alone. Organizational cultures must also evolve to embrace DevOps and Agile processes that encourage cross-team collaboration, remove silos and bottlenecks that slow down progress, and rely on automation that frees teams to focus on strategic work rather than time-consuming manual tasks. With a changing culture and a transformed technology platform, organizations have the power to reinvent the business by reducing cycle times, cutting waste from technology delivery pipelines, and delivering more quickly and in smaller increments. All of which help them experiment more, fail cheap, and measure results accurately to unlock hidden business value.
Case in point
The automotive industry is a prime example of how digital-focused companies can reinvent their business and grow competitive advantage. What once was a large piece of sculpted metal and a mechanical engine has evolved to become a data center on wheels.
Today's vehicles benefit from cloud platform architectures and feature new onboard and off-board architectures like autonomous driving and connected car functionality. Take Toyota Research Institute, for example. It uses AWS instances and Service Catalog to create an on-demand self-service portal for data scientists to process data sets quickly and securely to process machine learning data sets for next-generation vehicles.
Digital transformation also empowers new business models for automobile manufacturers, enabling everything from electric power trains to shared mobility. Software is advancing from secondary value creation (i.e., as a helping tool in the design, build, and sale of a car) to primary value creation (i.e., being the car and providing mobility).
Leapfrog to a competitive position
Despite this illustrative example, automakers also still operate significant parts of their business on obsolete, complex, legacy applications. So, how can they — and others in their position — leapfrog to a more competitive market position? We recommend that organizations:
Adapt to a digital culture by building a Center of Excellence or Community of Practice that can help the rest of the organization adopt DevOps as standard across the organization and apply Agile at scale.
Increase adoption of commercial, software-as-a-service platforms, removing the need to build and manage bespoke applications.
Grow the use of low code and/or no-code solutions that empower business units to begin their digitization efforts.
Move beyond lift and shift solutions to take fuller advantage of cloud-native features like auto-scaling and other advanced automation that can save financial and human resources over time.
With a cloud platform in place, begin integrating AI/ML for advanced intelligence to drive new lines of revenue and new digital customer experiences.
Find a partner like NTT DATA with experience helping organizations become Digital Focused through its legacy modernization offerings.
Reap the benefits
With these strategies, organizations can expect to fuel:
New business models that create new revenue streams. Advancements in connected and smart products can accelerate new business models, allowing organizations to gather new data (and connect formerly siloed data) and learn from it, changing and adapting to new insights that unearth new ways of working.

Accelerated time-to-market as they react faster — sometimes with multiple updates of business functions over a single day — with fully automated delivery processes void of manual steps.
Enhanced customer experiences brought about by the agile delivery of new digital products that meet quickly evolving customer needs and expectations for greater ease of use and ease of engagement. In this way, organizations can transform the user experience and grow customer loyalty and lifetime value.
Greater competitive position as they better compete against cloud upstarts — transforming their industries and reinventing the customer experience alongside nimble competitors.
With the right partner and approach, legacy systems can be modernized to reap significant business benefits while maintaining their value.
Minimizing IT disruption and other risks with its patented technology, end-to-end approach, and proven methodology, NTT DATA helps expedite modernization efforts, transforming client organizations in the process. Recently named an AWS Mainframe Migration Competency launch partner, NTT DATA helps clients create cloud-ready, enterprise-wide Agile and DevOps environments that help create competitive advantage.
Are you interested in how legacy modernization can elevate your digital focus and competitive position?