Pivot to Tomorrow: The Executive's Guide (Part 2)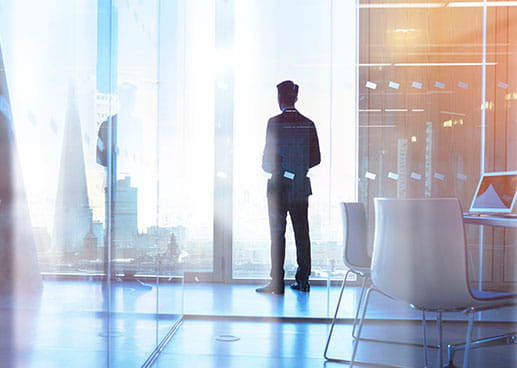 In part one of our two-part blog series, we highlighted how — and why — few organizations were prepared for the disruption caused by the pandemic, as well as the resulting impact on how we view technology. This post will follow-up with the three steps to help companies Pivot to Tomorrow.
Organizations that have already made technological advancements will enjoy a distinct competitive advantage as the pandemic subsides and business settles into a new normal. Meanwhile, the companies that lost ground in the great technology leap of 2020 must set their sights on rapid modernization or risk falling so far behind they may never catch up.
Three steps to Pivot to Tomorrow
By recognizing how the pandemic has reshaped the marketplace and committing to adapt technologically, companies can formulate a plan that positions them for future success. Yet deciding what to focus on first can be a daunting task unto itself. This is especially true for large enterprises with mature and sprawling technology environments.
To help leaders simplify the complexities surrounding digital transformation, experts at NTT DATA created the following guide for executives.
1. Visualize the possibilities. Before the coronavirus upended the world, many organizations were content to follow a deliberate path toward digital transformation, which might have been laid out years earlier. But the seismic shifts of 2020 called for urgent reevaluation and, in most cases, dramatic changes. On a positive note, today's CIOs (in cooperation with functional business leaders) have an unprecedented opportunity to reimagine tomorrow in terms of how technology will empower their company's future.
A critical first step in this process is creating a next-generation digital strategy and roadmap. More than a nebulous vision, the roadmap should be an incremental digital artifact that clearly states what the company wants to achieve. Is the goal to optimize costs, increase productivity or simplify operations?
The wish list might be long, but organizations must focus on an incremental roadmap that can be accomplished in weeks and months rather than years. A multi-year plan is less likely to be useful, as the rapid evolution of technologies and volatile market forces make it extremely difficult to predict the organization's long-term needs.
Creating the roadmap, which identifies the destination, should be accompanied by another strategic exercise that determines precisely how the company will navigate forward. That is, IT and the business need to align on specific outcomes, projects and programs required to achieve the goals. Again, these should be documented in a step-by-step plan.
Also critical to this early stage should be an effort to champion change throughout the organization. Significant changes to any company will impact stakeholders across the business, so it's important to get them engaged and understand how digital can improve their work.
2. Accelerate the journey. With a clear view of where the organization wants to go, a plan for how to get there, and a team that's primed for change, an organization can confidently put its foot on the gas pedal. But there must be fuel in the tank.
To make significant progress on the digital transformation journey, companies must draw from an internal culture of innovation. In practical terms, that means project teams should have the ability to generate great ideas and be able to prioritize them effectively and bring them to fruition consistently. The need to scale up high-potential concepts to realize tangible, measurable business results may seem obvious, but it's this execution phase where many technology projects fail.
Moreover, it's not enough to deliver a handful of disjointed, one-off technology improvements. For real digital transformation to take hold, every project should contribute to a cohesive purpose. Ideally, data analytics, automation, AI, machine learning, and other advancements should work in concert, weaving an intelligent fabric of technology through the organization. When organizations can connect the dots in this way, the true potential of digital begins to shine through in the form of more efficient processes, cost savings, and enhanced customer service.
As important as it is for technologies to coexist and cooperate, it's meaningless if they can't connect with the people they're designed to serve. Today's employees and consumers have come to expect technology services that are delightfully empowering, always available and easy to use. Delivering that kind of immersive experience is yet another way digitally nimble companies outperform their sluggish competitors.
Whether it's to serve external customers or internal stakeholders (i.e., end-users), NTT DATA recommends developing customer journey maps to identify their pain points and reduce friction in a given process. Increasingly, automation (in the form of self-service portals or AI-enabled chatbots) provides popular tools to meet customer needs with no human interaction required quickly.
3. Harness the future. Once a company has established a direction and gained some momentum behind digital transformation, the next challenge is building on that success. Whether by streamlining business-critical processes or eliminating redundancies in the technology environment, the focus should be on continuous optimization — the relentless pursuit of speed, savings, and resiliency.
Undoubtedly, automation technologies will play a significant role in helping companies improve efficiency and drive out costs. But automation isn't the only solution. Companies should also explore the potential benefits of moving away from large, monolithic business applications toward a microservices architecture, enabling increased flexibility and scalability. Those goals can be further supported by adopting more cloud computing services, including infrastructure-, platform- or software-as-a-service.
As organizations realize cost-saving efficiencies, opportunities arise to reinvest those funds in other areas. That could include projects to enhance operations, such as addressing staffing needs, bolstering cybersecurity, or adopting more advanced analytics tools. This repeating cycle of improvement and strategic reinvestment will produce a steady wind at the back of progress.
Ultimately, all this technological maneuvering serves to clear a path for business evolution. A digitally enabled organization is confident that technology will play a central role in what comes next. Freed from the inertia of the past, it can reinvent itself to reflect the new realities of the marketplace and achieve continued success.
Survival requires digital reinvention
While looking through the rear-view mirror isn't as safe as the windshield when driving down the highway, you still must be aware of what's behind you. In business, learning lessons from previous events is critical to future success.
Companies have learned — and are still learning — lessons during the past year and are using them to reevaluate their business and digital strategies as we advance. By recognizing how the pandemic has reshaped the marketplace and committing to adapt technologically, companies can formulate a reinvention plan.
Moving aggressively to implement more advanced technologies, firms can better adapt to ongoing uncertainty in 2021 and thrive in the years ahead. So, when the next unexpected disruption emerges, fortune will be in their favor.
If you have questions on where to start your journey, contact our consulting experts to help you Pivot to Tomorrow.