Collaboration in a Contactless Enterprise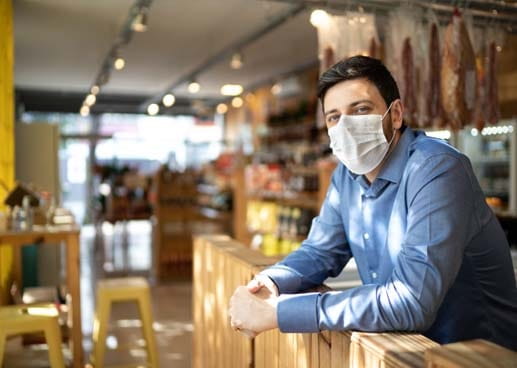 I recently had the pleasure of hosting a panel discussion focused on the ways enterprises are pivoting in response to market upheavals. Four CIOs shared their experiences and perspectives on their industry's current state.
We discussed the need to shift focus to align with their industry's current state, overcoming challenges resulting from the pandemic while staying resilient. We also looked at some of the ways we're leveraging agile tools and technologies to keep our workforces productive and successful. But I was particularly struck by our discussion of collaboration in the contactless enterprise — and how that is impacting IT.
A wider range of collaboration scenarios
As you would expect, our panel reported that their businesses rely more heavily on existing collaboration technologies and that they're using those technologies in new ways.
We also see a need for solutions to enable a broader range of collaboration scenarios — both with our customers and our internal stakeholders. John Bartho, CIO at Hyster-Yale Materials Handling, observed that the demand for collaboration has "… exploded externally as we try to do everything contactless and virtual outside the company."
Ralph Loura, CIO at Lumentum Operations, concurred. "While technology has always been important, what has never come to the forefront before is IT as the solution for collaboration." His workforce has long been accustomed to collaborating in physical research and development labs, even traveling extensively for that specific purpose. But they can't do that as often now, and technology has had to bridge the gap, bringing people together in very different ways.
"It's beyond Webex and Zoom," Loura explained. "The question is, how do we find creative solutions to replace the physical so that we don't stop innovating while we're all sequestered at home?"
New challenges in security
When collaboration is primarily digital, cybersecurity takes on a new level of urgency. But securing digital communications and resources for remote workers calls for new approaches. Chad Steighner, CIO at Clarios, noted that "As the workforce moved to be remote, we had to be cognizant of how their machines were going to get the updates and the patches that they need." You can't rely on the robust infrastructure you have built inside the firewall with a remote workforce.
But beyond that is the need for a change in mindset. "It takes a lot of communication and training to heighten everyone's sense of awareness," Steighner observed. Bad threat actors have been quick to add COVID-19-based scams and subterfuge to their arsenals, knowing that a level of uncertainty brought about by the pandemic has created a window of opportunity for cyberattacks.
Keeping the wheels in motion
At a high level, the role of IT in affecting the business results hasn't changed. There's no pause button for productivity. But as Josh de la Cuesta, CIO at Lumileds Holdings, observed, "We've had to demonstrate our ability to pivot to keep the business running." This is in a new context, which he described as "Keeping health first, making sure people continue to be motivated and being aware that we're going to get through this working as a team."
The panel's consensus was that IT organizations will emerge stronger than ever in the post-pandemic environment. Hyster-Yale's Bartho observed that "With the significant increase in remote and contactless interactions, we're going to need more digital solutions. I'm reaching out and leveraging more support from NTT DATA and other key partners."
Taking a closer look
If your team faces similar challenges, I invite you to listen to the webinar in full. The CIO panel's complete, recorded discussion is available on-demand. I'm confident you'll find it enlightening.