Nimesh Mehta, CIO, National Life Group, on Transforming Insurance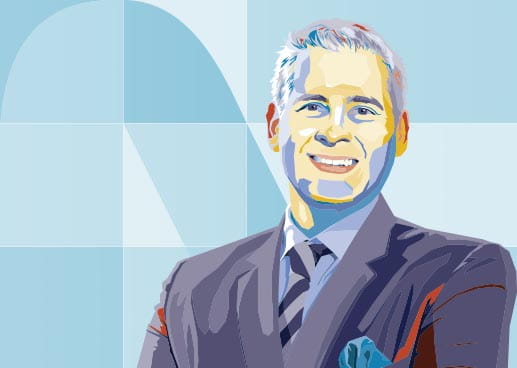 Nearly 40% of American households have no life insurance, and 35% of households say they would "feel the impact within one month if the primary wage earner died,"1 says Nimesh Mehta, CIO of National Life Group. His goal? Close the gap by creating an experience of simplicity and understanding that is digitally enabled to protect those that need insurance the most. In this blog post, the CIO of one of America's fastest-growing insurers2 discusses how workforce and technology advancements are helping the company thrive in the digital economy.
A mission to provide families with stability in good times and in bad.
"Nearly 40% of American households have no life insurance; our company primarily focuses on the un- or under-served segment of middle America," says Nimesh Mehta, CIO of National Life Group.
"About a decade ago, National Life chose to focus on serving Middle America versus trying to be everything to everyone. That was a market that needed financial stability, particularly if one of three things happens to them: They die too young, live too long or get ill," Mehta told me. This was a shift away from many other carriers that were chasing the high net worth market.
"We wanted to have a purpose and find our cause," said Mehta about the shift. "We wanted to serve Middle American families."
Since then, National Life has become one of the fastest-growing life insurers in the U.S. During our conversation, I asked Mehta about his role as CIO in helping the 171-year-old company thrive in the digital economy.
Making strides in middle America
When National Life shifted its focus to serve middle America, it understood that doing so would require a renewed attention on the customer experience. Because a customer's last best experience anywhere online — whether it's with Amazon or Uber — sets their expectations of their insurance provider, the company had to simplify the complex business of insurance. "Remember, we serve working families who don't have time to answer dozens of questions or wait months to get a policy," Mehta said.
An early step in reinventing the customer experience began with automating the insurance carrier's application and underwriting process. "This was a huge transformation, taking us from the traditional 45- to 90-day manual process to an electronic one that could be done in fewer than 10 days — sometimes faster," said Mehta. As a result of this automation effort, the company increased its placement rate and got more families insured. Before automation, the company was able to accept about 50 thousand policy applications a year. Today that number is a quarter million. "Scale is critical in a rapidly growing organization," said Mehta.
And by automating the underwriting process, National Life greatly improved its ability to "bucketize" and improve its risk exposure in the market without taking blood or fluid samples, which until then was a standard requirement when applying for life insurance. While this is getting to be the norm now, this was unheard of five to six years ago.
A transformative mindset
To keep pace with digital technology changes, Mehta recognized that as CIO he needed to create a high-performing team that could continuously learn, adapt and think transformatively. This ideal reflects the overall culture of National Life, which Mehta described as like a restless 17-year-old rather than 171-year-old company. "We're always looking to do things differently," he said, adding that National Life has created "a culture that allows for intellectual debate regardless of what stripes you have on your shoulder."
One way that Mehta has created a transformative culture among his team is by reinventing his workforce strategy. "Five years ago, I was looking to hire skilled developers, architects and program managers. Now I'm looking for potential. I'm looking for people with leadership qualities and people who can live with ambiguity; people who understand how multiple things interact and who can connect the dots — I'm looking for strategic thinkers. While hard-skilled, technical competencies are important, so are these other qualities," he said.
About 40% of Mehta's team comes from different backgrounds and industries, including non-technical majors. The company also uses personality tests during the hiring process to find personalities that complement, not replicate, each other. "When everybody thinks alike, everyone makes the same mistakes," said Mehta, who added that a team that is more diverse from a psychographic perspective performs at a higher level.
Overcoming data and fraud obstacles
One of the biggest challenges facing National Life, and the insurance industry as a whole, as it continues to strive to offer seamless, safe experiences for customers online, is cyber fraud. "Everyone has the same problem with fraud," Mehta said.
Being able to correlate and analyze data — both structured and unstructured — is an insurance company's first line of attack. While insurance companies are gold mines of data, most companies' data is scattered — not cohesive or normalized — and most don't analyze more than 5% of their data, according to the CIO. "To be a data-driven company, you have to look at data and see what the data is trying to tell you," Mehta said.
He shared a hypothetical example: Someone might call into the call center to change his address. A few weeks later, he calls in to change his bank account. Later, he calls in to take out a $60K loan. Then he calls back to change that to $70K. By correlating data, you can use machine learning to catch this type of fraud. Mehta's team is working on how to design systems that recognize a customer's voice and correlate that unstructured data with other data sets. "Biometrics are the future. It is still evolving but companies like NTT DATA are thinking ahead and innovating in this space." While they focus on machine learning, natural language processing and artificial intelligence, Mehta adds, "tools allow people to be human." He described being in the call center when a caller was patched through to a live teammate from the company's automated authentication system. The teammate looked perplexed and placed the caller on hold. "She looked at me and said, "Strange. I'm talking to a client and his name is Mr. Wu but he sounds Russian." She used her gut. No machine would have picked up on that," he said. "We need to get people freed up to use their intuition versus checking task boxes on a list and being distracted doing things that machines can," said Mehta.
Another approach Mehta would like to explore is collaborating with other carriers to create a centralized database of fraudulent accounts to catch cyber criminals. The insurance industry is behind the banking industry and is still in what Mehta calls the 'Ostrich Effect.' "Many in the insurance industry are sticking their heads in the sand hoping the problem will go away," he said. Attempted account take-overs occur every 10 seconds in the industry and are getting worse. "United, we can fight this better than alone. Bad actors have become smarter than we anticipated," said Mehta.
Are you transforming insurance?
NTT DATA and National Life are on a journey to transform insurance operations. We can help you, too. Check out NTT DATA's Dynamic Workplace and Data & Analytics services for the insurance industry.
Meet all our Game Changers here.
National Life Group® is a trade name of National Life Insurance Company, founded in Montpelier, VT in 1848, Life Insurance Company of the Southwest, Addison, TX, chartered in 1955, and their affiliates. Each company of National Life Group is solely responsible for its own financial condition and contractual obligations. Life Insurance Company of the Southwest is not an authorized insurer in New York and does not conduct insurance business in New York. TC112723(0220)3

2018 Insurance Barometer Study, Life Happens and LIMRA

Among all reporting life insurance companies from 2013 – 2018 with individual life sales of at least $50 mm in 2013 – LIMRA Sales Rankings, 2018