Employee Experience in Financial Services: How to Engage Employees and Keep Your Customers Happy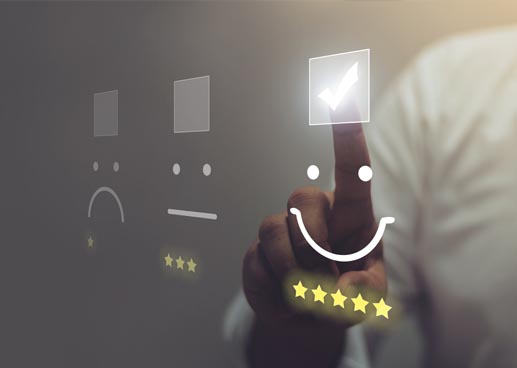 With more than half of the American workforce reportedly unengaged with their jobs, according to Gallup, employee engagement has never been more important. As the director of the customer experience practice at NTT DATA Services, Megan Geyer helps financial services organizations create experiences that engage employees and the customers they serve. While employers know that engaged employees reduce the high cost of turnover, studies also show that companies with highly engaged workers report better customer experiences and satisfaction.
Through her work creating CX and EX strategies, conducting audience research, and building customer-centric employee cultures, Megan knows how financial services organizations can overcome the obstacles that prevent many firms from achieving engaging customer and employee experiences.
In this blog post, Megan discusses the connection between better CX and engaged employees, how to make financial services employees feel more engaged and overcoming the biggest obstacles to improving employee engagement.
Q: Studies show that companies that excel in CX have 1.5 as many engaged employees as do CX laggards. How do you explain the connection between better CX and engaged employees?
A: When a company shows that they care about their employees, that is reciprocated. Employees who feel valued, heard and supported will feel more connected to their workplace and have more drive to excel at their jobs. The impact of this is both directly and indirectly visible to customers. One can easily imagine an engaged retail salesperson providing excellent customer experience. Because of this, companies often focus most of their efforts on ensuring high levels of support and attention to their customer-facing employees. However, employees supporting the operational functions of a company often do not get the same attention. This is an oversight. Even when employees in support functions that are out of sight of the customer are more engaged, those functions run more smoothly. For example, IT systems recover from errors in a timelier fashion, internal HR processes are more quickly executed and finance transactions are completed more reliably.
New hire onboarding is a perfect example of a consistent challenge for our clients. Onboarding a new branch manager at a bank, for instance, is a complex process involving many different support functions that need to work together efficiently to ensure the new employee is productive and engaged on Day 1. Unengaged hiring managers may be less communicative about their new hires' needs. If HR doesn't have highly functioning tools to process new employees, they're slower at completing onboarding tasks. And if IT is dependent on faulty business processes, they can avoid responsibility for delivering technology on time. All of this would lead to a branch manager being unable to support their customers and branch operations on Day 1. Creating engaged internal support employees reduces complications and increases satisfaction for customer-facing employees which in turn yields a more positive customer experience.
In addition, there is a direct correlation between employee engagement and retention. In a recent study conducted by NTT DATA, 85% of companies that say they give strong consideration to employee experience in their workplace services reported improved talent retention as a direct benefit, with the banking industry reporting slightly higher retention benefits than all others. While most companies see the benefit of retention as reducing the cost of turnover and re-training, there is another benefit. Retention is directly linked to customer experience (and revenue) because of the knowledge that is being retained. An employee who has a longer tenure will have more tribal knowledge, be more experienced in the softer skills of the job, and be able to navigate the company's structure and policies more effectively. All of these factors that come with employee engagement and retention will enable an employee to either better support customer-facing colleagues or better support the customers they are interacting with throughout their day-to-day jobs.
Q: Are changing demographics (enter the Gen Zers) making it more difficult to keep employees happy?
A: Through my work with my clients, I see firsthand how the entrance of Gen Zers and Millennials into the workplace has been causing challenges to more established companies who have traditional views on their relationships with employees. Younger generations tend to place a higher value on a sense of meaning in their work, flexibility in how they get their work done and autonomy while feeling like part of a group. They also have much higher expectations for the technology that companies provide for them — i.e., speed, quality, availability and intuitiveness should all be comparable to technology that is available to them in their non-working lives. On the other hand, the Baby Boomer generation generally places more value on traditional attributes of a job — seeing long-term prospects and upward trajectory and valuing financial rewards over intrinsic ones. State-of-the-art technology is less motivating to them than having a job that they can turn off at the end of the workday. While catering to these varying needs is challenging, all employees will benefit from competitive compensation and having a stronger sense of connection to their workplace. These varying values are not contradictory; they simply have different weights for different employees. With such a wide spectrum of employee values and expectations, companies can no longer create a rigid model that accommodates the majority of their employees. They must create a more flexible employee support model that accommodates all of them.
Q: What are some of the most important areas FSIs can improve to make their employees feel more engaged?
A: Empowering employees to make decisions about where they work and what technology tools they use is critical to engaging the changing workforce. Traditionally, companies selected standard devices and packages to deliver to employees, possibly with some variance based on role. Today, tech-savvy employees have more say in what products they use in their day-to-day jobs.
This type of flexibility is also trending in HR policies regarding where and what hours employees work. By enabling employees and their direct managers to make decisions on matters that impact their daily lives, employers build trusted relationships with their workforce and increase employee engagement, retention and productivity — all of which lead to reduced turnover costs and increased revenue, driven by an engaged and enthusiastic workforce. In fact, over 78% percent of the respondents to the Center on Aging and Work study reported that having access to flexible work options contributes to their success as employees. And work flexibility ranked first in a recent survey of Gen Z and Millennial workers.
In order to enable this flexible working model and increased employee engagement, senior leadership must have a real understanding of their employees' needs, expectations and culture. This understanding can be gained from conducting research with your on-the-ground employees above and beyond the typical survey approach. Develop empathy for employees through one-on-one conversations. Understand their daily lives by observing them in their workplace. Design solutions tailored for them by including them in the design process. Fostering employee engagement starts with truly getting to know your employees and their day-to-day lives working for your company.
Q: What are the biggest obstacles FSIs encounter in their efforts to improve employee engagement? Why? What can they do to overcome them?
A: One of the biggest obstacles to improving the employee experience is the organizational structure of large enterprises. Many internal functions combine to enable employee experience. The onboarding function is a good example. The process of onboarding a new hire involves HR, IT, security, facilities, individual business lines and other groups. However, in a largescale enterprise with siloed internal functions and budgets, it is very difficult for all groups to collaborate, align and resolve dependent issues together, often resulting in poor employee experience.
One way to overcome organizational hurdles is to create a role for an employee whose primary job is to improve and govern the end-to-end experience of employees. This is a role we are seeing more and more institutions add to their executive suites, such as a chief experience officer or employee experience officer. This person's primary duty is to be the advocate for the employee in a sea of competing business priorities. They facilitate collaboration across internal siloes, measure employee experience end to end, identify key opportunities for improvement and innovation, govern dependencies across groups, and act as the overall shepherd for achieving optimal employee engagement.
Another primary obstacle to improving your employees' experiences is a lack of on-the-ground knowledge of the root cause of pain points. Most companies have surveys they release to their employees on a periodic basis. These surveys gauge sentiment but don't necessarily elicit root causes of pain points. Similarly, many companies have monitoring tools and analytics that measure subjects such as device performance or speed to complete an HR process. But these tools rarely represent the human aspect of why issues are occurring and certainly do not represent the prioritization of solutions in order to satisfy employees better. This causes a disconnect between leadership believing they have insight into the employee experience given all the data and metrics available, while not truly understanding the source of the pain points or the employee preferences for how to best improve their experiences. This disconnect creates a rift between leadership and employees, leading employees' perception to be that leadership does not care about their on-the-ground experience working for the company despite best efforts.
According to Gartner, "… a better understanding of the causes of redundancy, inefficiency, frustration, and stress that affect employees' daily experiences can ultimately help CX leaders achieve their strategic objectives."* To gain this insight, companies need to create true "Voice of the Employee" programs that get as close to the real employee experience as possible — observing employees conducting their jobs in the workplace, calling employees and asking them about their experiences, including employees in the ideation process for solving problems. Surveys and operational metrics are extremely helpful for certain purposes. But in order to create solutions that increase employee engagement, leadership needs to create empathy with the individual employees — understanding their lives, challenges, unique perspectives and expectations to enable experiences truly tailored to their needs.
Q: What can companies learn from their employee engagement initiatives that they can carry over to their CX improvement initiatives?
A: More and more, employers perceive their employees as internal customers. As such, the service and product experiences that employers create to enable their employees in their jobs can serve as a model for customer experiences as well. Take, for instance, an internal service desk. The service models that are used to provide IT or operational support to an employee can be leveraged in external call centers when helping customers with their challenges. Internal employee engagement initiatives are also a safe space to test out new technologies and protocols before releasing them to customers. Leveraging employee beta groups, companies can pilot programs like new virtual assistants or support organizational structures in order to prove feasibility, test security constraints and model staffing requirements in a more controlled environment with fewer data security concerns and a captive audience. Companies can also more easily stand up Voice of the Customer (VOC) programs in an employee setting since they have direct lines of communication to these individuals. The learnings from creating an internal VOC program can be applied to creating a formal voice of the external customer program. This works the other way around, too; technologies, processes and programs from customer experience initiatives can and should be leveraged for internal employees. Aligning these strategies will result in more efficient technology portfolios, reduced costs and increased impact through shared lessons learned for customers and employees.
If you take care of your employees, employees will take care of your customers, and customers will take care of your revenue.
Like what you read?
Find out more about our Dynamic Workplace services for Financial Services organizations.
*Gartner, How Customer Centricity Improves Both Customer and Employee Experience, March 2019