Racing for Time in a Culture of Speed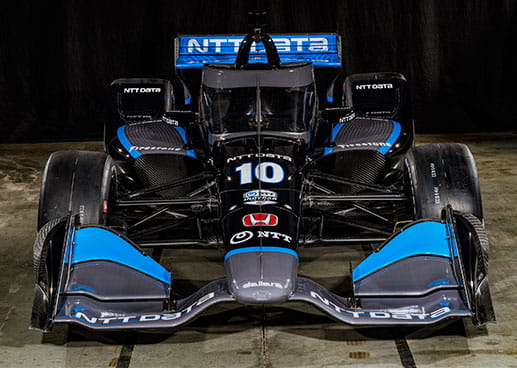 Last year, NTT became the official title sponsor and technology partner of the NTT INDYCAR® SERIES, North America's premier open-wheel racing league. NTT DATA, a division of NTT, had been associated with INDYCAR as a team sponsor and technology partner to Chip Ganassi Racing, so it was a natural fit when NTT joined this technology-rich sport. Through technology and innovation, NTT enables revolutionary experiences for athletes, fans, and investors in sport.


We are thrilled today to unveil the new 2020 primary car design (otherwise known as livery) for the No. 10 NTT DATA Chip Ganassi Racing Honda which will be driven by reigning INDYCAR Rookie of the Year Felix Rosenqvist.


NTT and NTT DATA are passionate about sports and believe technology and innovation bring sports fans closer to their heroes and the action — whether from home, online or in the stadiums of the future. We're passionate about motorsports because in racing and in business, speed is the name of the game, and data and technology drive performance.
In the past, a tenth of a second could mean the difference between a first- and second-place finish in an NTT INDYCAR SERIES race. Today, that same tenth of a second could separate first and fifth. Just like racing teams, businesses are under pressure to do everything in less time, because that's what it takes to stay relevant in our modern, digitized society.
Thanks to the proliferation of high-speed internet, smartphones, e-commerce and apps for everything imaginable, consumers have become accustomed to near-instant gratification and uber-convenient, personalized services. Companies eager to win customer loyalty continue to up the ante, using technology to work ever-more efficiently and bring the next groundbreaking innovation to market the fastest.
In this constant state of acceleration, yesterday's winner is today's also-ran. At NTT DATA, we call this phenomenon the "Culture of Speed." It's changing the game for how companies serve their customers, and it demands that they leverage modern technology in every facet of their operations.
To compete in a culture of speed and stay ahead of the pack in this new reality, companies can adopt two critical lessons from the world of motorsports: reduce resistance first, then put the pedal down.
Eliminating drag
In INDYCAR, wind resistance is as much of an adversary as the other drivers, thus race car engineers meticulously design away every source of drag. Similarly, businesses are often held back by their own clunky imperfections. This business drag can be especially true of more traditional companies struggling to reinvent themselves in the digital age.
One of the most common impediments to speed in business is outdated legacy software, such as CRM or ERP systems that can't keep up with the organization's most pressing needs. While easier said than done, modernizing these systems and integrating with modern technologies can unlock powerful new capabilities.
Another, less obvious offender might be a company's siloed approach to data management. In the culture of speed, data is like race fuel – but only if it flows freely for the whole organization to use to its full potential. Too often, valuable data is cordoned off in one department, or trapped inside a legacy system. Breaking down these barriers is essential to shifting into a higher gear.
In some cases, it's not technical limitations that cause the slow-down — it's people. It could be a Luddite of a leader who's reluctant to change or the all-too-common "analysis paralysis" that occurs when management can't agree. Either way, the company must commit to a way forward or be left in the dust.
Pedal to the metal
With dead weight jettisoned and the corners rounded off, it's time to fine-tune the corporate engine for maximum speed. In business terms, that means making use of all available technologies to streamline operations, empower employees, and delight customers.
It starts with a technology-forward mindset. Company leaders need to embrace the promise of digital transformation and drive that conviction through the organization. That mindset will include taking advantage of automation, AI and machine learning to optimize many routine business processes. But that doesn't always equate to downsizing; ideally, automation will empower employees to perform at a higher level and allow the company to redirect resources to more strategic and creative work. Moreover, a digitally enabled workplace will provide employees with the high-tech tools they need to be productive when, where and however they choose.
On the customer-facing side of the business, big data and predictive analytics can help the company know its customers better than ever before and offer the hyper-personalized experiences people have come to expect in the Culture of Speed. With a powerful suite of technologies ripe for integration — from AI to blockchain to the Internet of Things — companies are free to re-imagine the way they do business and unlock new tracks for growth.
To the victor belong the spoils
Unlike some racing circuits, INDYCAR is a spec series, which means all teams work with the same essential equipment. It's the data analysis, precision tuning, pit performance and skilled driving that combine to make the difference in the race.
In much the same way, today's businesses all have access to the same technology toolbox. The team that wins will be the one that makes the most of what's available. The right mix of solutions may look different for every organization, but one thing is for certain: to win in the Culture of Speed, complacency is not an option.
To view the new livery, visit this link. For more on NTT DATA's racing program.