Coaching Leaders is a Kick in the Grass for This Game Changer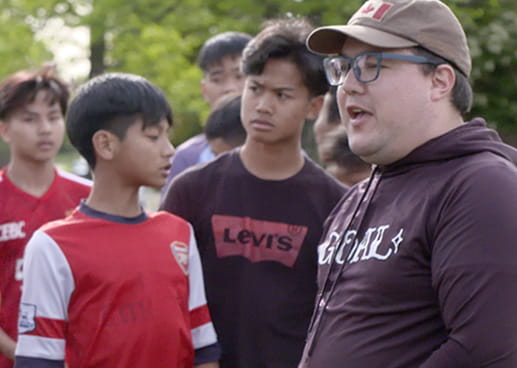 Soccer is known around the globe as "A Beautiful Game." For a team to be successful, they have to be unified and seek the same goal. In healthcare, for an organization to rise to the top they must be guided by a coach and a leader who is both innovative and transformative. What better way to learn these skills than by coaching a team of refugees? Meet NTT DATA Services Innovation and Transformation Leader Joey Dean.
Q:We understand that giving back is one of the top items on your life's 'To-do List.' Can you tell us more about that?
A: I was looking for a way to serve the community, and I found a refugee group here in the Dallas area. They are kids from Myanmar and experienced many challenges when adapting to a new country. I wanted to help them feel welcome in America and soccer was just the way to go. They've come with their parents from different villages and tribes in Chin State, and are a real amalgam. Coaching these kids has been one of the most fulfilling experiences in my life, and I am really glad to have gotten this opportunity.
Q: I understand that Chin State, in western Myanmar, formerly Burma, is a sparsely populated area bordering India. The United Nations High Commission on Refugees reports the area is one of the least developed in the country, with a poverty rate of 73% or more. According to Human Rights Watch, tens of thousands have fled Chin State since the military crackdown in 1988. Can you tell us about the life of these boys before they came to the United States?
A: These kids and their families were fleeing persecution from the military in Myanmar and have made their way to the United States. They've had a tough journey, traveling through jungles, a lot of them going through Malaysia, India or Thailand to find safe havens. Their parents work hard to provide a good life for them.
It's incredibly humbling for me when I think about their plight as they were escaping military gunshots when crossing jungles or were escaping other military intimidation tactics like burning down their villages and several other unimaginable things like that. It makes it even more special to know what the kids are doing with their opportunities, especially in soccer.
Q: How does playing on a soccer team help these children?
A: I started working with them around five years ago, and I found that they had many challenges adapting to the United States. They don't take anything for granted. Sometimes kids get mixed up in the wrong things, but, that can happen to any kids, not just refugee kids. I focused on helping them build leadership skills and develop the right mentality as they go through middle school, high school and hopefully, on to college or a trade school. I found they had a love for soccer. I started a soccer program, and through that program, the kids get to play competitive soccer, which is an opportunity they wouldn't have had otherwise. I wanted to give them a real sense of who they are. I wanted them to know they are special, and they deserve all the best.
When they get here, they don't have any possessions. The non-profit that I work with helps them get set up (with basic needs), and I see several refugee families doing well and prospering in their new environment. An extension of that is to provide them with an outlet to hone their extra-curricular skills while just having fun. That's what we are doing out here; we are just a bunch of folks who are focused on having fun while playing hard and playing with integrity.
Q: As a coach, I'm sure you've taught the Chin kids soccer skills and a lot more. My question is, what have they taught you, and how have you brought those lessons to NTT DATA?
A: The kids teach me and help me every day. The most important lesson they have taught me is humility. They teach me about myself, how to be patient, how to be a better teacher and, how to work together as a team. I tell my co-workers at NTT DATA Services about the soccer team all the time. I try to translate some of the things that I'm teaching the Chin kids into my business world and my personal life.
This community service gives me a level of empathy that I need in working with healthcare providers. You have to be empathetic to what's going on with patients and what's going on in the community. Working with these kids gives me a level of awareness that perhaps, I wouldn't otherwise have. It also helps me work on a team and understand that we're in this together. Us and the client as we — not me. That's something that I try to teach the boys every day and that's something that I hope that I can bring to my team here at NTT DATA.
Get to know NTT DATA
Learn more about NTT DATA's solutions for Healthcare and Life Sciences.
Meet our Game Changers here.