Banking on Automation: It's Not Just About the Technology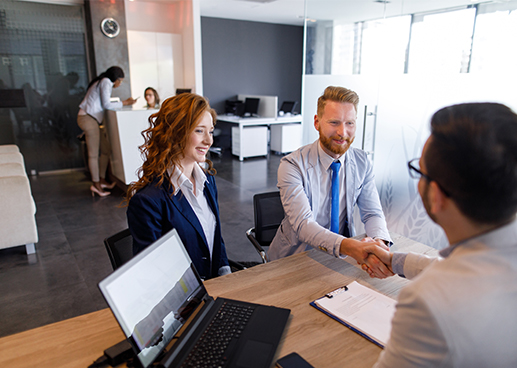 Financial services institutions can feel their industry changing at lightning speed, thanks to new trends and technologies, such as voice, open APIs, open banking and faster payments. Financial institutions are looking to automation to innovate at a quicker pace than ever to attract, engage and retain millennial customers, as well as compete with tech giants, fintechs and startups. However, successful automation requires that financial services organization think broadly.
As a 2018 BI Intelligence study reveals, 53% of millennials with big tech appetites say they would trust a tech giant like Apple, Amazon, Facebook, Google or Microsoft more than a bank for financial services. While this is a warning to all banks, it is especially troubling to the largest financial institutions, where the speed to change legacy processes and technology is slower.
Financial services firms are heeding the warning and looking to automation as more than a cost-saving and efficiency-boosting tool. They are developing automation strategies to accelerate innovation and differentiation, especially around enhancing the employee and customer experience.
That's what Royal Bank of Canada did when it launched its NOMI Find & Save, which uses the Personetics Cognitive Banking platform, an automated analytics-based savings service that helps customers boost their savings.
In addition, some CEOs aim to become tech leaders in their industry. A senior executive at a top three global bank told me they aim to be the "Netflix of banking" or like Monzo, the UK-based digital-only bank that is disrupting the traditional approach to banking.
Automation helps — not hurts — the human workforce
For a typical financial services organization, (such as a retail bank that services individual customers through branches, the web, mobile and other channels), automation can provide significant benefits. This includes using tools to service customers faster and easier, such as Bank of America's Erica and USAA's Amazon Alexa skill.
I recommend my clients view automation as an enabler to the human workforce that helps create a better and stronger employee and customer experience. In a recent project, a leading U.S. mortgage company wanted to roll out an Amazon Alexa skill to securely support loan officers' inquiries via voice interaction at home and on the road. This automation helped create a secure new channel for loan officers to interact with client systems while on-the-go.
While the idea of artificial intelligence tends to strike fear in the hearts of workers who suspect robots will replace them, the reality is that, while some jobs will be lost, others will be created. Still others will morph into something different, such as bot designers and supervisors. In some cases, AI will alleviate the tedious work nobody wants to do.
An organizational change mindset
Introducing automation alone will not lead to all the benefits banks are seeking. An automation strategy is most effective when it is implemented as a part of an end-to-end process enhancement, which couples an ecosystem approach with an organizational change management (OCM) mindset focused on company culture, workforce skills and process.
Of the banking professionals we asked in an NTT DATA Services study, 60% said that transition support is critical to adapting to an automation work culture, and 45% reported that communication, training, engagement and leadership alignment are major challenges.
For banks to operationalize automation effectively, it is imperative that organizational change management, process redesign and assessment of new skill requirements and training have equal priority and are integrated with any large-scale automation implementations.
RPA Center of Excellence at a global auto finance company
Recently, one of our financial services clients (a global provider of auto finance solutions, with operations in North America, South America and Asia) approached us to help them select the right technology for robotic process automation (RPA). The client was thinking about this initiative in a largely tool-centric way, with a goal to implement a certain number of bots in a specific timeframe to automate their IT and some business processes. Their initial goal was to save cost and drive agility in business processes.
Our teams emphasized that, along with the right technology, our client also needed an OCM approach to introduce automation to the organization.
We designed a program that integrated not only the best-fit technical solution but also set up a center of excellence model with well-defined processes to executing repeatable and scalable automation. We brought in OCM experts as a part of the team to help build a detailed communication strategy, identify reskilling and retraining requirements and set it up as a continuous process. Our teams also ensured there was leadership commitment to this approach early on, so this change was not just viewed as an automation initiative but was part of a larger RPA governance framework integrated with organizational change management.
While the program is still under implementation, the client is pleased with the results of this approach by meeting their initial goal of saving costs and creating business agility. In addition, they are building a sustainable and robust pipeline of further work with clear ROI goals integrated with change management for the next phase.
Automation factory at a leading investment bank
In another recent example, a leading investment bank engaged us on a proof of concept (POC) for a sustainable automation factory to help them drive cost efficiency gains within its international business operations applications support operations.
Some of the strategies our team used were:
Educate employees. We helped employees understand RPA and how they could view RPA bots as teammates that will help them do their jobs by taking on the repetitive tasks quickly and accurately.
Engage employees. We created enthusiasm and support for RPA by engaging employees in developing the RPA strategy and including them in evaluating opportunities for automation. Employees knew precisely where bottlenecks and redundancies occurred, while supporting business-critical applications. They also used their imagination and vision to come up with creative solutions.
Train employees. Most employees didn't understand that automation can lead to new opportunities for them to perform higher-value work. Training and reskilling the employees to become process-assessment experts helped them acquire skills related to managing virtual workforces.
Communicate with employees. Including employees in defining the impact of RPA on their jobs and the related up-skilling opportunities was critical. Employees were given the opportunity to identify the roles within a process that were likely to be eliminated.
This POC helped the bank define the framework of the full flow and scalable model to build their own automation factory.
Conclusion
The importance of automation is increasing for financial services organizations, given the potential for better customer service, cost reduction and employee satisfaction and innovation. Financial services firms that take a balanced approach to automation with adequate training and employee engagement will reap the most significant rewards from automation and AI.
Find out more about our automation solutions for financial services organizations.