Alex Arnold Helps a Traditional Retirement Firm Make a Digital Slam Dunk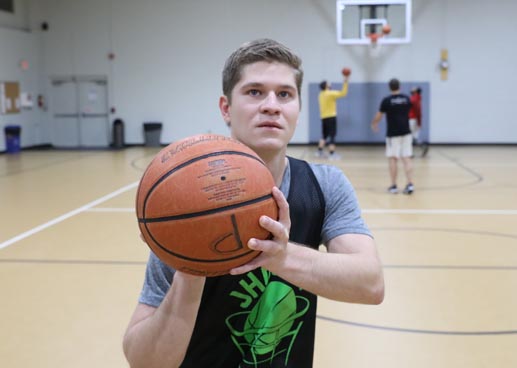 Alex Arnold was recruited to NTT DATA's business consulting team right out of college, just about the time he started thinking about life after basketball. What he has learned on the court—communication, agility—he transfers to his work helping financial services firms compete in the digital arena. In this blog post, Arnold shares how his team helped a large wealth management firm integrate a small, primarily online, retail bank to achieve its goal of becoming a full-service financial services provider with a world-class digital customer experience.
Q: You've played basketball since you were a kid. What do you love about the sport?
A: Ever since I shot hoops in the driveway with my brothers and sister, I loved the game. The competition, the pace, the thrill of winning — it hooked me and I got serious. I made my high school's team, which was a national powerhouse; we never finished below the nation's top 50. Being on a team where some players are headed to the pros, you learn quickly to give the game everything you've got.
In college, I tore my labrum and could no longer play at the same level. You get a different perspective on the game when you sit on the bench and watch your team in action. You come to realize it's not just about yourself; it's about performing as a team — knowing how to work off each other's strengths, knowing how to communicate, knowing how to adapt to the situation on the court. I saw that even if one of you is having a bad day, your coach and teammates help you succeed. Today, I play on a men's league near the NTT DATA Charlotte office and I bring many of the lessons and skills I learned in basketball to my consulting work.
Q: Can you tell me about a time when the skills you learned on the court helped you on a client project?
A: One of my favorite consulting projects was helping a large wealth management firm integrate a small, primarily online, retail bank. The retirement firm recognized its future depended on becoming a full-service financial services provider with a world-class digital customer experience. It was a stunning matchup: a small bank with 20 billion dollars of deposits helping to lead the way for a big brick and mortar with a long track record and over a trillion dollars in assets.
This was the largest integration project the firm was undertaking at the time, and my team was brought in to unify the digital capabilities of the two entities and create a highly innovative digital experience for its more than 200,000 customers and 500 employees.
Our success was the result of our overall team performance, not any one member or all-star. We focused on defining a winning game plan and then executed. We had players positioned in both client organizations who were providing coaching and leadership in the form of program management, project management support and subject matter expertise in the digital space. This helped us navigate the two very different cultures and digital landscapes of each firm. On the governance team, I helped stand up the program management office (PMO) and managed program-level routines to ensure information was flowing to the appropriate channels and being approved by the necessary stakeholders. Our project management supporters ensured financial budgets were met. Our mobile, web application and authentication experts helped provide thought leadership to ensure a seamless transition between the digital platforms while maximizing the overall customer experience.
And, just like the intensity you experience in the final minutes of a tight, well-played game, that first Monday, when employees and customers logged into the new mobile application, it was like winning a championship and knowing all your hard work has paid off. Customers were able to access mobile and online banking with the new combined and rebranded organization with no hiccups. Call center volume that far less than anticipated for such a large event because customers easily transitioned onto the new applications.
With all its customers on the same platform and sharing the same data, the bank could now sunset some of the old applications and services that came with the upkeep of two digital platforms. This amounts to future savings for the organization. Most important, the company achieved its key milestone: to be a one-stop-shop for its clients' financial needs, which has enabled the bank to move ahead with other strategic priorities.
Q: As a Millennial, why has NTT DATA been a good place for you to start a career?
A: I came on board at an exciting time, just as digital disruption was transforming the financial services industry, and big legacy players were looking to business consultants to help them reimagine their customer experience. As one of the younger members of the NTT DATA team, I'm valued for my perspective on how best to engage Millennials and Gen Zers.
The variety of teams and clients I've been exposed to in just the four years I've been with NTT DATA has been a tremendous learning opportunity. My mentors and leaders have helped me navigate these distinct client cultures, challenges and environments by showing what it means to truly be a partner to our clients. I've also been able to help shape the future of our organization by working closely with leaders on our overall consulting strategy and by starting culture programs that connect employees, strengthen our teams and ensure consultants have the right mentors and exposure to leadership that has made my time at NTT DATA so valuable. With such teamwork and coaching in place you learn different domains faster, you develop technical skills quicker and you find your passion sooner. I can't imagine starting a consulting career anywhere else.
Watch Alex's Game Changers video here.
Get to know NTT DATA
Accelerate your digital journey. Learn more about NTT DATA's Consulting, M&A and Digital services for Financial Services institutions.