From Campus Recruit to Delivering the Gold Standard: Meet NTT DATA Services Consultant Morgan Squatriglia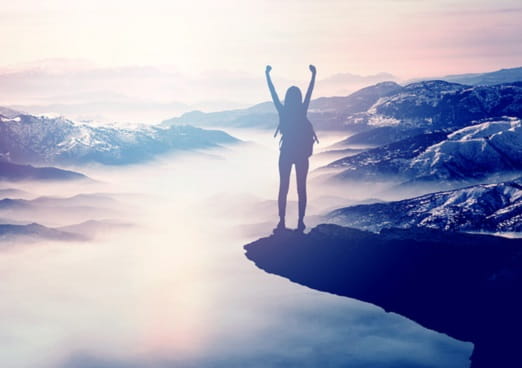 I sat down with Senior Consultant Morgan Squatriglia, a campus recruit who quickly excelled in various roles on our Financial Services Business Consulting team. Having recently led a risk initiative at a top four bank, Morgan is an excellent example of NTT DATA consultants' drive to go above and beyond for our clients. In doing so, they build skills that improve the places where we work and live.
Q: You joined our team in 2015 just a month after graduating with a bachelor's degree in business management. What drew you to a consulting career?
A: I wanted to enter an industry that would challenge me, help me grow, and give me a sense of purpose in my work. I've always been competitive, even at a young age — I stayed active all through my childhood and high school years with volleyball and swimming which let me get out that competitive energy. I was drawn to consulting because I tend to get bored easily and consulting offers such great variety and opportunity: new settings, new subject matter, new teammates. I think it's healthy to be a little uncomfortable from time to time, that's what helps us grow. That's part of why I got involved in The Junior League of Charlotte, Inc. (JLC) and joined the board of a dementia non-profit — consulting can be a nice dose of intimidation and challenge.
Q: Why did you choose NTT DATA over other consultancies?
A: During the NTT DATA interview process, what really stood out to me was the way the consultants talked about their clients; it was as if they were friends and allies with shared goals: a true partnership.
Since joining the firm, the colleague camaraderie has been especially noteworthy — that "I got your back" feeling among the teams. I feel supported and challenged here, especially by my career coaches, mentors and leaders. They are always asking me what I want to do next. Am I challenged enough? How can they help me achieve, or expand, my next set of goals? How can we move me outside of my comfort zone?
Both of those features — connectedness to clients and team support — is what I think has always driven my success, and in return motivated me to compete with myself to be even better than where I am and where I have been … whether I'm working with clients or volunteering outside of work.
For instance: my JLC team's Capstone Project. Our goal was to collect 100 pairs of pajamas for patients in our local children's hospital. We met the children and their families to truly understand the challenges they faced upon entering the emergency room. Having that connectedness to the families and understanding their troubles, coupled with the support of the team is what motivated us to almost quadruple our goal and collect 380 pairs of pajamas!
Q: In your "Game Changers" video, you say what drives you is the desire to be better than you were yesterday. Has NTT DATA given you that opportunity for growth?
A: Absolutely. Earlier this year, one of my leaders said they wanted me to lead a risk and regulatory project for an important client — a top four bank. The client was up against a consent order by the Office of Comptroller of the Currency, which required that the bank improve its Know Your Customer (KYC) processes to assess and deter risks. I had never led a project team before, especially not as an Engagement Manager — talk about getting out of your comfort zone!
That experience certainly broadened my perspective. As an engagement manager, I could no longer just think about my own work; I was responsible for the team's work and for how we communicate with the client. At a moment's notice, I had to be ready to step into a meeting and provide a three-sentence executive update, or jump into a four-hour working session that looks under the hood at every detail. It was challenging in a great way.
Q: The bank heralded the work of your team. Tell me about that.
A: The client had engaged several consultancies to tackle the slew of risk initiatives; each of us focused on different customer populations. The work we were up against was meticulous. You have to really take your time and be thoughtful to truly understand the customers across varying lines of business in order to enable the bank to meet regulations. Our team provided those layers of risk mitigation to meet the regulatory requirements, and we did it all with high quality ratings before the established deadline.
One day, the client brought all of us together into a meeting and declared that the work that NTT DATA was doing was "The Gold Standard." You can imagine how it felt to have that work recognized, especially in front of our competitors.
For us, it wasn't about just completing tasks at hand and going home. We studied the purpose of the work, the process, and the moving pieces. What role does this play in our client's overarching objectives? How can we be proactive in helping meet those goals? We were there to help the client, so in the end not only did we complete the work at hand, but we developed a process to identify invalid reasonings before customer records were sent down the line. Ultimately, this helped us complete the work quicker and with higher quality.
Watch Morgan's Game Changer video here.
Learn more about Business Consulting at NTT DATA Services.