Doing Well by Doing Good: NTT DATA Employees Honored with Contribution Awards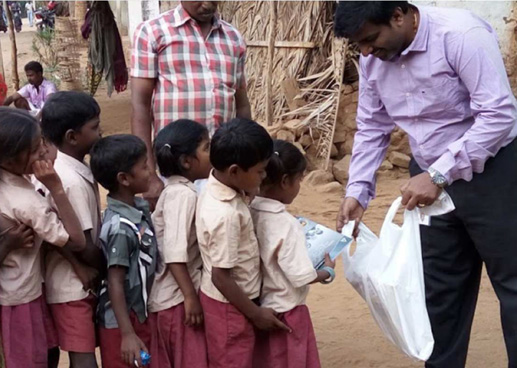 On May 23, 2018, NTT DATA celebrated its 30th anniversary with a celebratory event held in Tokyo, Japan. Before toasting the success of NTT DATA Services' history of excellence serving the IT Services industry, our leaders commended 60 teams and individuals who achieved outstanding results this past year. Among the honorees were two individuals and one team who were honored with Contribution Awards based on their work to benefit society. Serving the communities in which we live and work is core to our mission of " … [using] information technology to create new paradigms and values, which help contribute to a more affluent and harmonious society." At NTT DATA Services, we are encouraged to put people and community first, and contribute to society. It's simply part of our nature.
Regular visitors to our blog are already familiar with the WIN Initiative, which earned the Grand Award for community contributions. Women Inspire NTT DATA (WIN) is an employee-led effort that supports and advances women in the workplace. You can read more about the NTT DATA Services members here.
Providing a Voice for Specially Abled People in India
Pranav Desai is a Vice President, Sales in the Emerging Accounts BU for NTT DATA Services. In 2015, he started a nonprofit human rights organization called Voice of Specially Abled People (SAP), which is a UN accredited organization with 4,000 volunteers globally. The mission of this nonprofit is to promote accessibility, education and employment-led empowerment of specially abled people, enabled by its mobile app VOSAP. Through the group's activities, he has expressed his ideas and opinions to the Indian Prime Minister and other government officials and corporate leaders. Recently at a session during the 11th Conference of State Parties (COSP) to the Convention on Rights of Persons with Disabilities at the UN, in New York, Pranav said the key message of his organization is that, "Everyone is temporarily-abled, so people should not ignore the needs and rights of the 'Divyang jan' and instead create accessible and inclusive society," adding that when everyone embraces their Individual Social Responsibility (ISR), the disability rights movement can achieve its goals much faster. The group's work has been featured in U.S. and Indian media reports. You can learn more on their website.
Supporting Refugees From Myanmar Through Soccer Leadership in the U.S.
Since 2012, Joey Dean, a senior director in the Healthcare and Life Sciences, has volunteered with Communities in Schools North Texas (CISNT), where he mentors and tutors at-risk students and assists with community events. In 2015, he was named the group's Volunteer of The Year. A special focus area for Joey has been the soccer leadership program for refugees from Myanmar through Chin Community Ministry (CCM), a Dallas-based nonprofit that supports the needs of these refugee families as they begin new lives in America. Joey has devoted more than 300 hours this year supporting junior high school students.
Of his contributions, Joey says, "I am incredibly humbled to have received a Social Contribution Award from NTT DATA. I am very thankful to work with great people and a great organization that values and encourages me to give back to my local community. Volunteering is a way of life for me and something that I truly love. You know the adage of "Find something you love to do, and you will never work a day in your life?" that's how I feel when I can volunteer in my community."
Joey provides a great example of that perfect combination of using something he enjoys in support of those in need. His long tenure serving others promotes healthy lifestyle habits, teamwork, and sportsmanship.
Adopting a Village to Improve the Quality of Life in India
The NTT DATA Services BPO team in Coimbatore recently came together to support an ethnic minority in Attukal, a village in India. Working together with community volunteers, the team performed actions that will improve the quality of life for Attukal residents based on five aspects: health, education, employment, environment and poverty reduction. An impressive number of NTT DATA Services employees —more than 1,100 — initiated and maintained their efforts throughout a year-long period.
Manikanda Swamy, BPO Director, NTT DATA Services has said, "The transformation we brought to the lives of the adopted villagers was very satisfying. It made me realize that it's not getting that gives self-fulfilment and happiness but giving that makes us content. The fact that we were able to help the village by giving the needed resources and teach the villagers life skills to help them become independent is wonderful. The appreciation we received from our clients and leaders who were part of this initiative inspired us to do more and bring meaningful changes to the society we live in. My sincere thanks to NTT DATA for supporting and acknowledging this initiative."
The team used various support measures to reduce poverty by offering supplies and equipment to create job opportunities for adults. They also supplied bicycles for children to ride to school, served as tutors and mentors, planted trees, and provided employment opportunities in NTT DATA Services' offices. Of his bicycle, Vadivel, a student in Class Six says, "Best Ever gift I received … which helps me to reach school on time, help my mother buy groceries, play with friends and visit my elder sister in the nearby village. Thank you, NTT DATA!"
Finally, it's important to note that these awardees are not alone in their efforts, but rather outstanding examples of the hundreds of employees that take advantage of NTT DATA Services' incentives to contribute to their local communities. From logging volunteer hours at food banks, supporting flood victims and simply lending a helping hand to local schools and charitable organizations, NTT DATA Services employees are encouraged to make a positive difference in their local communities. Not everyone can win awards, but every one of us knows what it's like to do well by doing good.