When Digital, IT and Creativity Meet, it's Magic for Customers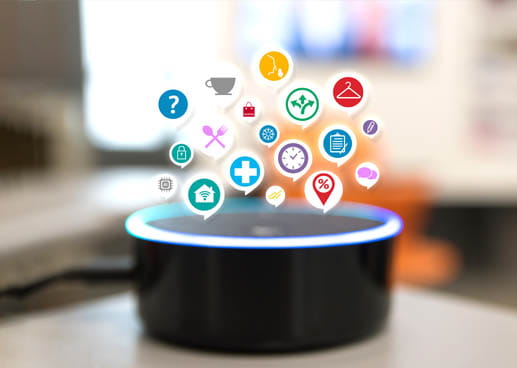 I'd like to offer you two quotes: "Any sufficiently advanced technology is indistinguishable from magic." And, "Alexa, re-order diapers."
The first quote is from Arthur C. Clarke (his third law). It hangs in my office as a constant reminder that the solutions we build can amaze, provided we are able to deliver an experience that takes the sophisticated and makes it seemingly simple for the customer.
The second quote is from my wife. And it perfectly illustrates the idea that when technology delivers the right experience and adds value to our lives, it is not just useful, but elicits feelings of wonder and excitement.
As customers, don't we love companies that deliver what we need, when we need it most — be they products or services? We love companies that treat us well and quickly become disloyal to those that treat us poorly, whether it is an uninformed salesman at a store, an unpleasant voice during a customer call or even a rude employer. The way companies make us feel is increasingly going to drive who we choose to buy from, do business with, and are employed by, now and in the future. It is no wonder then that Customer Experience (CX) is quickly becoming the last remaining competitive differentiators across almost every industry.
Recently, Nigel Fenwick, VP, Principal Analyst Serving Digital Leaders, Forrester and I spoke with Aaron Goldberg, Contributing Editor, IDG SMS on the importance of customers experience in today's digital age and how companies can rally their IT and business forces to provide a better customer experience.
Who owns the responsibility of delivering this new CX?
While everyone is equally engaged in delivering customer experiences, it will be IT's responsibility to implement the solutions. And technology leaders, or digital innovators, will become the true custodians of CX as we shift toward technology-enabled business models in the growing digital economy. To succeed, these digital innovators will need to:
Focus their operations on what customers value;
Innovate at the intersection of experiences and operations;
Build platforms and partnerships to accelerate and scale; and
Deliver experiences that are easy, effective, and emotional.
But first things first. Digital leaders will need to see things through their customer's eyes: what works, what doesn't and (more importantly) what irks customers. At NTT DATA Services we use journey mapping and our Customer Friction FactorSM (CFF) Assessments to uncover gaps responsible for sub-standard experiences and outcomes. Customer friction is any aspect of customer interaction that has a negative impact on the customer's experience. So, the less friction that a customer encounters when doing business with an organization, the more likely they are to be satisfied with a company's product or service and, by extension, the more likely they will be to continue doing business with that organization.
Our CFF analysis shows that customer experience impacts business results. Using CFF analysis, our customers from the Consumer Package Goods (CPG) industry were better able to translate their CX investments into improvements in business measures, such as asset turnover and profitability. In the Retail Industry, companies that invested in customer experience grew four times faster than their competitors over a three-year period when compared using their CAGR.
So if you know your organization needs to improve CX, or you have a specific CFF score, what can you do next? Here are five steps that you can take to improve CX.
Design: Build design skills into your IT team's capabilities; train your employees to view every technology change from the perspective of the customer's journey and their touch points
Empower: Empower your IT teams to own the outcome; invest in, and partner around technology R&D to become a source of ideas for how technology can radically transform today's customer experience in years to come
Measure: Hold the IT team accountable for CX; measure everything about the customer experience at every touch point – let your customers be your guide to how technology needs changing; put less focus on traditional performance measures like on-time and on-budget and instead hold the team accountable for the same goals as the company's customer experience team
Organize: Create a CX-oriented IT team; break down technology silos by viewing entire customer journeys and synchronizing the technology throughout the journey and then embed your teams in the customer experience, marketing teams and other related teams
Speed: Gain speed in app development and technology; embrace Agile development and ensure software developers are trained for rapid releases; use service oriented architecture to speed development through the re-use of complex components
Improving CX is the only way forward. As of the end of 2017, Amazon had sold "tens of millions" of Echo devices to its prime members, which now represent nearly half of U.S. households and, on average, spend $600 more annually with the company. There is obviously something to be said for delivering a great experience.As technology leaders, we need to focus on the experience that our solutions deliver to the end-customer. By turning the sophisticated or complex into a simple experience, we have the opportunity to both amaze our customers and drive improvements in business results.
In my case, the diapers arrived in two days. All it took was the sound of a voice, and we were very excited. Simply magical.
Listen to the on-demand webinar: Five Ways IT Can Help Win and Retain Customers, Employees and Partners — See Why Experience Matters.