Checking in With the Latest Technology: How AI Could Deliver Five-Star Hotel Stays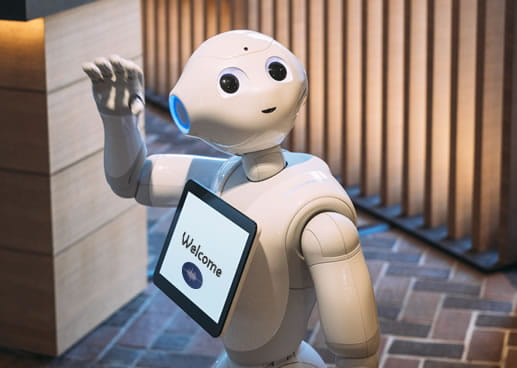 Recently I was traveling for work and stayed overnight at a nice hotel near our client's office for a presentation the next day. I decided to visit the hotel bar to enjoy a glass of wine and think about dinner options. The bar wasn't terribly busy, but the bartender was struggling to keep up, despite having two people from the front desk helping her run food to the tables. I tried multiple times to get her attention, but was unsuccessful and started to get visibly annoyed. I finally left the bar after waiting way too long to pay for my drink, and I was never asked if I'd like to order dinner. I was so exasperated from this experience, I ordered food from an outside restaurant and had it delivered to the hotel.
Why not just leave a Yelp review? The answer is simple: in my frustration, I thought of three AI-driven solutions that, when connected to additional collection tools, could have helped the staff at this leading hotel chain avoid this situation:
Leverage existing hotel cameras — By incorporating AI, hotel chains could use their existing cameras (which are mainly used today for security) to mine data insight from each guest; running sentiment analysis on their facial patterns. Facial analysis could correlate the guest check-in to the video capture to identify each guest by image, or use an app to identify them via location-based tracking. The cameras could also perform time-motion studies on guests in public locations, such as restaurants and bars inside the hotel. They may also be able to identify when outside parties, such as Grubhub, Uber Eats or other food delivery vendors, enter the hotel to exchange food with a guest. In my case, this technology could have empowered the hotel staff to know that I left the bar after a long wait, during which I was looking around for assistance and then had food delivered. A staff member could then have approached me to open a dialogue about my experience at the bar and mediate the situation. The result is a behavior change, where the staff member is taking action, rather having guests report poor experiences.
Harness guest information through transactions and loyalty tracking — By tracking guest activity, hotels can gather essential information about each guest's frequency of stays, status, and other loyalty statistics. Other questions, (Does the guest want points? Was the experience worse than visual evidence illustrated? Does the guest typically exchange points for certain items or use points for vacations/amenities?) could be answered by analyzing the data. These are data points that can be mined along with what guests have typically spent with the hotel's various affiliated entities. The data points would provide valuable insight, such as how long certain types of guests are having to wait for services, where guests spend their time in a hotel, and what are they paying extra for when they stay? This data would filter into AI to suggest decisions and communications for enhancing an experience or identifying a situation that has not exceeded expectations.
Use AI to correlate between systems to create insight and intercede quickly — AI-driven data tools could provide hotel staff with recommendations on how to respond to experiences that are based on the guest's actual preferences (like knowing their preferences). Other recommendations could apply to staffing based on tendencies and seasonality as opposed to just basing it on pure occupancy. All this important information could be gathered from much of data that is currently collected. The data can be used to tell hoteliers when they have a full hotel of guests that typically don't leave the hotel once they get there, so maybe there should be some extra kitchen and bar staff on hand. AI can provide recommendations to Customer Service agents to approve higher-level compensation, or allow AI to autonomously move forward with an offer to guests as a way to intercede and quickly resolve a situation. This same AI could then continue to build learnings around how offers are received and used by customers to better enhance promotions and compensation in instances such as the one I encountered while waiting to pay for my drink.
Checking out
It would have been great if the hotel had offered me some points and other perks to make up for my experience at the bar, but I hope this article helped to highlight how, by harnessing the power of AI, all future hotels stays could easily earn five stars.
To learn more about how AI and how data analytics and automation can boost customer experience and your bottom line, check Build a Self-Driving Business.