Advice to Digital Project Managers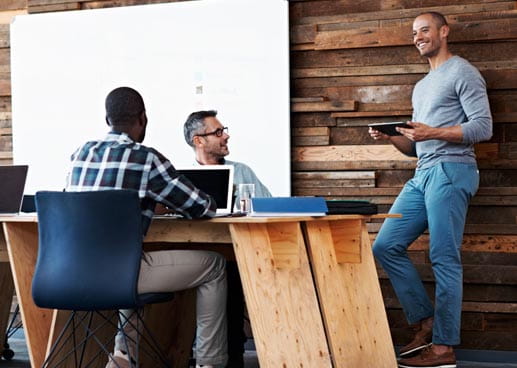 Digital is Different
Did you know that 93% of organizations report using standard project management practices? We are in a golden age of project management. Consistent execution is driving down risk and cost while improving project outcomes. However, before we declare victory let's step back for a second and recognize that business has changed significantly since the first Project Management Professional (PMP) certification was awarded in 1984.
Today, digital technologies are not only changing how IT organizations support "the business," they are also changing the very nature of work. Transformative and disruptive technologies continue to create greater efficiencies and new business models across every industry. Digital business is no longer confined to the few innovative organizations or small tiger teams inside larger organizations. Digital is simply how business is done.
With digital becoming business as usual, the impact on project management is profound, because digital projects are different. More of the project work is customer-oriented, delivers incremental value, and leverages an ever-expanding set of partners and technologies — while requiring a pace of delivery and level of ambiguity that could easily make the traditional project manager cringe. The digital project manager needs to strike a balance between tried-and-true project management practices, while creating an environment that allows digital projects to flourish.
What's a project manager to do? Here are a few best practices that you should be embracing today on your digital projects.
Be Nimble
Yes. I could have very easily said "get agile," but nowadays agile is a loaded term and we need to think beyond incremental delivery of technical solutions. Digital projects need to change directions quickly, to keep pace with fluctuating market conditions or technology changes.
Notice that I did not say "be uncertain" or "be directionless." Too many organizations mistake uncertainty for agility. Scope and requirements are just as important (if not more so) in a digital project. With several moving targets (technologies, competitors, customers) it is paramount that we understand the business problem we are solving or the opportunity we are exploiting. At the same time, we are entering into unfamiliar territory with our business stakeholders who are fully invested in the success of the project. No longer bystanders, project managers need to make sure they understand and are prepared to provide the level of commitment (in both time and effort) before anyone thinks about a kick-off.
Want to get people on the same page? Borrow a lesson from the start-up world and make sure that everyone knows the elevator pitch for your project: problem, solution, target market, value, and key milestones.
Build Business Acumen
Significant shifts in a business model generally take the form of disruption. Being able to comprehend a business model — and a project's impact on that model — becomes critical for the success of digital projects. Understanding the business models of the organization better positions digital projects to be disruptive and move the needle businesses measure, such as revenue, market share, and profitability. Please note: I'm saying a project manager needs to be a subject matter expert. Domain knowledge is always a good thing. But a smart and savvy project manager can pick up domain concepts pretty quickly.
Focus on developing business acumen. Ensure that everyone on the team speaks the language of the business, understands the core business concepts involved, and how those concepts affect the project.
Making a contribution to value requires that project managers take a broader view of the business and think beyond their individual project or program to consider solutions to business and industry problems. In doing so, the project manager role morphs from project executor to business leader.
Ultimately, business strategy is executed through the successful delivery of projects. This dependency is only going to strengthen as digital technologies increasingly become an enabler of business strategy. Project managers who deliver digital projects need to focus their attention on business value in addition to project plans.
Want a place to start? Consider applying the business model canvas to help all stakeholders stay on the same page. This technique quickly identifies the core components of a business model and can be a launch pad for business focused project dialog.
Integration and Stakeholder Management Will Set You Free
Not only do digital projects include an ever-expanding set of global stakeholders, vendors, and niche technology players, but they often have compressed timelines and high visibility in the organization. This complex environment can only be navigated successfully when the project manager understands its complexities, all parties involved, and their impact on the project.
The traditional command-and-control approaches to project leadership no longer add value. They are too slow, prevent creativity, and discourage innovation. They should be replaced with smaller and flatter team-based structures designed to foster collaboration and drive innovation. In this new world, project managers needs to take an approach that puts people first and focuses on eliminating barriers and blocks so that these teams can be more successful. Don't discriminate between your internal stakeholders, partners and vendors. Everyone has a critical role to play on your digital project. As the project manager your job is to bring this diverse group together, drive collaboration, and get the very best from the entire project team.
Want to get better? Blend stakeholder management and integration manager practices to build a stakeholder map that highlights everyone's strengths weaknesses and contributions to the project. By understanding what issues might arise, and where additional capabilities can be leveraged project managers will be able to better manage any impacts inside of the short timelines often associated with digital projects.
I was a toddler when the Project Management Institute awarded that first PMP certification. And look forward to discussing how to leverage program management techniques to create and navigate a successful digital transformation road map with my colleagues at the upcoming PMI Global Conference in October.
Project management has come a long way since 1984, and the profession needs to continue to evolve as our projects, the solutions they implement, and the businesses they support continue to change. Successful digital projects require us to bring together the best of project management practices while embracing tomorrow's technology.
Learn more about our approach to PMO.
Find out how we apply digital insights to help you shape the future of your enterprise.