Robert Swan Completes Undaunted Expedition
Robert Swan successfully concluded the Undaunted: South Pole 2023 expedition on Jan. 10, 2023. In reaching the South Pole, Robert fulfilled a 30-plus year dream of walking across the Antarctic landmass while promoting the long-term preservation of Antarctica and demonstrating solutions for sustainable living.
NTT DATA proudly sponsored the Undaunted expedition in support of Robert's mission and as inspiration for our own journey toward sustainability.
Promise Made, Promise Kept
Robert earned his place in history in the late 1980s when he became the first person to walk to both the North and South Poles. In 2017 and 2019, severe hip injuries forced Robert to end attempts to complete his walk across Antarctica. In late 2022, with a brand new artificial hip, Robert set out with Undaunted expedition teammates to finish the last miles he needed to fulfill his commitment.
On Christmas Eve, the expeditioners flew from their base at Union Glacier Camp to the starting point, just under 100 miles from the Geographic South Pole. In the coming days, they would face brutal white-out conditions and rough terrain as temperatures dipped to -35F / -37C.
In his audio report to the world on Jan. 10, Robert said, "We have achieved the mission, arriving safely on the 10th of January. It's extraordinary to be here. I'm so proud of the team! We're all very tired, but the job is done, and all hands are safe."
While the Undaunted expedition raises awareness about solutions to climate change, the travel to and from Antarctica does have an environmental impact. NTT DATA and its sustainability employee resource group have made donations to ClimateForce and other tree-planting initiatives to help counter the expedition's impact.
Learn more about Robert Swan and the Undaunted expedition at our special web app -- 2041partnership.nttdata.com – and our podcast, Undaunted, with Robert Swan and NTT DATA.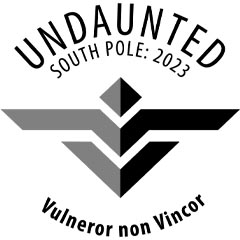 Our ongoing commitment
NTT DATA's sponsorship and our collaboration with Robert Swan's 2041 Foundation are extensions of our own commitment to sustainability. We applaud 2041 Foundation for inspiring future generations of environmental champions.
Learn More

Antarctica is currently protected by the Antarctic Treaty and Madrid Protocols. The year 2041 begins a critical period for ensuring the ongoing preservation of Antarctica as a non-aligned reserve for science and peace.
Learn About Our Sustainability Efforts
NTT DATA is committed to sustainable development and pursuing social good.