Chart a course from the great lockdown through the great unknown
Research Report: July 2020
The COVID-19 disruption has been like none other. Recovering and finding a path to growth will require firm leadership and decisive use of IT. But above all, organizations that use data and analytics to navigate these complex and unchartered territories, will emerge successful. NTT DATA's most recent survey of leaders about data governance and management across key commercial and public sectors reveals: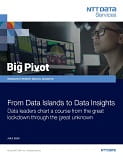 OUR DATA EXPERTS
Theresa Kushner
Consultant, AI and Analytics, NTT DATA Services
Scott Boettcher
Vice President, Data Intelligence, NTT DATA Services
Michael Goodman
Vice President of Business Insights, NTT DATA Services
VIEW FULL REPORT
The 10%, referred to as Data Leaders, are more likely to be from the financial services and manufacturing sectors and have revenues of more than $1.1 billion.
These Data Leaders in our study reveal that a strong data governance culture and framework for collecting, managing, securing and storing data enables trusted relationships with citizens, consumers, customers and suppliers. They are also more aware of and fully prepared for data privacy regulations and are confident in their ability to quickly and accurately communicate to customers and consumers.
Data governance helps establish strong relationships, which are even more critical in times of crisis. Organizations must work harder to gain consumer and citizen trust, especially when preparing to enter new markets and build new business and engagement models after the pandemic.
"Business leaders who understand and trust the value of their data are the difference-makers for companies seeking to transform and realize that it's now a do-or-die situation. In a data-driven culture, executive leaders demonstrate daily the value of data. They understand it, they use it, and they champion — through actions and funding — those who curate and care for data."
— Theresa Kushner, Consultant, AI and Analytics, NTT DATA Services

You Need Trusted, Actionable Data to Navigate Uncertainty
Based on our research, the study identifies 3 key priorities to construct an agile, data-driven foundation.
Champion a Data-Driven Culture
Establish Strong Data Governance to Secure Strong Relationships
Accelerate Investments in Technologies for your Data Objectives
The COVID-19 pandemic is forcing every sector to accelerate digital adoption and underscores the need for data quality and integrity. The time is now to make sure data drives your business strategy. Data that helps you move forward and better manage the bottom line. Data that helps establish positive brand perceptions for future generations. Data that helps you rethink the customer journey and deploy digital customer experiences. Data that helps you forecast, manage assets and improve operations. Data you trust to make real-time decisions about new operating models to deliver digital solutions at scale and pivot quickly when necessary.
RELATED INFORMATION
EXPLORE OUR SERVICES
For More Information
Are you ready to let data drive your business strategy? Talk to an expert today.